Wednesday, December 9
Ouch - what a day! Last night the weather forecast included snow, so when I got out of bed Carol rolled over, moaned and asked, "Is there any more snow?" I lifted the window blind and looked in the back yard. I saw the tracks the dogs made in the snow last night, so I replied, "Maybe a bit of new snow, but not very much. Nothing to worry about."
Carol headed to the back door with the dogs and let them out. I heard her yell, "What were you looking at when you said there was no snow?" It soon became apparent that what I thought were dog tracks were actually rabbit tracks in the six inches of fresh snow. I went to the front door to get the newspapers . . . WOW! A drift about twelve to eighteen inches deep surrounded my van! Normally we fight snow on our way home from Disney, this year we're fighting it on our way out!
So I broke out the snow blower and started cleaning things up before packing the car. Carol finished a final check of the suitcases and set them up beside the back door for me. This of course was Zak's cue to begin his customary mope. He excels at making us feel guilty when we leave him behind. We loaded the bags and the dogs in the car and we were off by 10:00 a.m. Zak curled up on the back seat and refused to look at us. When we pulled up at Carol's parents home Zak didn't want to get out of the car . . . he knew he was staying behind and he wasn't at all happy about it. He can be the saddest looking dog you ever saw!
We were back on the road by 10:30 on a snow-packed expressway. The surface of the highway slowly changed to ice, then to loose packed snow, then we ran into blowing snow, then ice pellets. We had a bit of everything! The drive to Toronto normally takes us two hours, today it was four hours. We passed plenty of cars and trucks in the ditches and at one point we sat still for almost a half hour waiting while they pulled a tractor trailer out of the ditch just ahead of us.
The snow and ice pellets turned to rain and the roads cleared as we neared Toronto. We checked in to the hotel here at 3:00 p.m.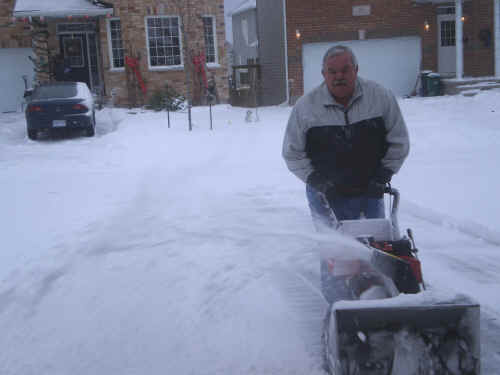 Carol seemed to get more excited as we neared Toronto, or perhaps she was just happy to be off the snowy and icy roads! It was a long and tiring drive so I had a short nap and then we headed out for a bite to eat. After dinner I dropped the car off in the hotel's long term parking lot and caught a shuttle back to the hotel. It will be a quiet night of TV.
Just a few weeks ago Carol told me, "When we get to Disneyland we will not go to the park on the first day. Do not let me add another day to our 5 day park-hopper. I will probably try to persuade you, but don't let me add the day!" I am confused because she didn't wait until we got there, she started today. "You know, it only costs about $5.00 to add a day to our passes? If it's a nice day and we really want to go to a park tomorrow it won't be expensive." So tomorrow we will be at the airport before 8:00 a.m. to wait for our 9:20 flight and I expect that shortly after noon Pacific Time we will be discussing whether or not we go to a park!
---
| | |
| --- | --- |
| | Carol had been feeling a little bit "off" all morning so we headed back to the hotel. We both had a little rest and I took the car out to gas it up before we return it tomorrow. |