Monday December 10, 2012
We were up bright and early, at 6:00 a.m. There was no real reason to get up early but we were both too excited to sleep. We have both been looking forward to our first look at Disneyland's redeveloped California Adventure park. The new Carsland area looks awesome and we can't wait to experience it!
This is the busiest time of year at Disneyland so we know we'll be facing big crowds and long lines but we really like this time of year at the parks . . . we'll do our best to grin and bear it!
We had the luggage and the dogs loaded in the car and were on the road by 8:45.
We dropped the dogs off at Carol's parents who will be dog sitting for the next week. Zak displayed some canine attitude as we left. He can always sense when we are getting ready to leave and he's been in "mope mode" for several days. His head has hung down, his ears flat to his head and his eyes have lacked their normal brightness. He's really a terrific actor! When we headed to the car at 9:30 he wouldn't even look at us . . . we were being punished. Of course he'll be very happy to see us in a week!
Traffic moved well under dismal skies. We drove through drizzle, fog and sometimes brisk cross winds but we made good time. After one fuel stop and one coffee stop we pulled into the Indigo Hotel near Toronto's Pearson International Airport at noon. Our room was ready so we dropped the bags off and rested for a bit before hitting the road.
By 1:30 we were back on the road, heading to Burlington, the city we lived in during our working lives. Carol had a few shops to visit; a few old favourites she's been missing. We made a stop at the Disney Store along the way and I got accustomed to sitting in the car reading my book while I waited. She didn't buy much, but there was a terrific bargain in one of the thrift shops. A piece for her Disney Christmas village . . . she has picked it up several times but hasn't spent the $50.00 to buy a new one. When she saw one in mint condition in the Thrift Shop for only $3.00 she snapped it up!
At 5:00 p.m. we headed off for dinner at a Chinese Restaurant I have been missing ever since we moved. Our visit was well-timed; as we entered I was disappointed to read the sign announcing that they are closing permanently after Christmas day. The owner has sold the property to a developer and he is retiring. Carol was delighted to read the sign; now we'll have no choice but to go to her favourite . . . a terrific fish & chip joint!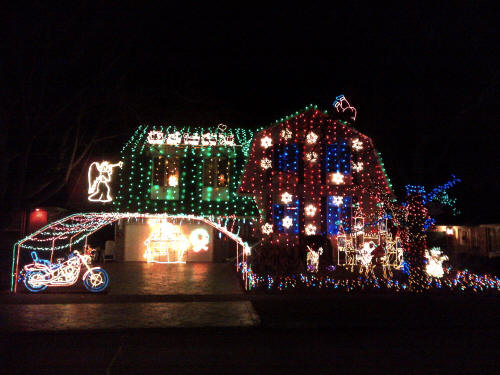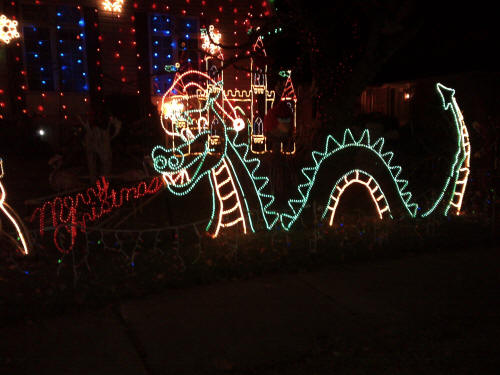 We drove around to see some of the more elaborate Christmas displays in our former home town and then made our way back to Toronto. We gassed up the car and were settled in our hotel room by 7:30.
Morning will come early tomorrow; we have a 5:30 wake-up call and a 6:00 a.m. shuttle to the airport to catch our 8:10 flight to LAX.
---
Tuesday December 11, 2012
We didn't make it to 5:30. We were both out of bed before 5:00, just too excited to sleep. We were in the hotel lobby by 5:45 and our shuttle left a few minutes early. Next step, check-in with Air Canada . . . it went well too.
Security is fun with my new knees, everything beeps and buzzes so I get a full scan with a wand followed by a thorough pat-down, then a full body scan in that new hi-tech scanner . . . it gets very "personal" but at least it's over quickly!
The Toronto airport is manned by US Customs & Immigrations Officers and we are able to pre-clear US Customs before we fly. This is normally a very slow process, but this day it was amazing. When we entered the queue there was no one in front of us. There are normally always several hundred people in this line! It was incredible . . . we walked directly up to the end of the line and were waved immediately to an officer. We never broke stride. Another bonus – he was a Disney fan. When he heard "Disneyland" the conversation took a 180 degree turn. He had never been to the left coast and wanted to know all about it! Soon he waved us through with none of the normal questions.
After a quick breakfast at Tim's we found a seat in the departure lounge and had a very short wait. We were loaded in great time and pushed away from the gate about 10 minutes early. The flight was smooth and it was fast. We landed 30 minutes ahead of schedule! Great!
Our single suitcase was one of the first down the carrousel and we went directly out the door to find the Alamo Car Rental shuttle. He was waiting and we stepped right on board. We were the last to board and the shuttle was pulling away as we were sitting down. By 10:55 we were pulling out of Alamo in our Chevy Impala. Think about that, just 50 minutes after the wheels hit the tarmac we were driving away in our rental car. In Toronto we usually spend at least 50 minutes taxiing before we get to the terminal.
We kept our eyes peeled for an In 'n Out burger shop. We don't have them in Canada and it's a nice treat. We know there's one along the way, we've stopped a few times, but today we missed it. We went to Carl's Jr., another burger joint just south of our hotel. It had been a long time since our breakfast; we picked up three hours during our flight. We pulled into the Candy Cane Inn at about 11:55 but our room wasn't ready . . . what to do? Carol said, "How about some shopping?" Surprised? NOT!
We drove north a few miles to the Character Depot on Orangethorpe Blvd. Yikes, it has changed since we were last there. They have a wider selection, all of it is "non-Disney" items and there are no bargains. Carol has permanently dropped it from her list of shopping "musts". By the time we returned to the hotel our room was ready, by 1:00 we were getting settled in.
By 1:30 we were walking north on Harbor Boulevard on our way to Disneyland. We spent about 30 minutes getting our new Premier Passes . . . they are good for the California Parks, the Florida Parks, all the water parks, Disney Quest and they include a number of discounts on meals and merchandise. They are expensive but we'll get our money's worth since we have quite a few trips planned in the next year.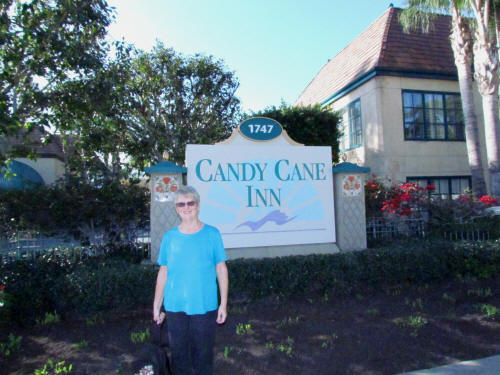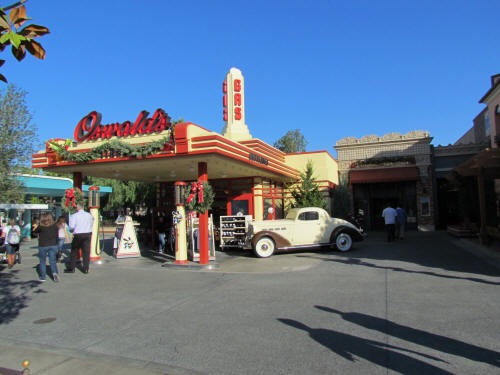 With our new passes in hand we headed directly to California Adventure and spent the rest of the afternoon exploring Carsland. All we can say is WOW! It is awesome; it's everything we were expecting and more!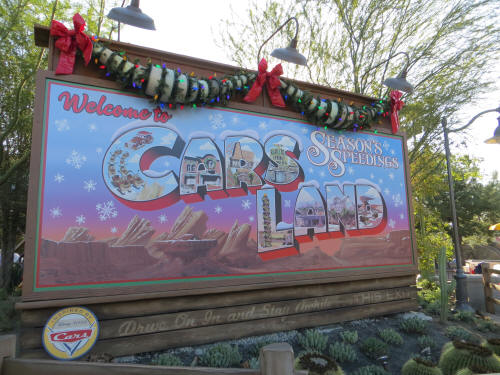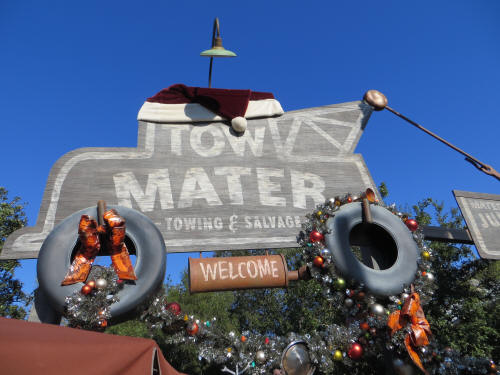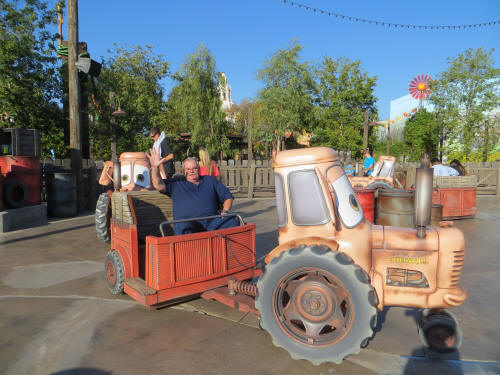 We rode all of the new rides, first up was Mater's Junkyard Jamboree. You sit in a little cart while tractors pull you around a double figure-8 track. Lots of spins and twists accompanied by some homespun humour from Tow Mater himself! Great fun, we'll be doing that one again a few times.
We took a few pictures of all the new scenery . . . it all looks so old. How do they do that? This area opened in June of this year and it looks like it's been there forever.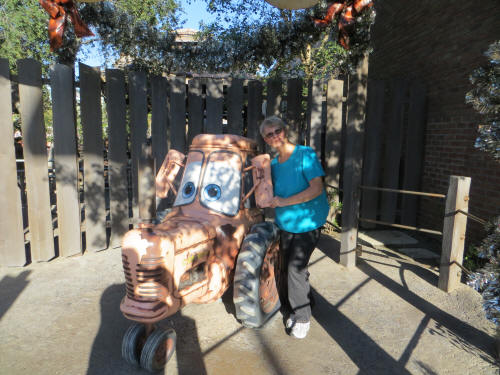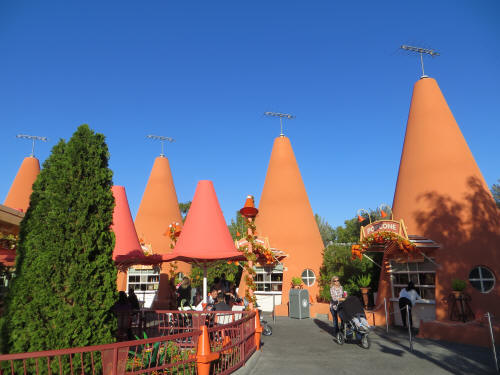 We paused for a cold drink at the Cozy Cone Motel and then headed to Radiator Springs Racers where we hopped in the single rider line. After a 20 minute wait we boarded for our first high speed run through Ornament Valley. Wow . . . what a great attraction . . . we'll be doing this one over and over again!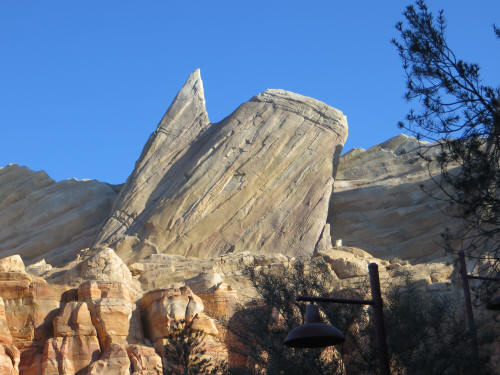 Do you see a 1960's tail fin here?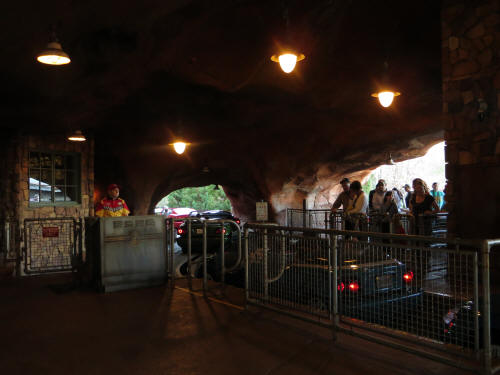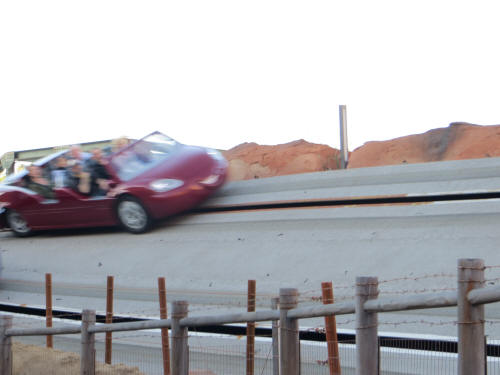 Last on our to-do list was Luigi's Flying Tires. These are big hover-craft vehicles you steer by leaning from side to side. They run across a big area that is like an air-hockey table. Air blows up from below and the cars float on this cushion of air. Want to go left? Lean to the right . . . and away you go. It's a giant slow-motion bumper car ride. It was fun but it really doesn't compare to the other new rides in Carsland.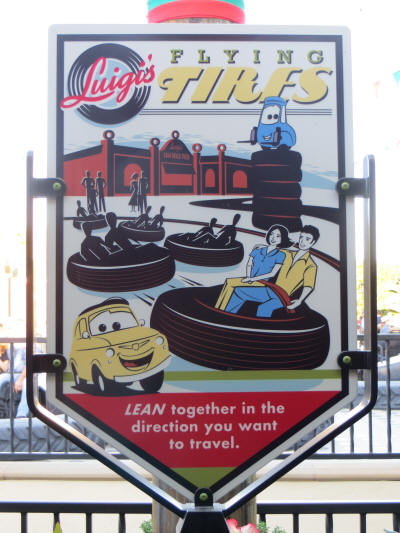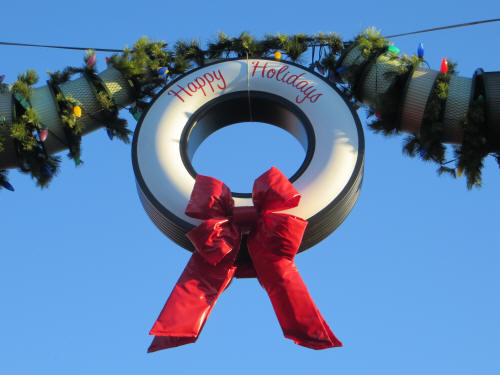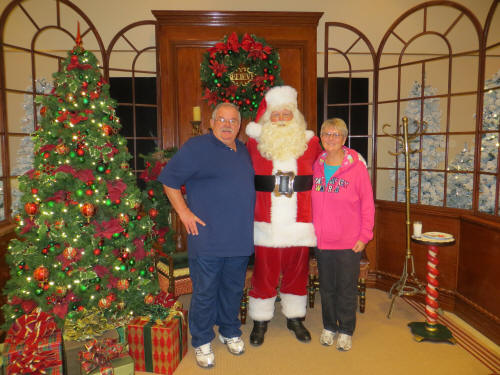 By 4:00 p.m. we were winding down . . . it was already 7:00 p.m. at home. Where to have dinner? We walked over to Downtown Disney and had a great sandwich at the new Earl of Sandwich store which has recently opened there. Yum they are good!
My knees had had enough for the day so we headed to the nearby Disneyland Hotel so I could catch a cab back to the hotel. In the lobby we spotted a jolly fat fellow who was sitting right beside the ATM I was using. He really wanted a picture with us. Carol refused a few times but the big elf was quite insistent so she finally relented.
I hopped a cab back home while Carol spent about 90 minutes shopping, trading a few pins and swapping a few vinylmations.
She was back to the hotel by about 6:30. We had a long soak in the hot tub before turning in early . . . well it was late according to Eastern Standard Time but pretty early here in the Pacific Time Zone!
Tomorrow we plan to spend most of the day at Disneyland.
---
Wednesday December 12, 2012
Our internal clocks were not reset yet! We were both wide awake at 5:00 a.m. We had coffee and fiddled at the computer. By 7:00 we were pool-side having breakfast. We relaxed some more and caught the 9:00 a.m. shuttle to the parks.
We walked into Disneyland just moments after the park opened and we enjoyed surprisingly light crowds all morning. On our way up Main Street USA we paused for a minute while I auditioned for the Dapper Dans. Carol was not at all surprised when I didn't make it! LOL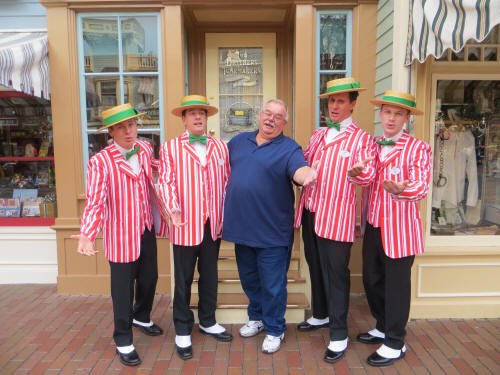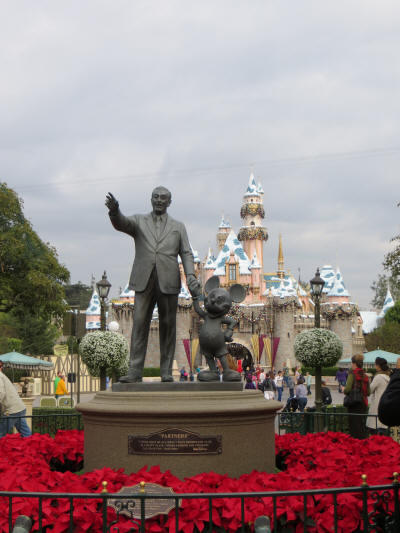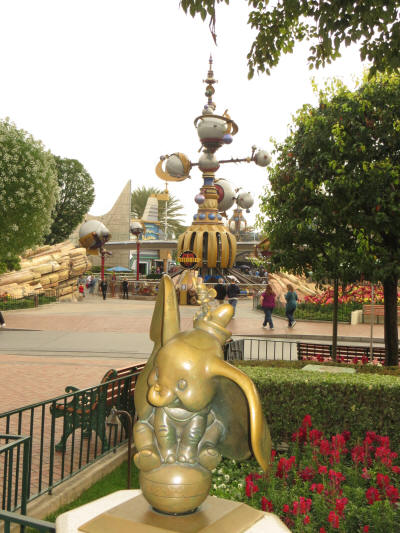 Carol dashed off to pick up FastPasses for Indiana Jones while I snapped a few pictures on my way to the hub. We met in front of the castle and headed through Fantasyland on our way to It's A Small World.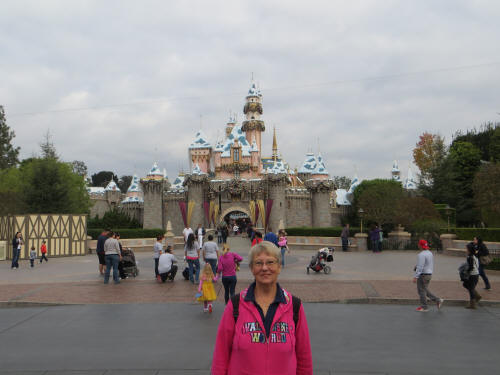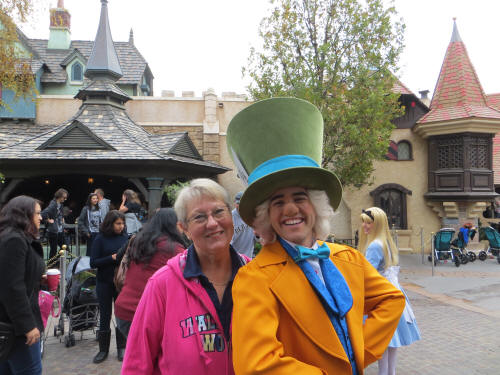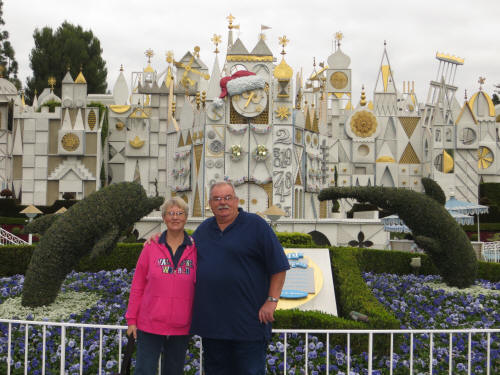 We really enjoy the holiday overlay they put up at It's A Small World . . . . the crowds were so light that we rode twice without even getting out of the boat!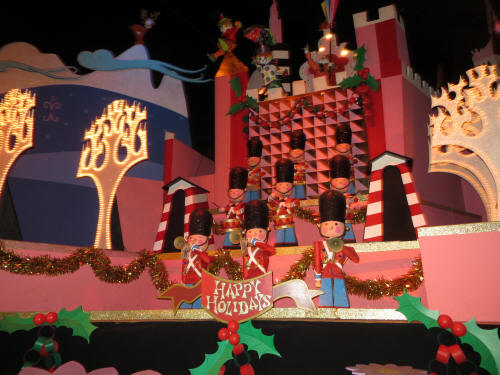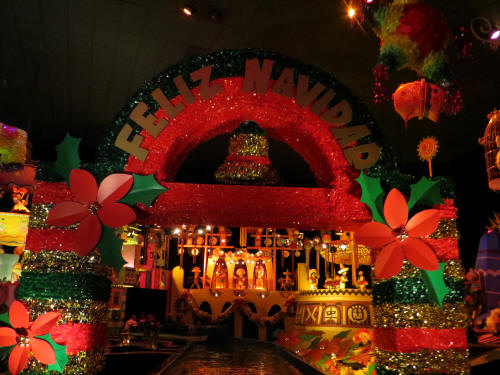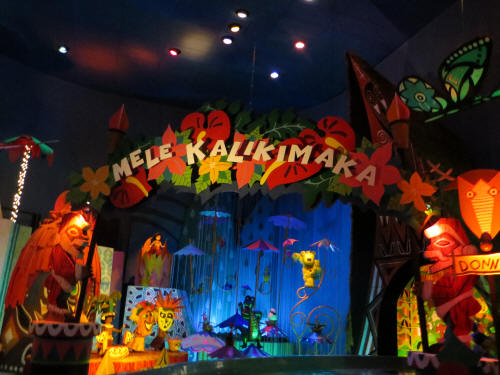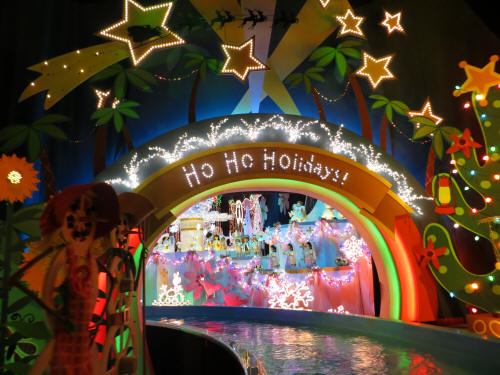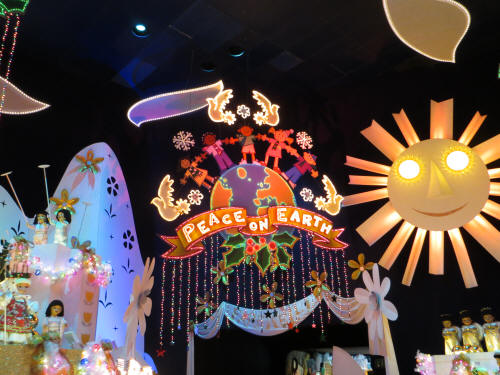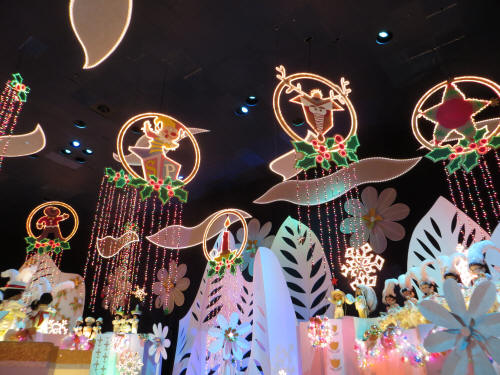 Our next stop was Big Thunder Ranch where we sipped hot chocolate as we watched our first Billy Hill & the Hillbillies in their new venue. I was disappointed when I heard they had moved from the Golden Horseshoe but I must admit that I really enjoyed the show. They were great and the theatre really works for them. We'll be back for a few more shows before heading home.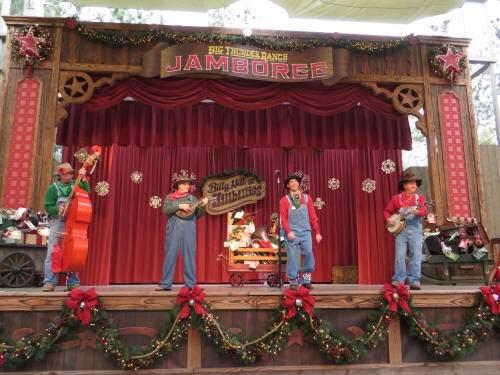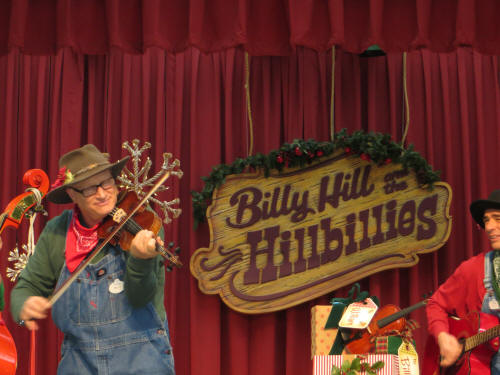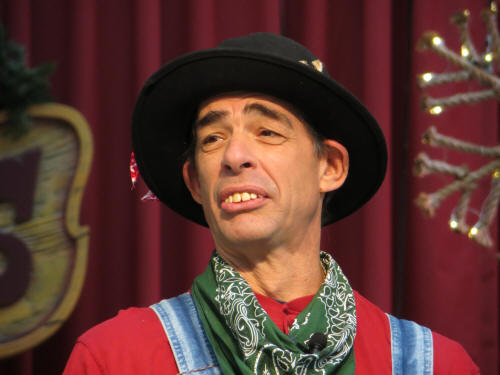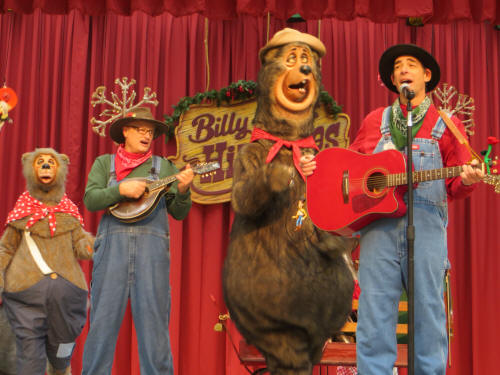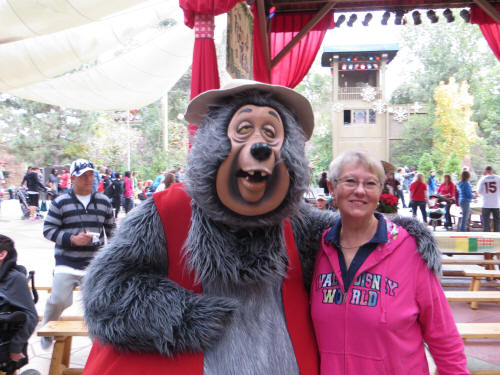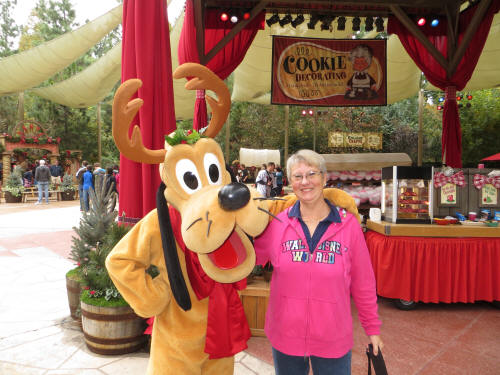 ---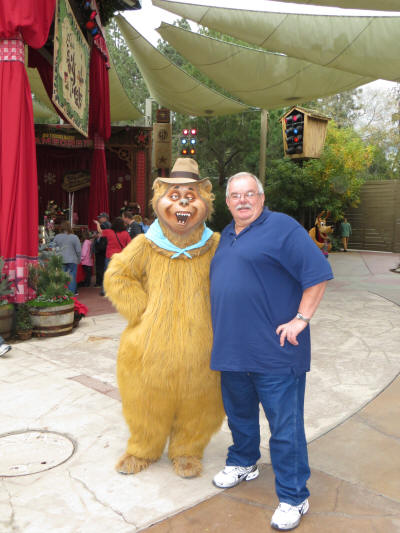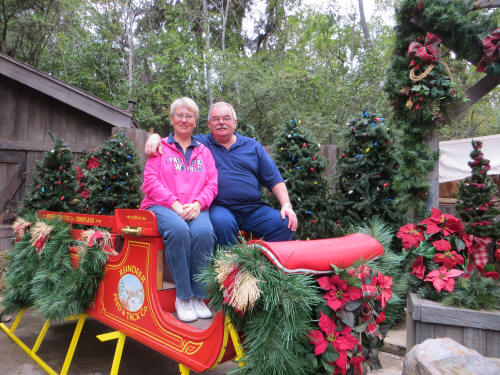 Our next destination was New Orleans Square . . . we just love the Nightmare Before Christmas overlay in the Haunted Mansion. I'm surprised that we waited until our second day to visit the Mansion. WOW! What a difference from the normal Haunted Mansion experience!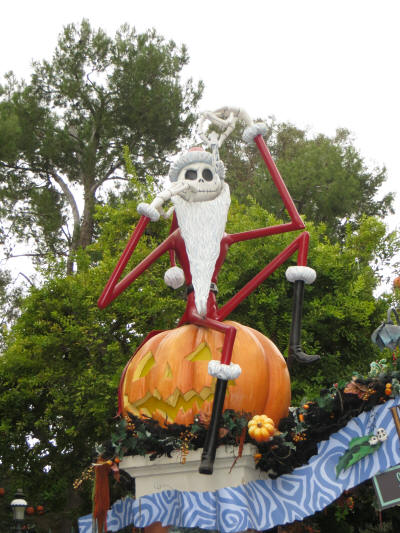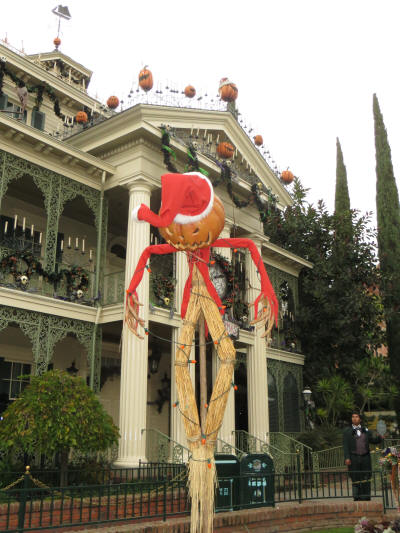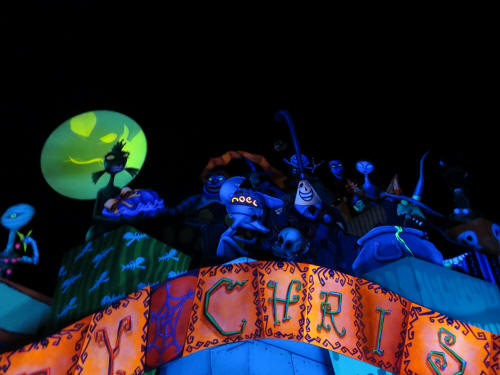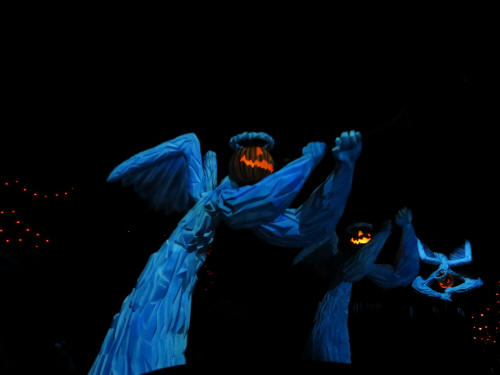 We boarded the Disneyland Railroad at the New Orleans Square station and rode all the way around to Main Street, arriving just in time for our lunch reservation at the Carnation Café. The potato soup there is amazing! Just great. The rest of the meal was so-so. The menu has changed since our last visit. My cheeseburger was mediocre and Carol was disappointed with the meatloaf. Next time we may just have the soup and then run across the street for a corn dog!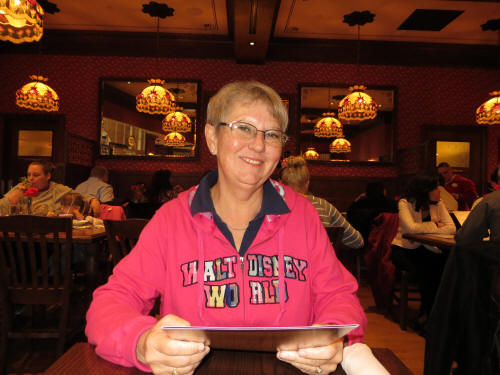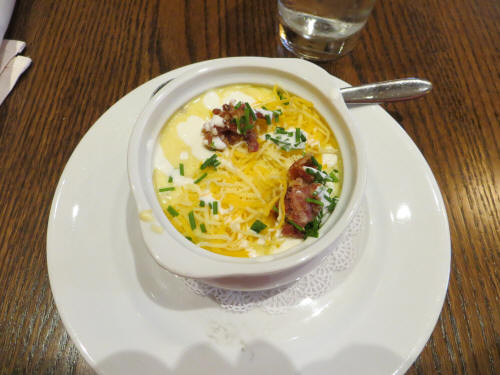 Oscar stopped by to say hello. He is the longest serving Disney Cast Member. He celebrated 56 years with the company on November 29th.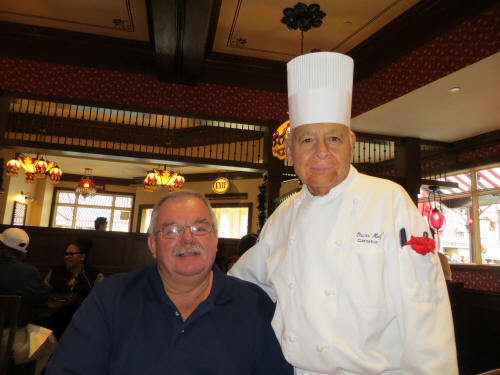 After lunch we headed to Tomorrowland for a spin with Buzz Lightyear and the Space Rangers. The ride stalled part way through and we sat still for at least five minutes. Carol was sitting directly in front of a target which gave her about 75,000 points for each hit. She shot again and again and in no time she had "maxed out" her hit counter at 999,999. New hits didn't change her score so she put down her gun and got some great pictures! Naturally I kept firing to improve my score and reduce my embarrassment at the beating she gave me!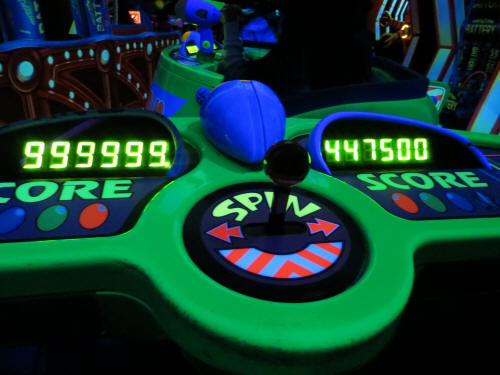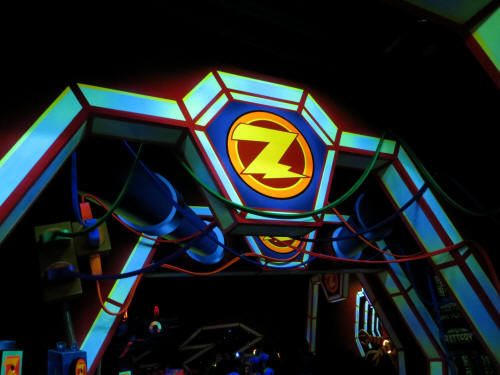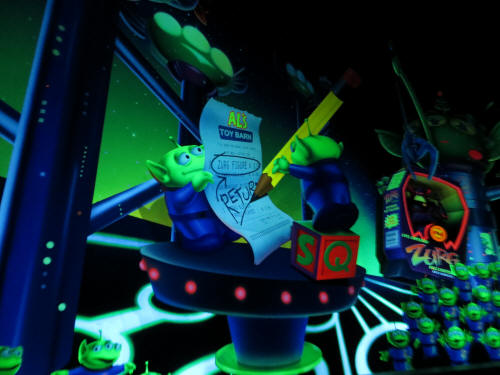 She did a bit of shopping in the Little Green Men shop and then she shopped her way down Main Street as we headed toward the exit. We were back to the hotel by 2:30.
After a short rest we were on our way back to Disney's Original Magic Kingdom. We caught the 4:00 p.m. shuttle and arrived at the park during the afternoon parade. Cast Members directed us toward the Fire Hall and then backstage. We walked behind all the stores along Main Street and emerged again between Refreshment Corner and the Jolly Holiday Bakery Café. We carried on through Adventureland and used the FastPasses Carol had picked up earlier to race to the Temple Of The Forbidden Eye with Indiana Jones.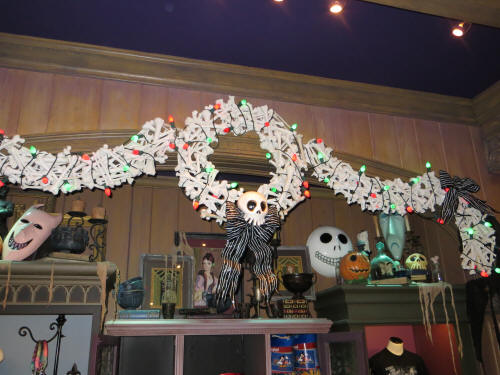 Since we were that close we decided to enjoy the Haunted Mansion one more time. This time Carol didn't take any pictures, she just sat back and enjoyed!
We wandered through Adventureland on our way to the Plaza Inn where we enjoyed a wonderful dinner. I had my usual Cobb salad while Carol had her favourite – fried chicken.
We meandered past The Matterhorn and stopped for a ride on Alice In Wonderland then carried on to It's A Small World to see it lit up at night. Just before we left they started the short projection show so we stayed an extra few minutes to watch it. The show is cute, but it really doesn't compare to "The Magic, The Memories And You" show they used to run. Hopefully they will bring back something like it soon!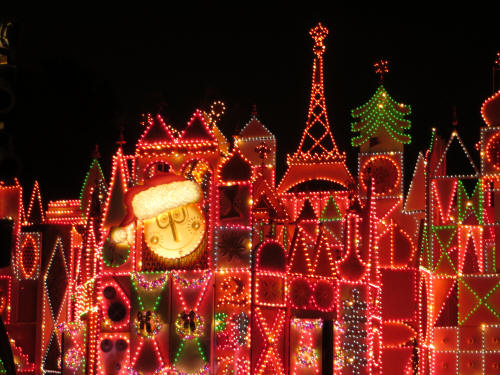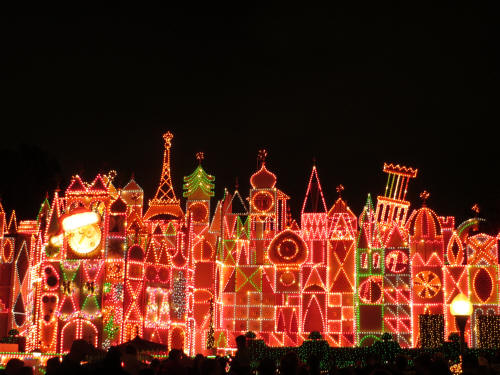 We arrived back at Town Square about 40 minutes before the 7:30 performance of the Candlelight Ceremony. They had cancelled the 6:00 p.m. performance because there was a light drizzle at the time but we were hoping that the later show would still go on. The guest narrator was Dick Van Dyke and we were anxious to see him so we ducked under a rope and found a spot to stand and wait. Before long my legs were punishing me so I headed off to City Hall where I sat on a balcony rail until the show started and they kicked me out. I ducked back under the rope but there was no way I could get anywhere near Carol. We were both well back in the crowd but we both had good vantage points. It was a terrific performance. The script is identical to the script in Florida but the staging is quite different. Dick Van Dyke did a great job narrating the Christmas story . . . toward the end of the show there was a very brief pause when it started to drizzle and during the pause a Cast Member brought out an umbrella for the narrator. He pretended to be flying with the umbrella (à la Mary Poppins) and the crowd went wild! In just a few minutes the show resumed and concluded without a hitch.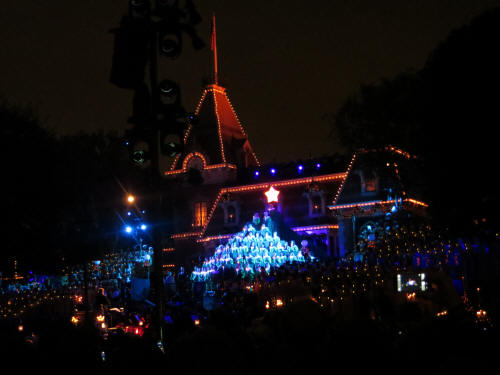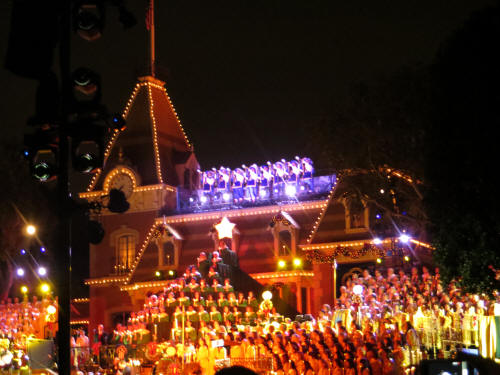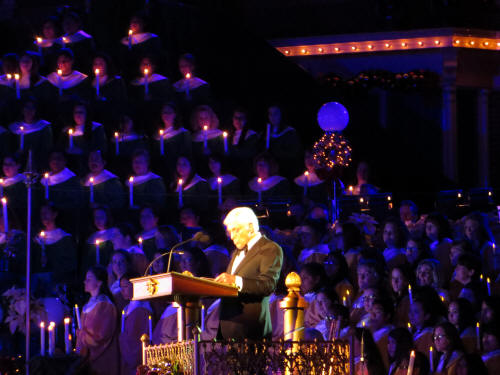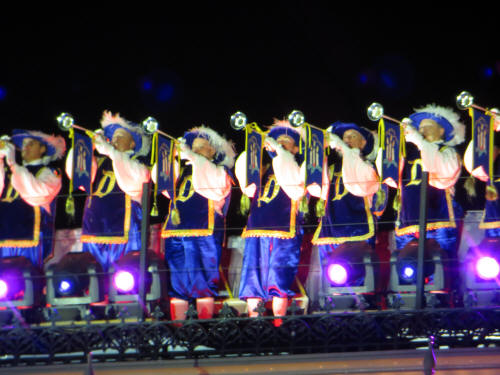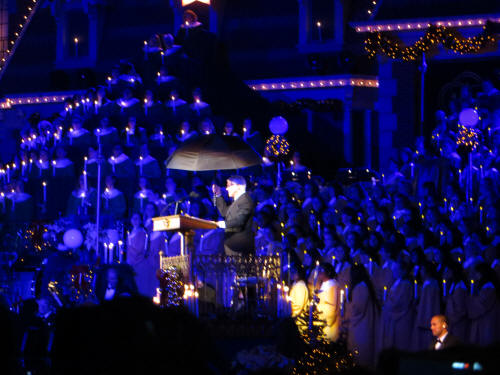 After the ceremony we headed out to the shuttle area and caught the 8:45 bus back to our hotel. I headed to the hot tub for another relaxing soak before bed but Carol sat it out tonight. She sat in a deck chair beside the spa while we recapped our wonderful day!
We were both exhausted and bed came early (again). Tomorrow we hope to spend most of the day at California Adventure!
---
Thursday December 13, 2012
I was able to toss and turn until 6:00 a.m. before getting up; Carol slept until 7:00. After a bite at the hotel we boarded the 8:30 shuttle to California Adventure to begin our busy, productive and fun-filled day!
The park was admitting people when we arrived at 8:40 so we walked as far as Carthay Circle. There was no admission past that point until 9:00 a.m. There were already hundreds of people standing in a separate queue which would be led to the Radiator Springs Racers FastPass distribution area. She waited in the line for a few minutes while I roamed around snapping a few pictures, then she waved me over in her direction.
We agreed to skip the FastPass option and go directly to the standby line. Naturally everyone else was heading in the same direction, so we just followed the crowd.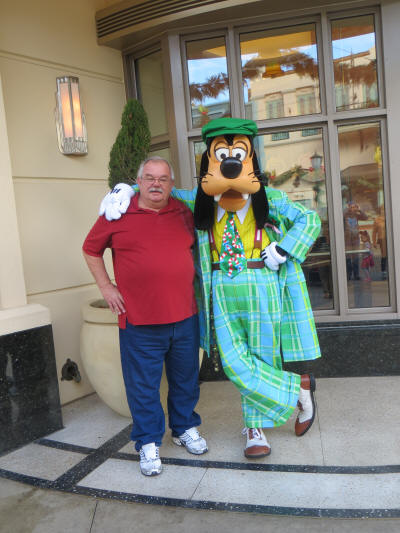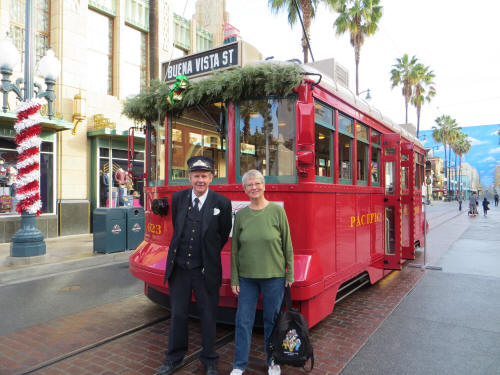 The line moved surprisingly quickly. We were through the line and had finished our first ride of the day by 9:45.
Carol dashed off to the distribution area and picked up passes we would use later in the day. She was back, passes in hand, by 10:00 a.m.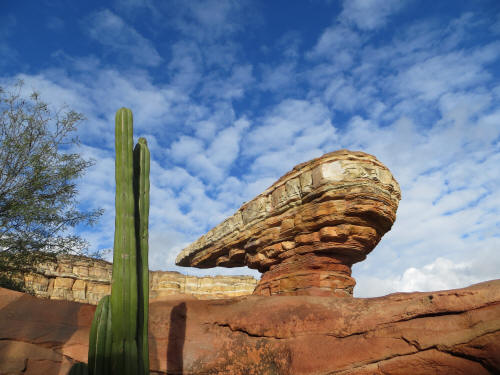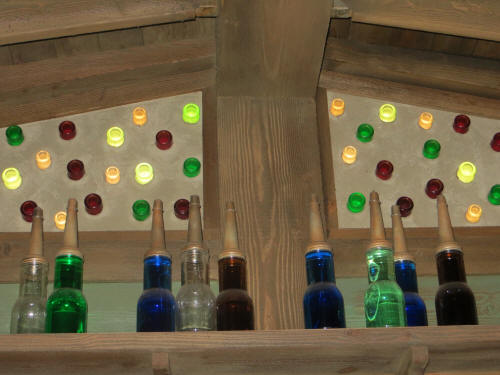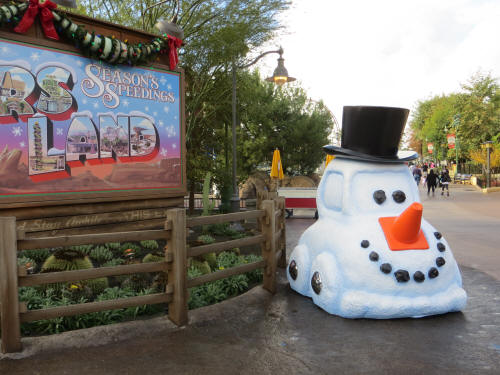 From Carsland we wandered through Pacific Wharf and took a spin through Ariel's Undersea Adventure, the new Mermaid ride. It is virtually identical to the ride in the New Fantasyland at Florida's Magic Kingdom.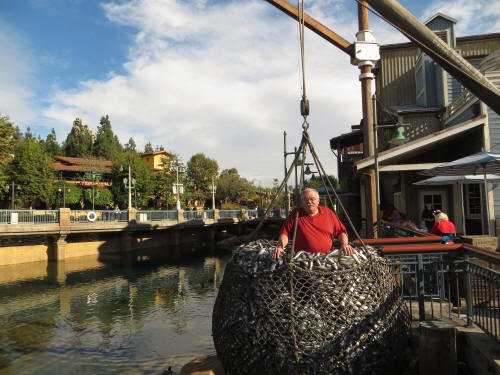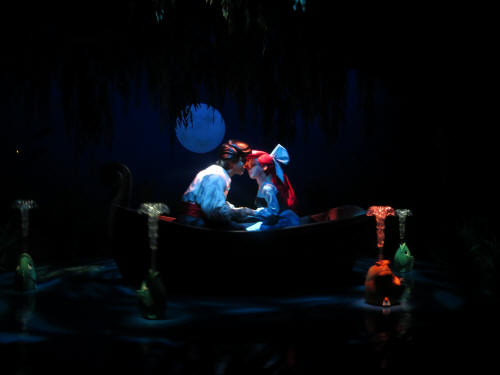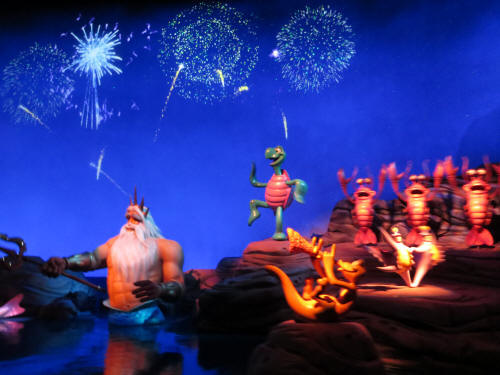 On our way through Paradise Pier we ran into the Green Army Men who were putting on a spirited show called Operation: Playtime! We stopped and enjoyed them for a few minutes.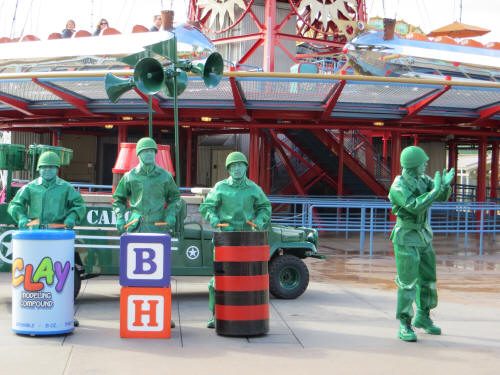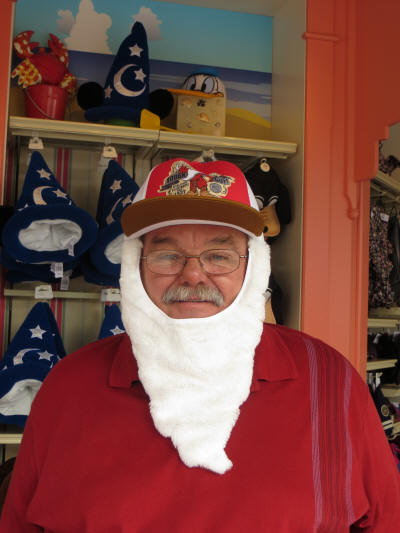 Goofy gave us some flight training at Goofy's Sky School, a small roller coaster with surprisingly steep grades and sharp turns. It was fun!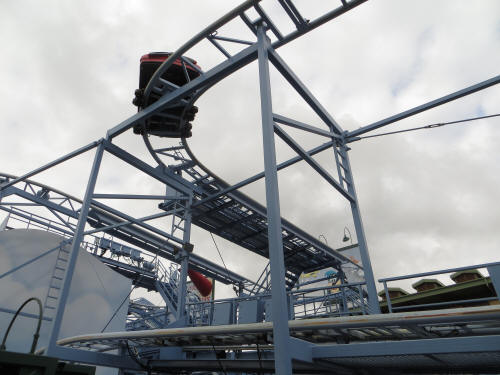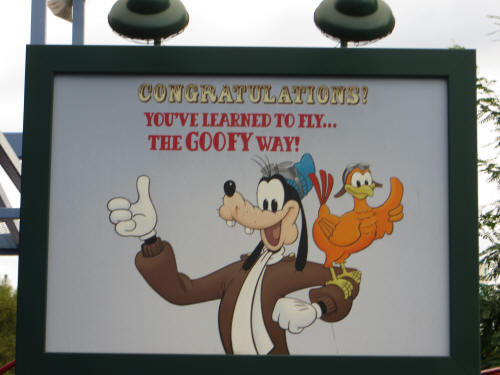 Our journey took us around Paradise Pier to Toy Story Midway Mania where we took a ride. As usual we both had sore arms by the time the ride was over.
Carol went for a churro while I headed for the single rider line at California Screamin'. There was no one else in the single rider line so I walked directly through and was wave into the first car I saw. As I exited the ride I saw Carol waiting in the launch area, ready to take my picture as the roller coaster accelerated. She'll have to wait until the next time!
It was noon so we made our way to Pacific Wharf for lunch. Carol picked up tacos and I had clam chowder in a sourdough bread bowl. They were both good choices!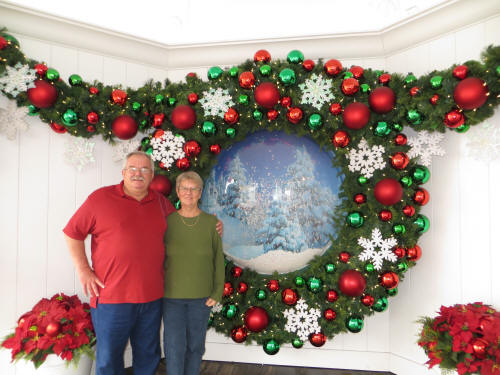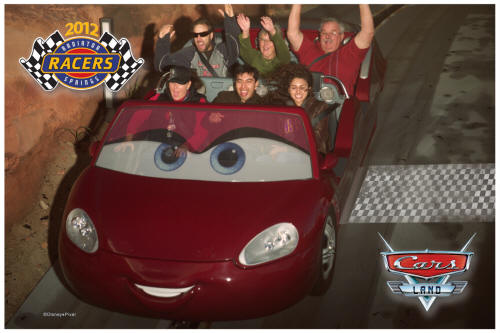 We needed one more spin around Ornament Valley before we went for a rest so we headed back to Carsland and stepped into the single rider line. Once again it moved quickly, we were in our vehicles within 30 minutes. What a great ride . . . we've now done it twice today and we still have a FastPass to use later!
We were headed to the exit to catch the 2:15 shuttle to the Candy Cane Inn but as we passed Tow Mater's Junkyard Jamboree we noticed that the line was empty. Absolutely empty! We walked in and walked directly to a trailer for another swingin' good time. We seem to have more mass than the other children riding so we seemed to swing faster and further as we were towed around the double figure eight course.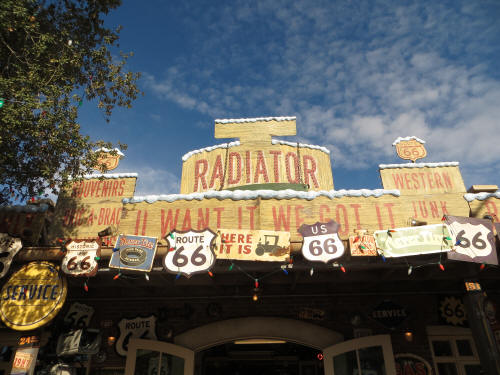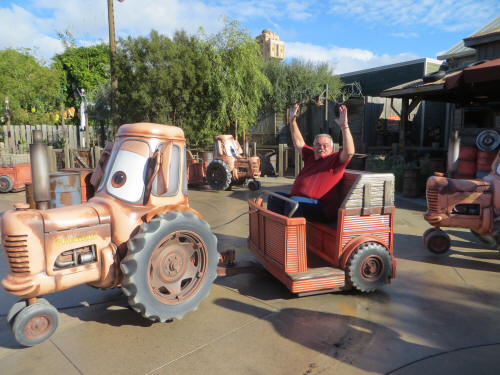 We caught the 2:15 shuttle and had a short rest. Carol caught up on her computer time while I snored. By 4:30 we were aboard the shuttle again, heading back to California Adventure. Our first stop was Buena Vista Street where we watched the 5:00 p.m. tree lighting ceremony. Mickey and Goofy were joined by a bell choir who led us in a few Christmas songs before the tree was illuminated for the night. It was a cute little ritual!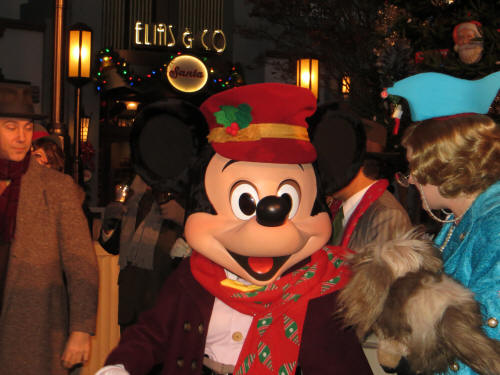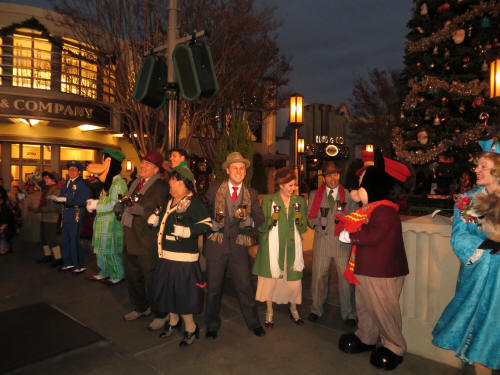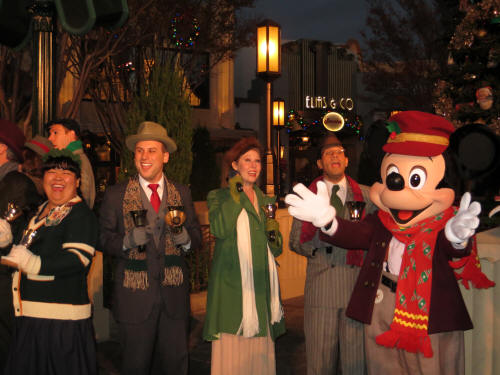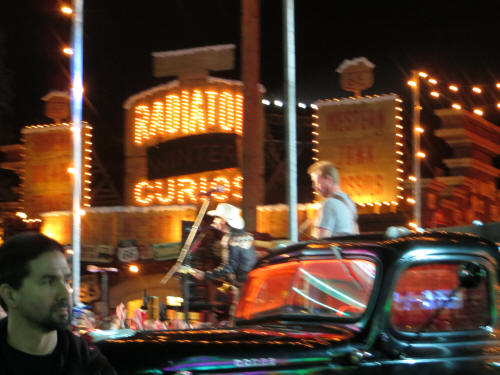 We wandered back to Carsland to see Ornament Valley at night. Along the way we passed a stage where Brad Paisley was singing . . . they are taping the Christmas Parade which will be broadcast on ABC Christmas morning. We couldn't stop, they were waving us right past but Carol did try one shot as we were moving. The blurry guy in the white cowboy hat is Brad Paisley . . . honest, it's him!
Then we turned the corner and were confronted with Ornament Valley. WOW! We walked the length of the race track portion of the ride, just enjoying the view and snapping pictures. It was so captivating that we turned around and headed back to the entrance. We cashed in our FastPasses and took our third ride of the day. It's even more amazing at night! Just awesome!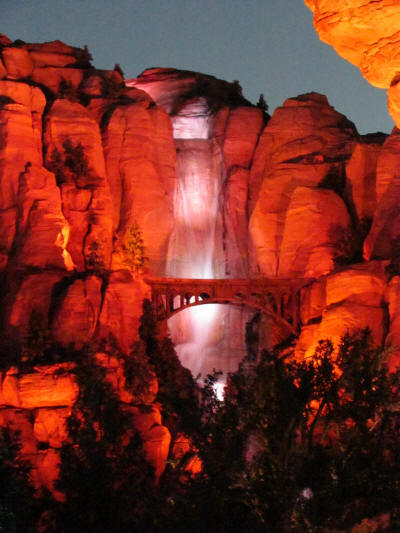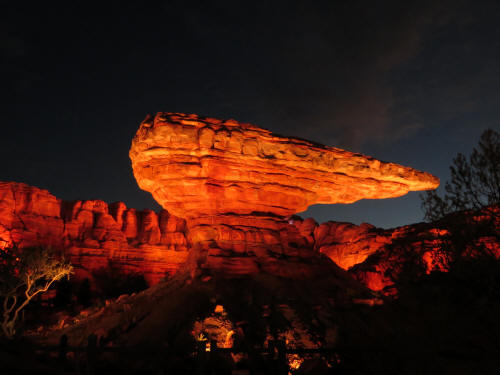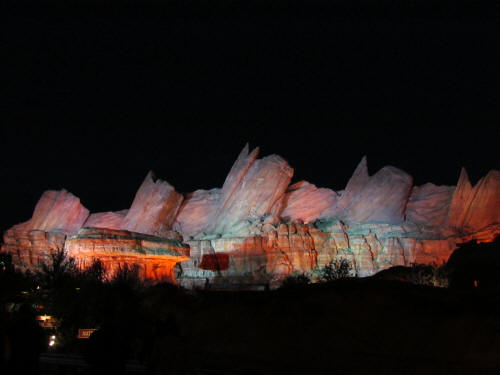 We were getting hungry so we headed out in search of dinner. As we passed the Carthay Circle Theatre the trolley pulled up so we decided to take an impromptu ride and see where it took us. Ooops . . . it was a one-way trip to the Tower of Terror. We headed back to Carthay Circle and had dinner at the Fidler, Fifer and Practical Café. Carol had a roast beef sandwich and I had a turkey Reuben. Both were yummy. Oh, look – there's ice cream right next door! We both had a sundae for dessert.
We were done for the day so I waited on a park bench near the turnstiles while Carol shopped her way toward the exit. Soon she arrived and we caught the 7:45 shuttle.
We both had a nice soak in the hot tub and then watched a bit of TV before bed. It was a good day!
Tomorrow we'll be off early, we have tickets for an early entry at Toontown so we have to be at Disneyland by 8:00 a.m.
---
Friday December 14, 2012
We had passes for a special early entry to Toontown so we wanted an early start today. We were both awake at 5:30 a.m. but that was a bit too early so we rolled over for another hours sleep.
We caught the 7:30 shuttle to Disneyland. I rented a scooter today. I've developed blisters on both feet and decided to give them a break today! As we headed up Main Street on our way to Toontown we passed the candy store and Carol noticed a line . . . she's drawn to them like a moth to a flame! This line was for candy canes. The candy store makes special hand-made candy canes each December and you must line up and get a wrist band in order to buy one of the limited number of candy canes available later in the day. Needless to say the words "limited number" kick-started Carol's collector gene. She stepped into the line while I scooted off to the Haunted Mansion to pick up FastPasses.
I met Carol at the entry to Toontown; she was sporting her new wristband! Even with our little side trips, we were the first to enter this area of the park. The characters were standing waiting for us and we got some terrific pictures with Mickey, Minnie and all the gang. The place was deserted and we strolled around taking pictures. By 8:30 about a dozen other people had joined us and the characters put on a short performance in front of City Hall before heading to their homes.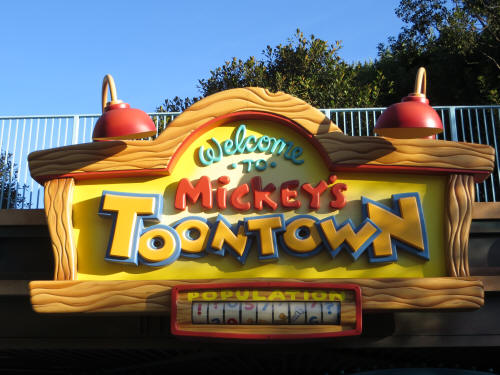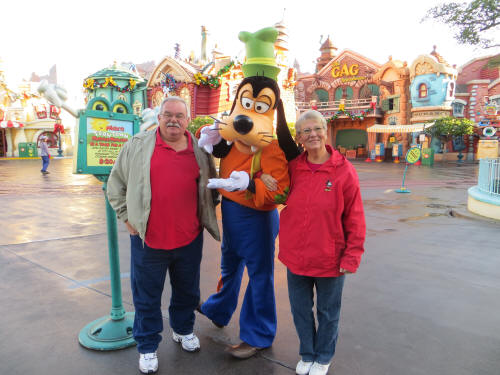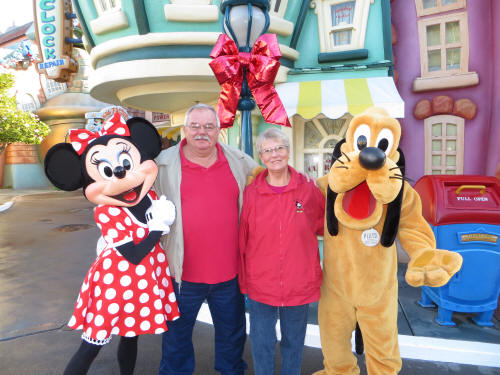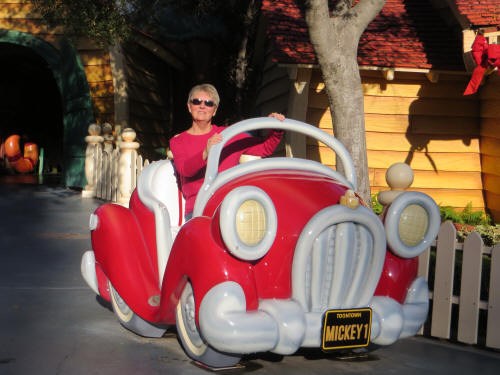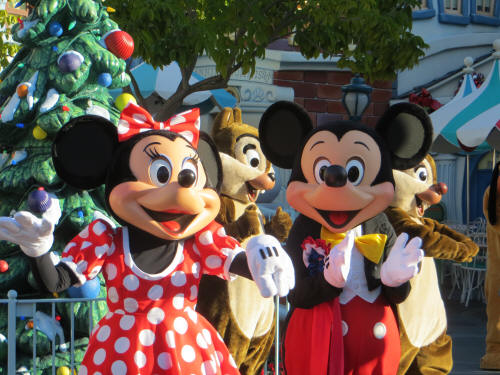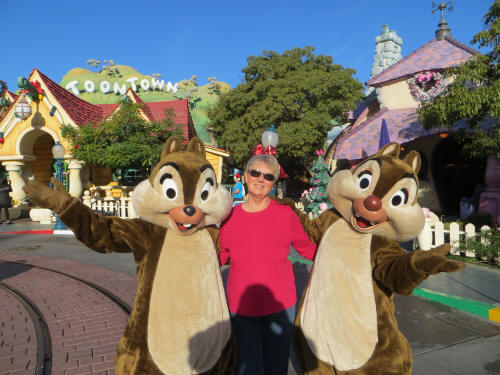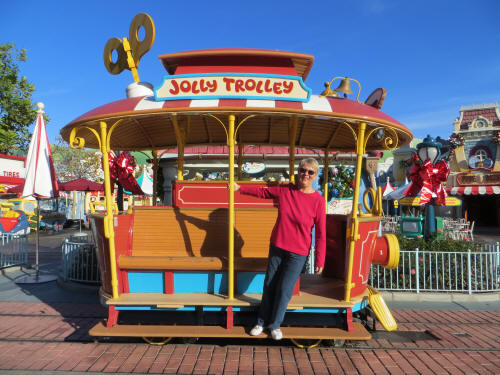 We stayed at Toontown until 9:00 a.m. and on our way out stopped at Roger Rabbit's Cartoon Spin. We were the first riders of the day. Cast members who had been standing idly by for an entire hour were happy to see us.
As we passed It's A Small World we paused for another enchanted ride.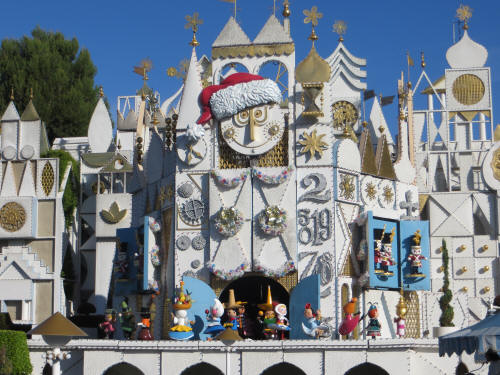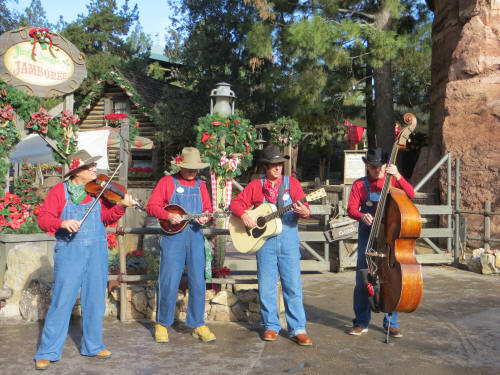 We wandered through Fantasyland and passed by Big Thunder Ranch on our way to Big Thunder Mountain Railway. As we passed the ranch Billy Hill & the Hillbillies were out performing an acoustic set on the road so we stopped for a few minutes.
Soon we were boarding a mine tram for the Wildest Ride In the Wilderness! Carol tried valiantly to get some pictures of the little mining town as we hurtled by on the runaway train. Rumour has it that the village is going to be removed in the very near future!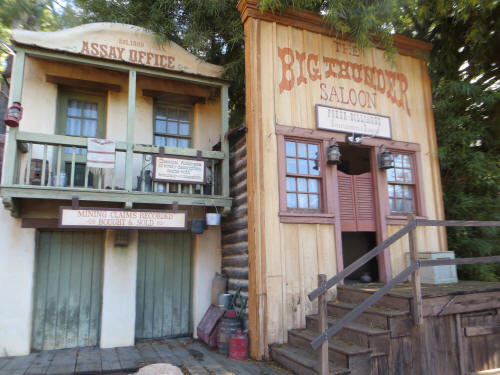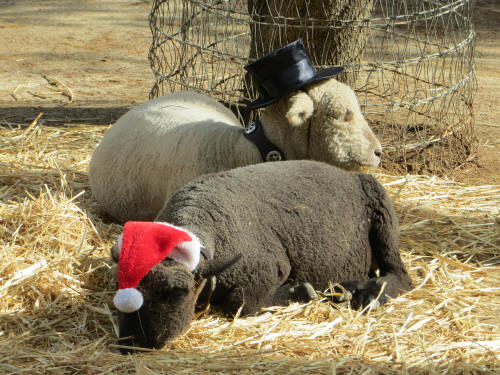 We were getting a bit hungry so we stopped at New Orleans Square and shared an order of Pumpkin Fritters. They were quite good! As we were strolling through New Orleans Square the Disneyland Railroad train went past and Carol noticed the last car – it was the Lilly Belle. A special car decorated by Walt Disney's wife Lillian. It only runs periodically and you have to pre-book your seats. We scrambled down Main Street to the train station – Dang! They are all booked for the day. Maybe we'll have better luck another day!
We headed to the Jolly Holiday Bakery Café and enjoyed hot coffee and a tasty cinnamon bun! Yum.
At 11:00 we headed back to Big Thunder Ranch to catch the 11:30 performance by Billy Hill and all those other Billies. Their Christmas Spectacular is . . . well . . . Spectacular! They are hilarious!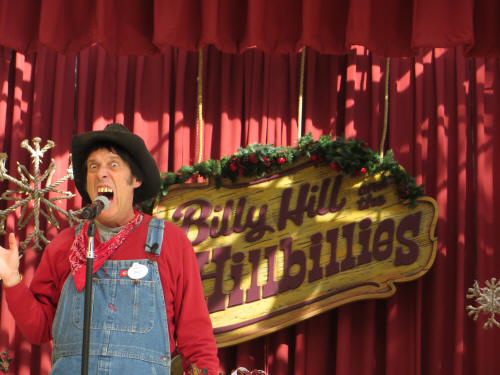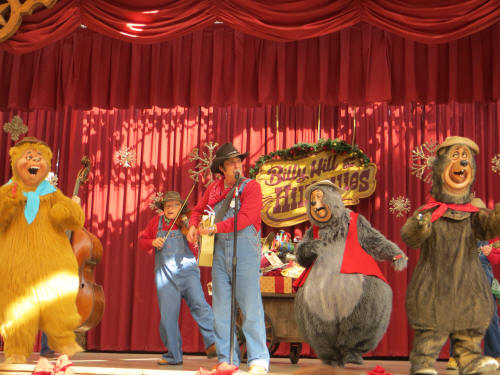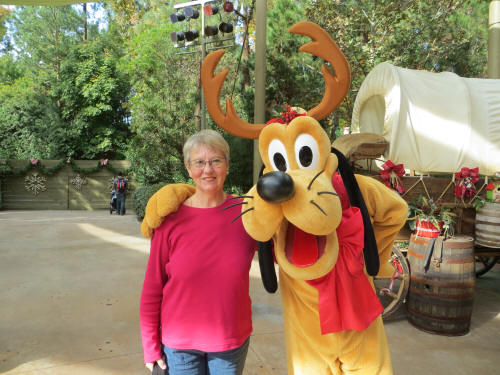 We headed back to New Orleans Square and cashed in our FastPasses at the Haunted Mansion. As our Doom Buggies reversed and backed us down the incline into the cemetery the ride slowed to a stop. We were situated at the cemetery gate, directly in front of Jack Skellington and Zero. We sat and sat and sat as they tried to restart the ride. After about 10 minutes they announced that we would be walking out. The lights came on and soon the cast members arrived to open our buggies! Wow . . . chance of a lifetime to get some flash pictures in a dark ride! Here are a few examples!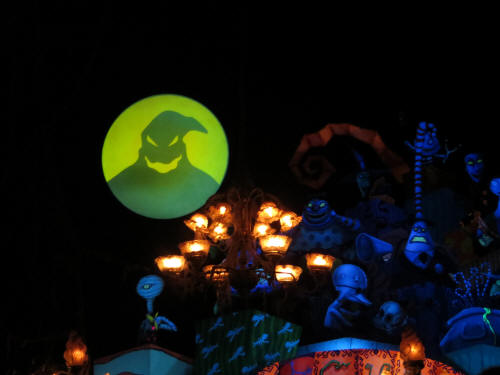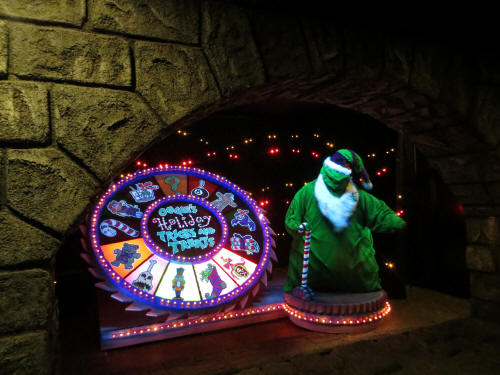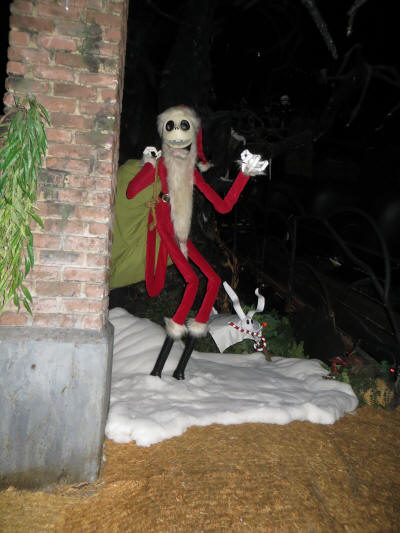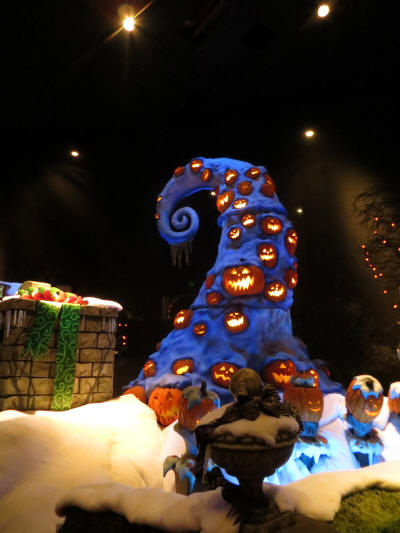 After walking out of the mansion our next stop was Indiana Jones. We took another high speed romp through all sorts of treacherous traps and helped Indy retrieve the treasure from the Temple of the Forbidden Eye.
By the time we reached Main Street the Christmas Parade was under way so we stopped to watch it before we left the park and headed back to the hotel for a rest!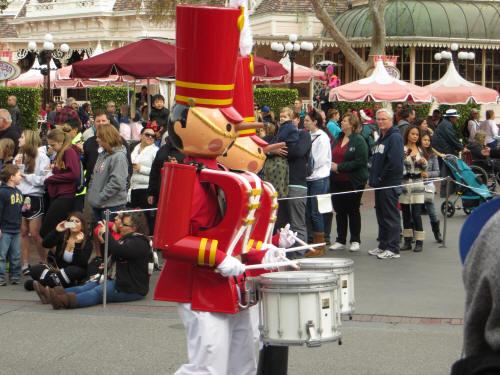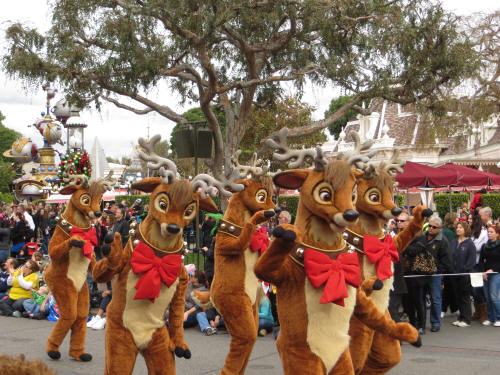 We caught the 4:30 shuttle back and headed to the California Adventure Park. We had two snacks in the morning and ended up skipping lunch. By 5:00 p.m. we were hungry so we headed back to the Fiddler Fifer and Practical Café where we enjoyed the same dinner we had the previous evening. Very good sandwiches!
We wanted to see the special seasonal presentation of Prep & Landing in the MuppetVision Theatre so we headed that way after dinner. They were just about to begin the show as we arrived so we were waved right in and found seats just as the curtain raised. We had seen the show on TV but it was nice to see it in the big theatre with the added 4D effects!
We moved next door to the Monsters Inc. attraction where we helped Mike and Sully save little Boo from capture. It's a cute ride!
It was cool, damp and drizzling so we kept indoors as much as possible. Our next stop was Animation where we once again marvelled at the Zoetrobe device which animates simple mannequins.
As we left the Animation building we debated whether or not we had ever ridden the California version of the Tower of Terror. To end the debate we decided to walk over and take a ride. We're still not sure that we ever rode it before this trip, but now were sure that we have experienced it at least once!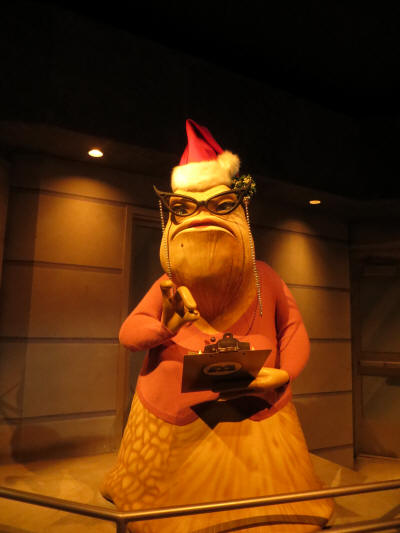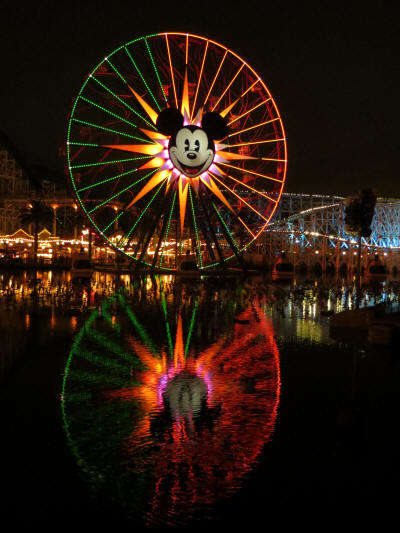 We took a damp and non-moonlight stroll through Radiator Springs and on to Paradise Pier. Both areas were very quiet, Radiator Springs Racers was closed due to the rain. By the time we finished the circuit around Paradise Pier we were chilled so we stopped at Condor Flats to pick up a coffee which we drank indoors at the Café on Carthay Circle while we waited to meet our friends David & James. Soon a troupe of street performers, 5¢ & Dime, drove past, playing from the back of a jalopy so we moved out to listen.
Almost as soon as we move outdoors, along came David. He took us into Club 1901, a wonderful members-only club adjacent to the elegant Carthay Circle Restaurant. We joined David, James and a group of their friends for a wonderful evening in a beautiful setting. The club is filled with amazing Disney art, artefacts from the life and times of Walt and Lillian and many tributes to their lives and successes.
On one wall of the club the shadow of Walt's ghost regularly appears. On another wall a picture of Walt drawing Snow White becomes animated as Snow White moves and performs. There are many showcases filled with a variety of priceless memorabilia. One showcase contains Walt's original figurines of the Seven Dwarfs, manufactured for him in 1938. Another display features Mickey and Minnie Mouse dolls from the 1930's.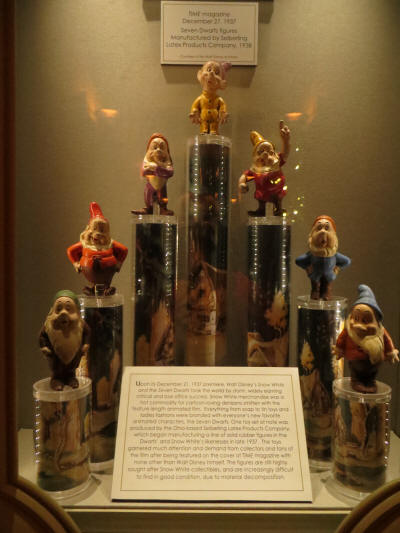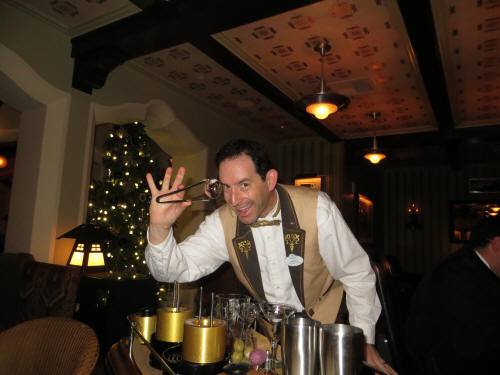 Oh yes, the drinks were great too!
One of the group was Tina, who is a sommelier at the Carthay Circle Restaurant. She joined with David and James to give Carol and I a tour of Club 1901 and the elegant Carthay Circle Restaurant to conclude our evening.
What a wonderful night . . . thanks to all for making it so special!
We said our goodbyes shortly after 10:00 pm. and headed for our hotel.
Tomorrow, if it is not raining, we plan to get an early start at California Adventure so we can ride Radiator Springs Racers a few more times.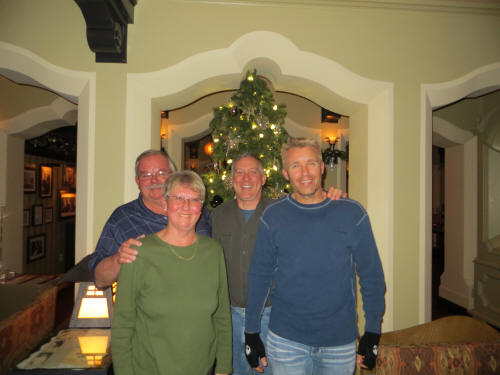 ---
Saturday December 15, 2012
We slept in a bit today and missed the 7:30 shuttle . . . Aaaah! Ooops!
We caught the 8:00 shuttle and headed directly to Carsland. Radiator Springs Racers was down, they were having a bit of trouble getting it started up and running in the morning. Now there's a condition I can identify with!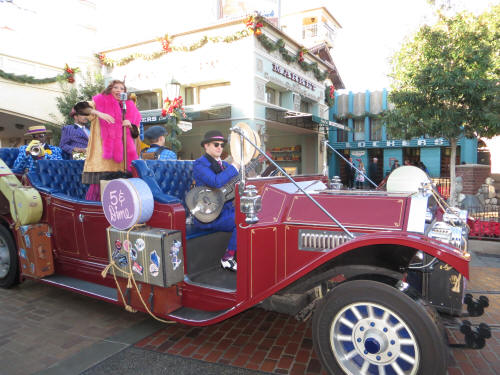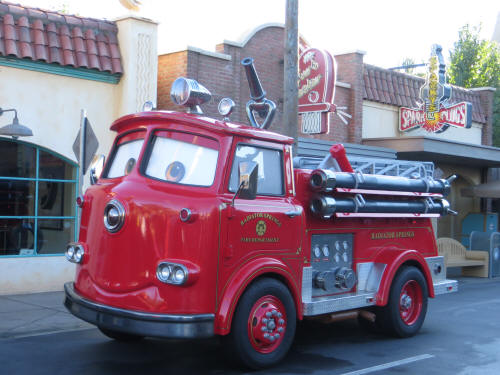 We wandered around taking a few pictures while we waited and watched "Red" the fire truck put on a show in front of City Hall.
Then Carol decided to dash off to pick up some FastPasses. She was able to go through the line quite quickly, we then went to Flo's V8 Café for a bite of breakfast.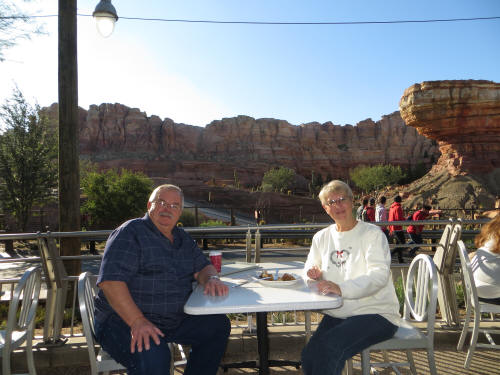 We shared an order of French Toast with salted caramel sauce . . . wow . . . it was good!
We wanted to see the Newsboys perform on Buena Vista Street so we headed in that direction and stopped for a swing around Tow Mater's Junkyard Jamboree as we passed it!
The Newsboys performance was abbreviated for some reason, they did a simple "drive-by", singing out the trolley windows as they passed. We were disappointed, but maybe we'll see the complete show before we leave!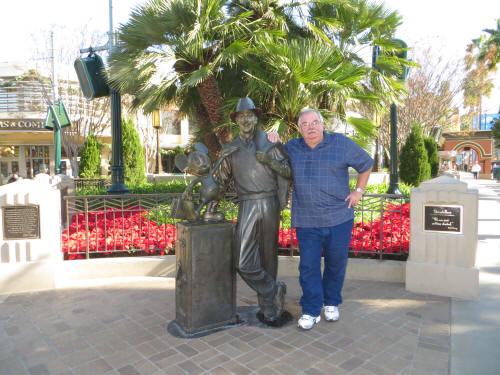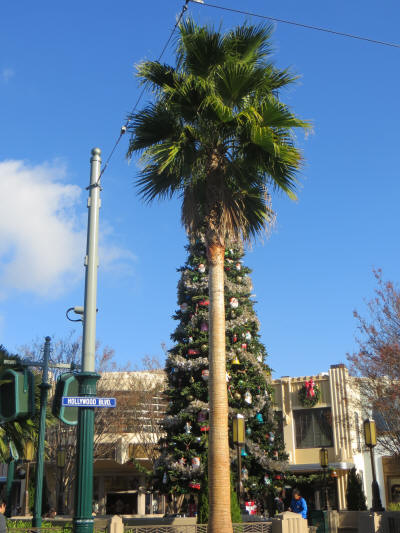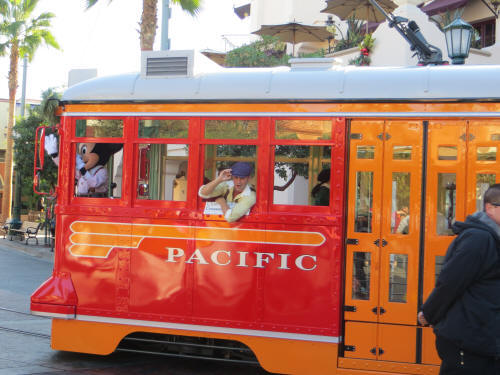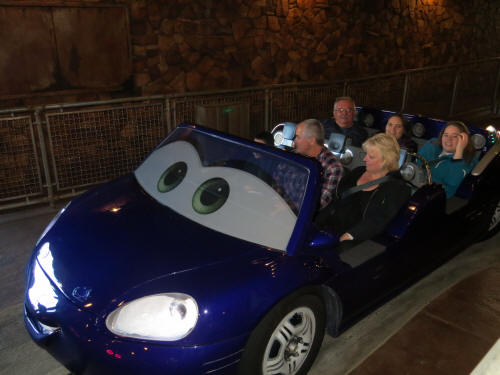 By the time we returned to Carsland the Radiator Springs Racers were running so we hopped in the Single Rider line. Within 35 minutes we boarded our (separate) cars and off we went! It was our fifth ride and I still enjoy it as much as the first time!
Lunch time was approaching so we headed towards Downtown Disney, stopping at the Blue Sky Cellar Preview Centre to have a look at the models of Carsland on display. There is a cute animated short which describes the founding of Radiator Springs by Stanley Steamer, narrated by Tow Mater. We chuckled through the story and then made our way through the Grand Californian Hotel to Downtown Disney.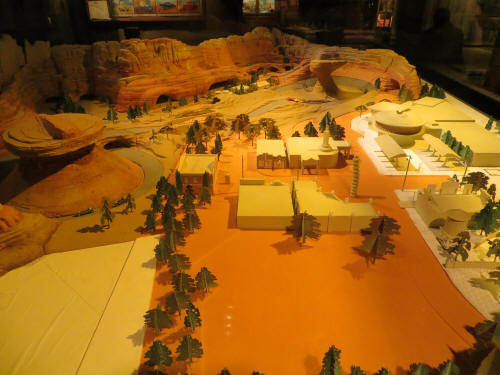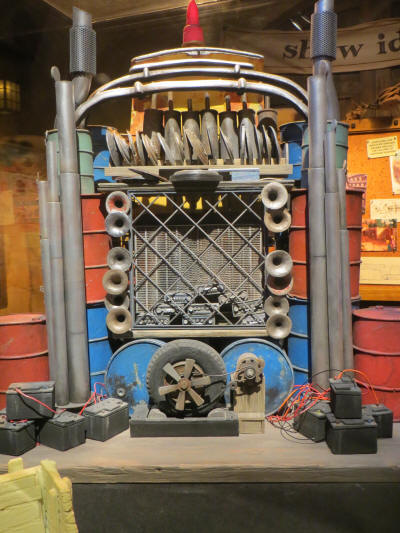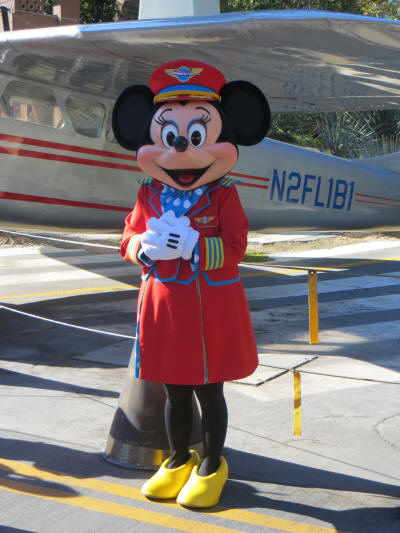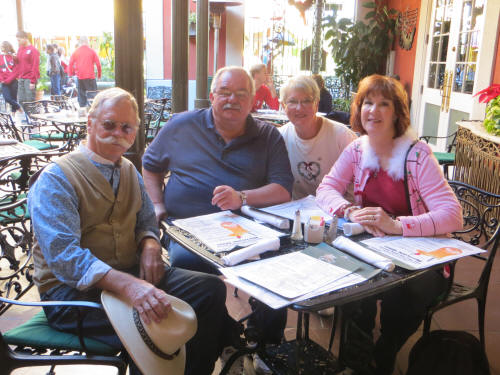 Within just a few minutes our friends Raleigh & Mari arrived. We met them last May at Disneyland and then spent quite a bit of time with them during our Alaska Cruise. We headed to Ralph Brennan's Jazz Kitchen for a long and relaxing lunch. We chatted, laughed and reminisced for 2 ½ hours before it was time to say our goodbyes! I hope our paths will cross with theirs again soon!
Since we were in Downtown Disney Carol had to visit the Pin Store, DStreet and The World of Disney Store before we caught the 3:15 shuttle back to our hotel. Snoring began almost immediately!
We were fully refreshed by 5:00 p.m. when we caught the shuttle back to California Adventure. Crowds were beginning to assemble along Buena Vista Street as we arrived so we joined them and waited for the Pixar Play Parade. It's a lively affair featuring characters from all of the Pixar movies.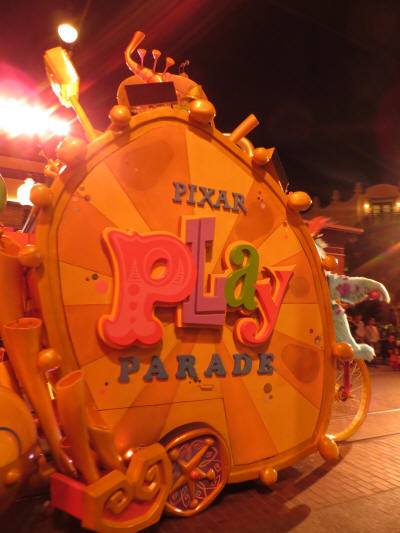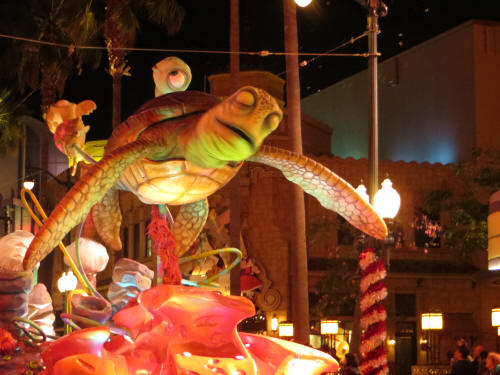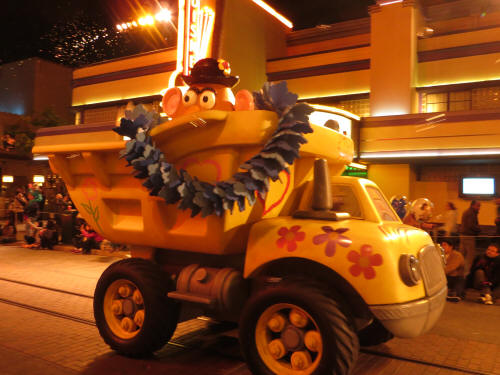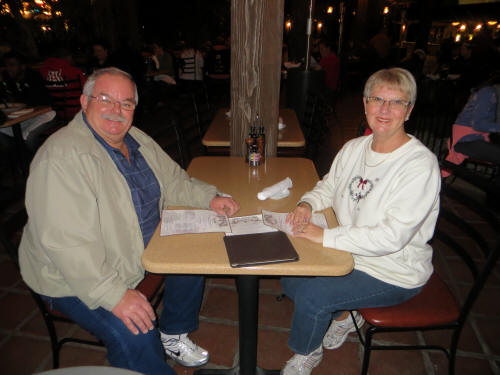 After the parade we headed to the Wine Country Trattoria for dinner. Carol had booked a World of Color dinner package so our dinner included a ticket for preferred viewing of the spectacular water and light show. We had a delicious dinner but very poor service from our server Brittany.
After dinner we headed to Carsland to use our fast passes and took our sixth ride on Radiator Springs Racers. We sure hope to get a few more rides in before we leave on Tuesday.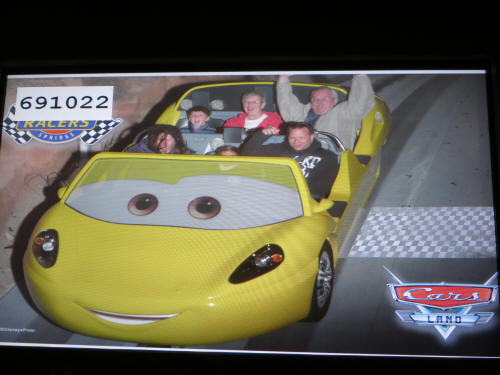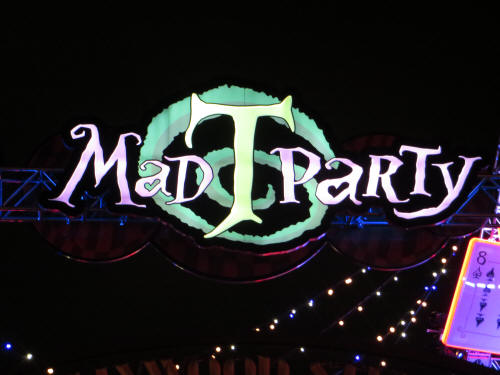 We walked over to Hollywood Land to check out the Mad Tea Party. It's an open air show in the courtyard near the Monster's Inc. attraction and the Muppetvision 3D Theatre. It's a wild and loud multimedia show. Strobe lights and lasers were flashing to the thumping rhythm of loud music. Cast members were leading guests, young and old, in dance and some really weird creatures came out to join in the fun.
Just before our eardrums caved in we walked into Monsters Inc. and hailed a cab for an action packed ride through Monstropolis. As we exited the ride we noticed that The Mad Hatter and his band were setting up to play on the main stage. Suddenly things got a lot LOUDER!. Even Carol started swaying to the beat and she busted out a few crazy dance moves as we lingered to listen to a few numbers. Then came time to assemble for the World of Color Show, so we headed toward Paradise Pier. We could still hear The Mad Hatter several blocks away and Carol was sort of dance-walking all the way across the park.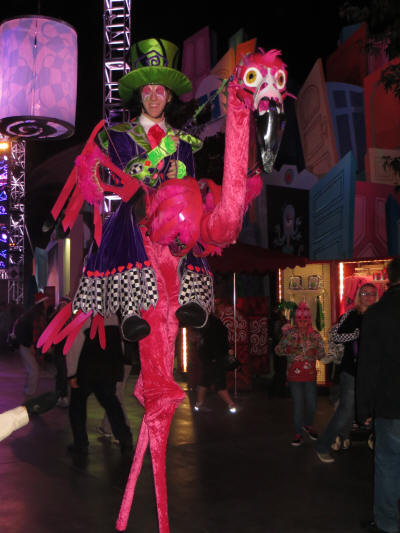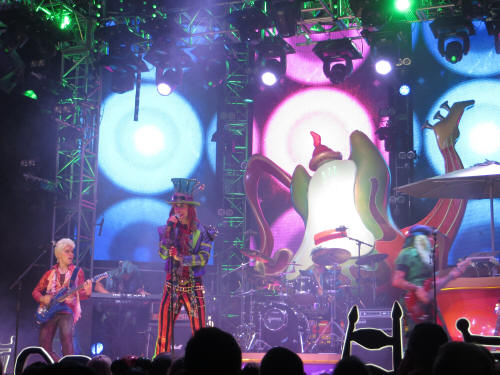 We had a terrific viewing area, in the first section and almost dead centre. We were close enough that we were enveloped in a light mist throughout most of the show. It's a wonderfully designted water and light show. Coloured fountains dance as water sprays to create screens onto which classic Disney cartoon and movie scenes are projected. Lasers and coloured lights flash in time with the music and dialogue to further animate a stunning visual display.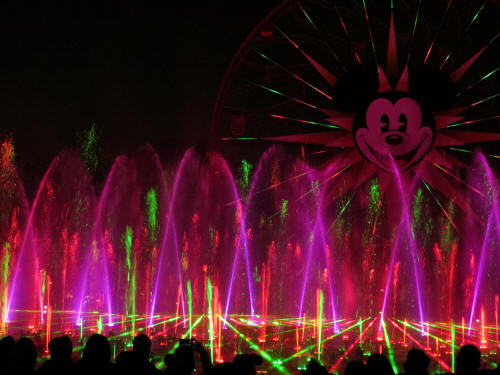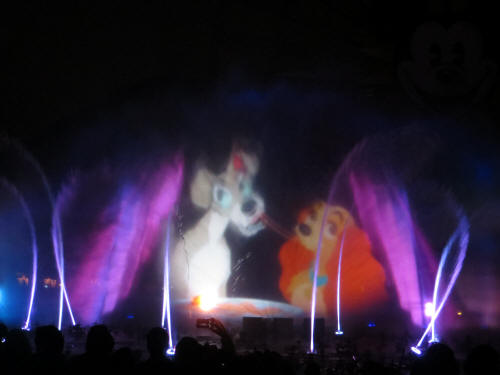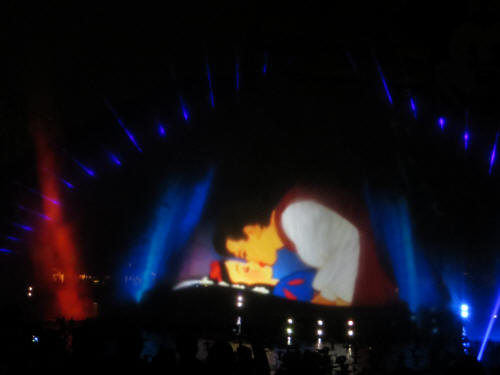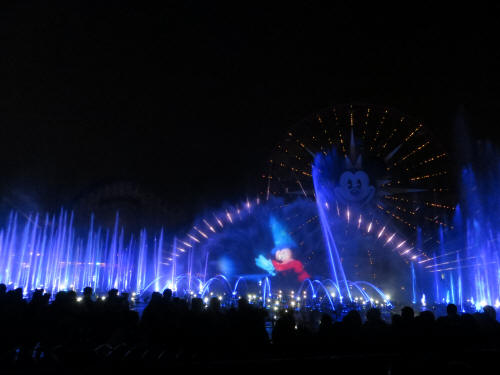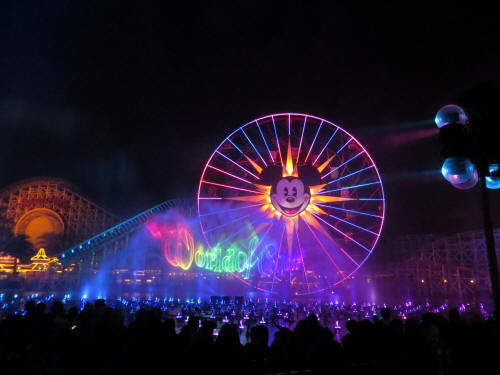 We waited a few minutes for the crowd to disburse and then headed toward the exit where we caught the 10:45 shuttle back to the Candy Cane Inn. We both enjoyed a soothing soak in the hot tub before bed.
Tomorrow we will spend most of the day at Disneyland.
---
Sunday December 16, 2012
We slept in a bit later again today . . . getting adjusted to the time change just in time to go home!
We caught the 8:00 a.m. shuttle and as soon as we entered Disneyland Carol dashed up the steps of the train station to ask about a ride in the Lilly Belle. We were the first of the day to book and we got a seat on the first run at 9:00 a.m.
We boarded a regular train car and took the circle tour all around the Disneyland Park. Just before we pulled out of the station a cast member noticed that one of the passengers had left a bag on a bench in the station so he handed it to the absent-minded owner who was sitting in the car behind us. We were three quarters of the way around the park when the conductor noticed that the absent-minded lady had gotten off at the previous station and once again she had left the bag behind. The combination of an excessively dumb guest and excessively paranoid conductor led to a big delay. As soon as we pulled into the Main Street Station they removed everyone from the train and evacuated the station. We waited about 20 minutes until Yuma, the bomb-sniffing dog showed up to save the day.
He sniffed the bag, gave it the OK and we were off in our special coach. The Lilly Belle was part of the original Disneyland Railroad in 1955 and was decorated by Walt Disney's wife Lillian to represent a luxury rail coach from the Victorian Era. What a treat to ride in her! Our conductor, Rick, did a wonderful job explaining the significance of the coach and pointing out the details of the décor. The carpet in the coach was originally in Walt's apartment above the fire station and the pattern in the carpet contains the first known hidden Mickey. We basked in Victorian luxury and Disney history during our 20 minute ride. Wow!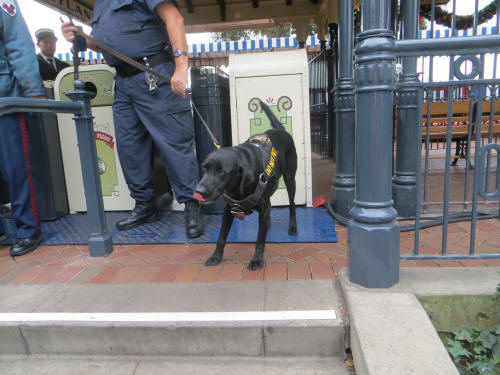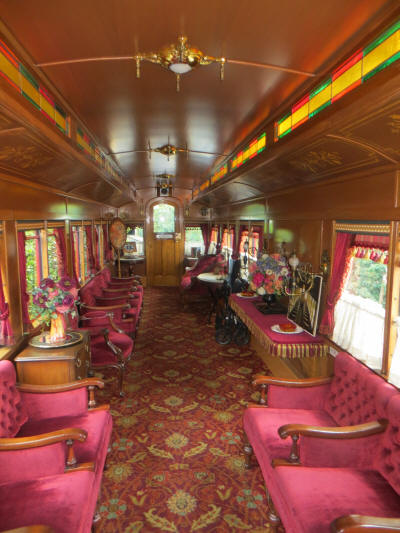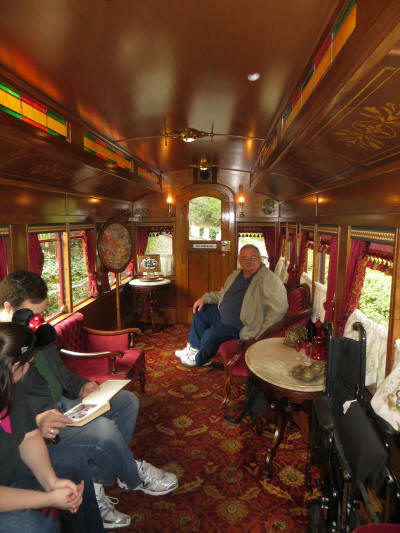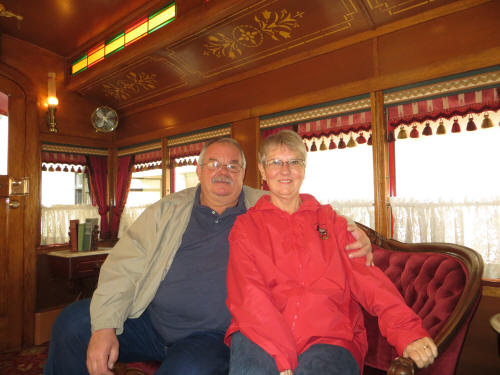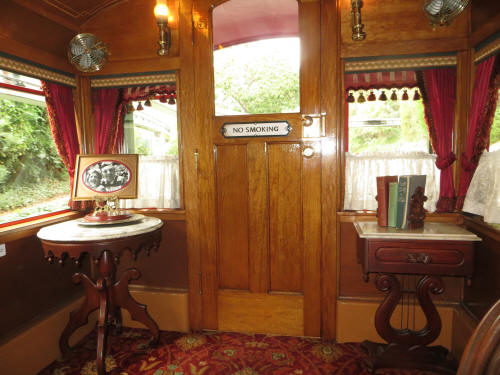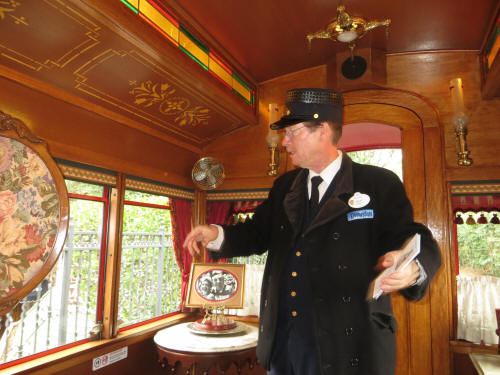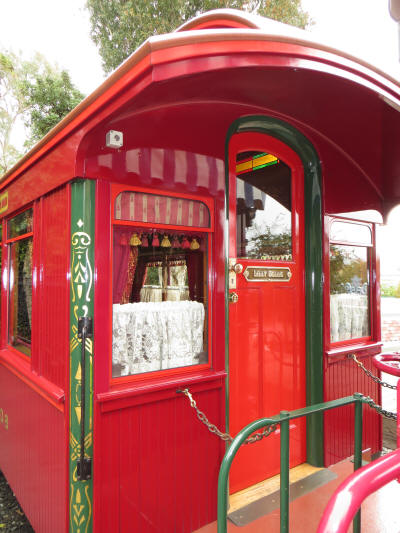 Back at the Main Street Station we transferred to a regular rail car and rode to New Orleans Square where we picked up FastPasses for the Haunted Mansion and then stepped into the standby line for a ride. There was no line; we walked directly into the attraction, directly through the pre-assembly room and into the stretching room. There was no breakdown this time and no fortunate photo-op . . . it was an express ride.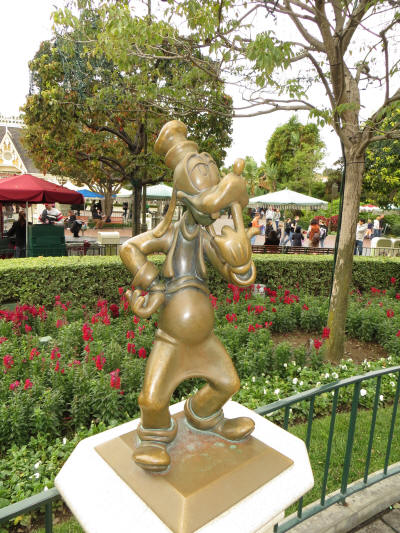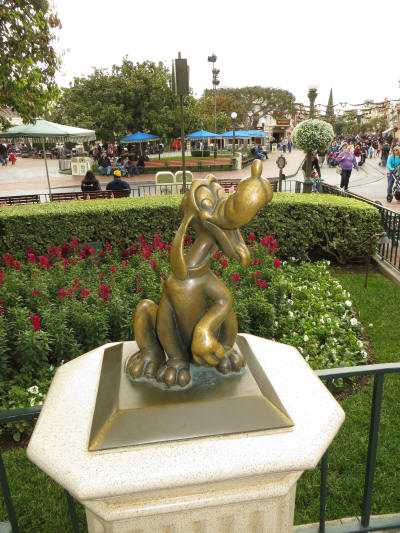 Carol needed to head to the Little Green Men Store to meet a pin trader she had spoken with earlier so we headed off to Tomorrowland. She traded pins for a few minutes and was pleased when she found that she could trade sorcerer cards for pins. There is no Sorcerer game at Disneyland (yet?) so the cards are a hot commodity there!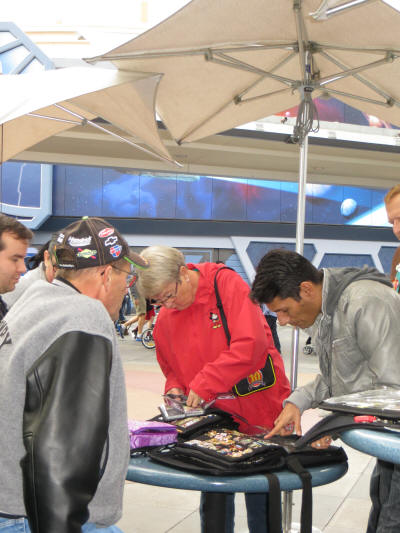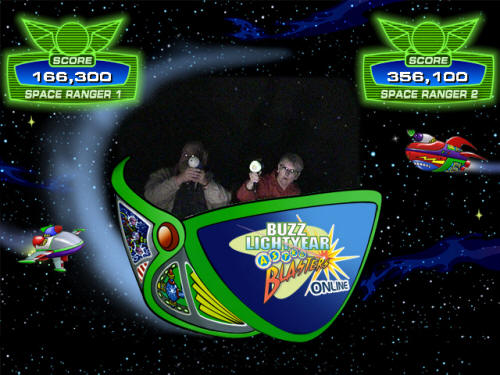 We took a spin on Buzz and Carol whupped me again!
Next stop was lunch at Redd Rocket's Pizza Port. Carol had chicken fusilli and I had a salad; both were great!
We wandered on to It's A Small World for one more look at their Christmas overlay and then it was time to head back to Big Thunder Ranch for the 12:30 Billy Hill show. It was drizzling quite steadily by 12:30 so "The Billies" abandoned the slippery stage and came down to the seating area and performed. It was fun having a totally different perspective.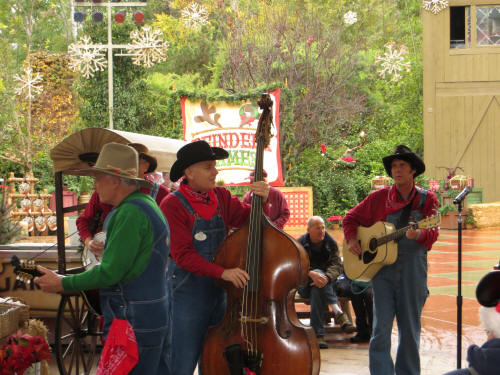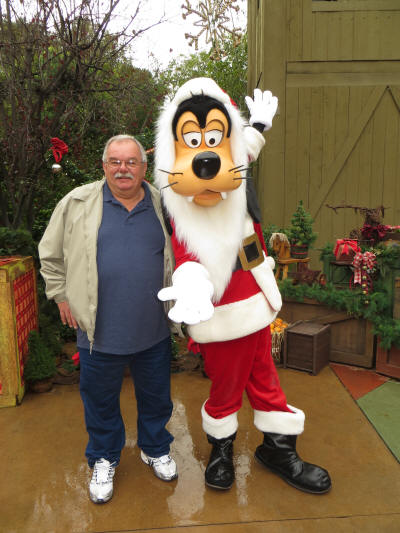 By the time the show was over it was quite cool and damp so we headed toward the exit. We paused to pick up FastPasses for Big Thunder Mountain Railroad as we passed.
We watched the 1:15 shuttle pulled out about 4 minutes early; we were about 25 yards away and waving vigorously at the time. Carol ran to try to catch up, but all to no avail. We walked back to the hotel in the misty drizzle.
After a few hours of R & R we boarded the 4:30 shuttle back to Disneyland.
We slowly wandered to New Orleans Square and checked in a bit early for our 5:30 dinner reservation at Blue Bayou. We were seated by 5:45 and enjoyed a very nice dinner as we watched the Pirates of the Caribbean boats float past. Carol had the Roasted Beef Strip Loin and I had the Tesoro Island Chicken; both were delicious.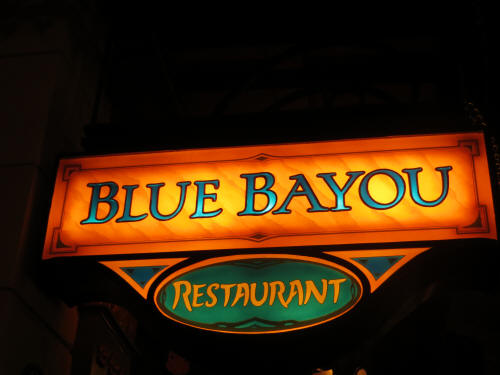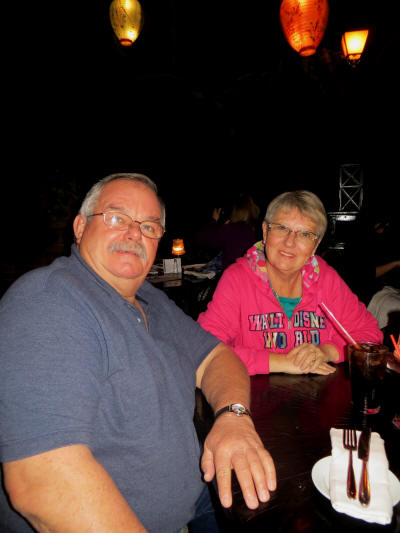 After dinner we took a spin on the Pirate ride and saw the restaurant from the other perspective, then carried on to the Haunted Mansion for another look at the Nightmare Before Christmas overlay.
After the mansion we headed to Big Thunder Mountain Railroad but the ride was shut down when we arrived so we carried on to Main Street. I found a park bench and sat to wait for the 9:30 fireworks show while Carol roamed around snapping pictures.
As we waited we watched the lighting ceremony. Each night there is a brief show as they light up all the icicle lights on and around Sleeping Beauty Castle.
Shortly after the castle was lit the lights dimmed again the fireworks show, Believe, began. It has some nice Christmas elements but it left us both a bit disappointed. The regular nightly show is much better in our opinions.
We waited a few minutes for the crowd to disperse and then made our way to the shuttle area where we caught the 10:15 ride back to our hotel. I soaked in the hot tub for a few minutes and then the bed beckoned!
Tomorrow is our last Disney day; we will spend most of it at Disneyland but we hope to get a couple more rides on Radiator Springs Racers too!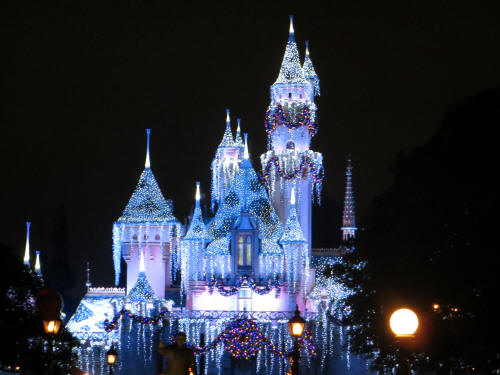 ---
Monday December 17, 2012
It was our last Disneyland day and we had already met our objectives for the trip so we slept in a bit. We wanted to spend a bit of time in Fantasyland so we caught the 8:30 shuttle to Disneyland. I scooted over to the Haunted Mansion and picked up FastPasses while Carol meandered and took a few pictures.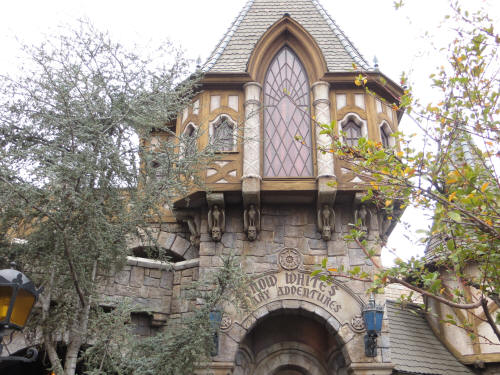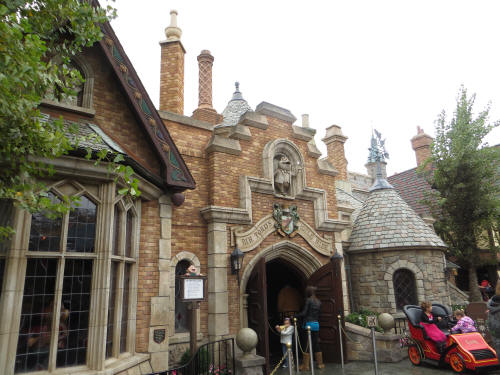 We met at the entrance to Mr. Toad's Wild Ride and went into Toad Hall to board our car for the whirlwind ride with all of Grahame's characters.
Next stop was Snow White's Scary Adventure and then we took one last ride on It's A Small World. We're not sure when we'll be back this way during the Christmas season and we really like the special seasonal overlay in this attraction!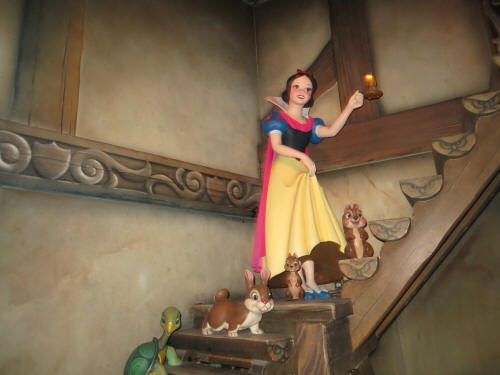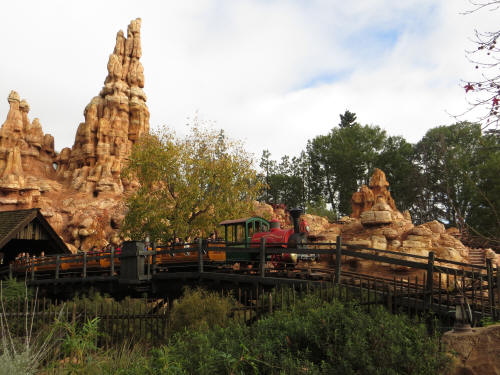 Carol had a yen to trade a few more pins so we headed to Tomorrowland where she found some pin traders outside the Little Green Men Shop. After she made a few trades we boarded our XP 37 Space Cruisers and helped Buzz defeat the evil Emperor Zurg. Once again Carol scored big and retained her bragging rights!
We moseyed through Tomorrowland to Fantasyland and passed Big Thunder Ranch on our way to Big Thunder Mountain Railway for another wild ride through the wilderness.
Lunch time was approaching and we decided to go to the Jolly Holiday Bakery Café but somehow the Haunted Mansion drew us in for another ride. We had a terrific lunch at Jolly Holiday, the sandwiches were great!
After lunch we crossed the concourse to California Adventure and took another Radiator Springs Racer ride through Ornament Valley. After an ice cream at Ghirardelli's we strolled through Paradise Pier on our way to the park exit. We hopped the 2:15 shuttle back to the hotel for a rest.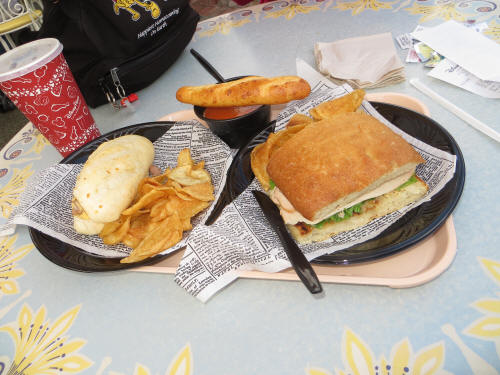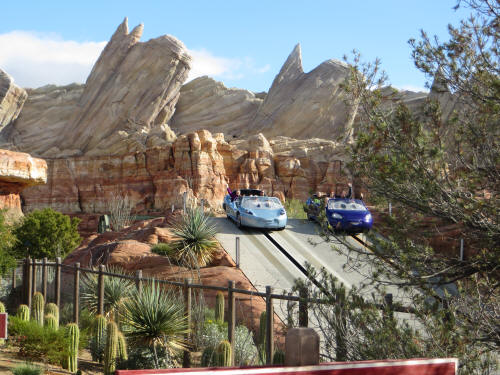 By 5:00 we were back on the shuttle heading back to Disneyland for dinner. We had a 6:00 p.m. reservation at the Café Orleans in New Orleans Square. The Candlelight Processional was about to begin as we entered the park so we had to fight our way through heavy traffic on our way up main street. Before we hit Refreshment Corner we can to a complete stop and had to wait while all the choirs processed down Main Street singing Christmas carols. It was quite festive!
Once the choirs had passed we carried on to the restaurant where we were seated almost immediately and had a wonderful dinner. I had a three cheese Monte Cristo sandwich and Carol had a roast pork dinner.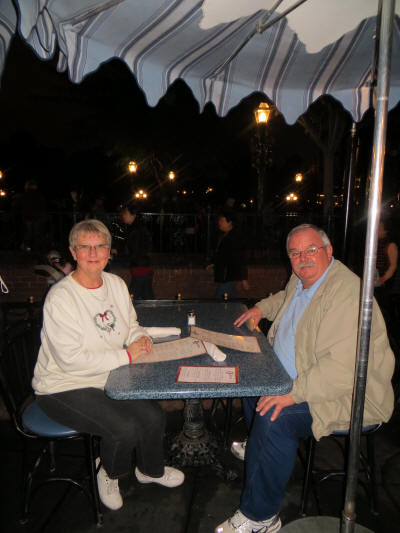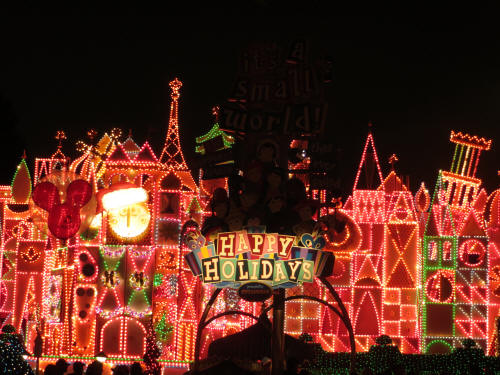 Since we were so close to the Haunted Mansion we took one more ride with Jack Skellington.
We then walked past Big Thunder Ranch on our way to It's A Small World where Carol took a few more pictures. Our last stop was the Little Green Men Shop where Carol met a few more traders and made a couple more good trades.
Then it was all over! We were done with Disneyland until May. We slowly made our way to the entrance and caught the 9:15 shuttle to the hotel.
Tomorrow we have an 11:45 a.m. flight, landing in Toronto at about 7:20 p.m. and then a 2 ½ hour drive home. We should be home about 11:00 p.m.
---
Tuesday December 18, 2012
Why is the trip home always so long?
We were up bright and early and I had a quick bite of breakfast at the hotel before we pulled out. We were on the road by 7:30; we allowed plenty of time since we were unsure how congested the rush hour traffic would be. The 33 mile drive took less than an hour. We dropped off the rental car and boarded the shuttle bus which dropped us at LAX Airport before 10:00 a.m.
We were through the security check quickly and settled at a table outside the La Brea Bakery for an hour before heading to our departure lounge. As we sat there we chuckled and reminisced about the time, a few years ago, when we left the package behind at the Air Canada check-in desk. Carol went running off to retrieve it and had quite an interesting 90 minute tour of the airport, some of it in a police car. Unattended packages are a big deal in the airport! I had no idea where she was or what was happening, all I could do was watch the clock tick relentlessly toward our flight time. She made it back just in time for the flight with her treasured David Avenzino shadow box in hand! It's a humorous story now but we were both a bit frantic at the time!
About an hour before our flight time Carol picked up a couple of sandwiches to take with us for lunch during the flight and we headed to the departure lounge.
We boarded the aircraft and the Captain came on to announce that we would be leaving a few minutes early and that favourable tail winds should put us in Toronto about 30 minutes ahead of schedule. Just seconds later he announced that a passenger who had checked a suitcase had not boarded the aircraft and that security protocols required the bag be removed. That ate up about 20 minutes of our "gained" time.
We had a smooth and comfortable flight and landed in Toronto at 7:15, about 15 minutes ahead of schedule. By 8:00 we had completed our shuttle ride to the Indigo Hotel, loaded our car and were eastbound on Highway 401 heading home. We pulled into Carol's parent's home at 10:45 and picked up two very happy dogs! Their tails were wagging furiously. We were home by 11:15 pm. It was a long day!
What a great trip, we really enjoyed the new Carsland attractions at Disney's California Adventure. Carol remarked (on about our third day in California) that we had already spent more time in the California Adventure park than we had in all of our other trips combined. They have made some wonderful changes there! We are already looking forward to a few days there in May before our cruise from Los Angeles to Vancouver.