Saturday Dec 2, 2017
Our travel day on Sunday begins very early! Our flight to New York's JFK Airport leaves Syracuse at 5:35 a.m. so we decided months ago to drive to Syracuse and stay over the night before the flight.
We spent a leisurely afternoon in the Syracuse area . . . Carol shopped while I sat in the car, parked at the corner of Fire Lane and No Parking, reading my book.
We checked into the Best Western Hotel at Syracuse airport at 5:00 p.m. and by 6:00 we were enjoying dinner at a nearby Olive Garden Restaurant.
We settled in for the night before 8:00 and watched a little TV before heading off to bed early. That 3:30 a.m. alarm is going to hurt!
---
Sunday Dec 3, 2017
We had another really bad bed at the Best Western! It was like sleeping in a hammock; the edges of the mattress were stiff but in the middle it was all fluffy! There was a sweet spot at the bottom and that's where Carol and I ended up. We spent most of the night as a writhing mass of limbs down in that sweet spot. At one point Carol asked, "Can you please move up, I'm afraid you're going to push me out of bed." I crawled up the slope and clung to the edge but all too soon I slithered back down and pushed my loving wife up opposite slope. It was far more cuddling than either one of us wanted. No more Syracuse Best Western for us!
We were up at 3:20 a.m., before the 3:30 alarm, and out the door at 4:10. The airport was empty. We parked, checked our luggage, cleared security and were sitting at our departure gate sipping coffee by 4:40.
There was a slight delay while they de-iced the plane, then we took off on our short-hop flight at 6:00 a.m. We landed in New York City at 6:45 and spent our two-hour layover at JFK sipping coffee at a sports bar.
Our second flight took off at 9:00, only a few minutes late. It was a smooth flight but long! Six hours is just too long to sit still!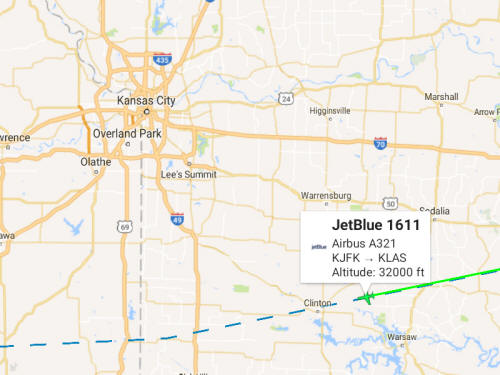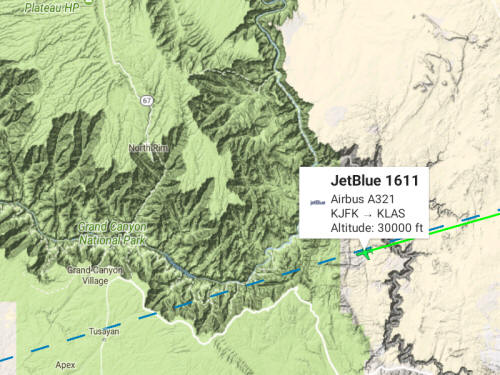 I had a new "tracking" app on my Android tablet and I could follow our flight all the way to Las Vegas.
Things happened quickly in Las Vegas. We landed at 11:19 and when we entered the terminal we stopped at the first pod of slot machines we saw. Carol used one of those machines to fulfill a promise; she converted $40 of Rob's cash into $100 of Rob's cash. Meanwhile, I made a $20 charitable contribution to the "Save The Slot Machines Fund".
Our luggage rolled off the carousel a few minutes before noon; we caught the shuttle to the car rental centre on the south side of airport and drove away in a Rav4 at 12:30. Our room on the 20th floor was ready when we checked in at the Mirage. I rested while Carol unpacked, then she rested a bit too.
At 1:30 we struck out for lunch at Carnegie's Deli. They make huge sandwiches so Carol and I split a pastrami on rye. It was yummy!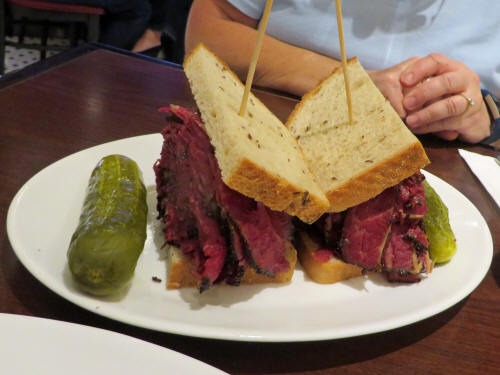 After our long travel day we didn't feel like wandering too far, so we played some more slots then went back to our room at 3:30 for a nap. No hammock-bed . . . hooray!
A couple of hours later we made our way back to the casino, tossed away some more cash and then headed to the Cravings Buffet for dinner. There are a number of cooking stations around the perimeter of the dining room, Oriental, Itatian, Latin, Seafood, Carvery, Dessert, etc. We had a nice dinner, then walked some of it off by hiking around the retail shops.
We were back to the room before 9:00. Yes, it was early . . . but it sure felt like bed time!
---
Monday Dec 4, 2017
We had a very busy day, so you'll only get a pictorial with a few comments. I'll fill in more detail once we get home!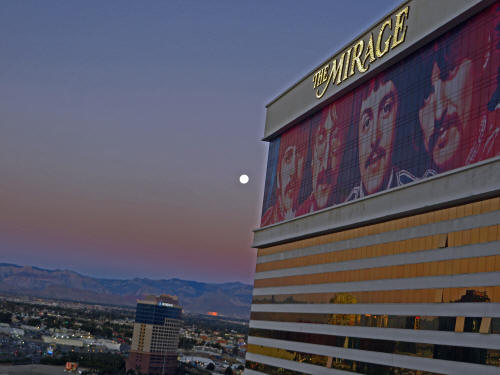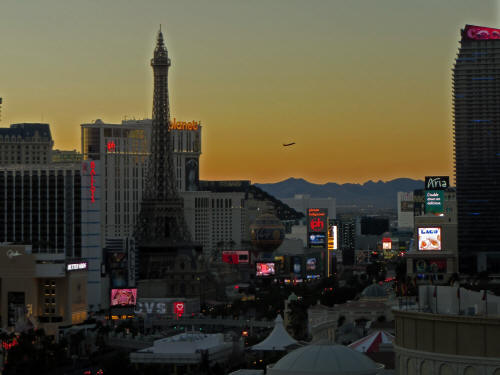 We woke up early and after breakfast headed up the strip to explore!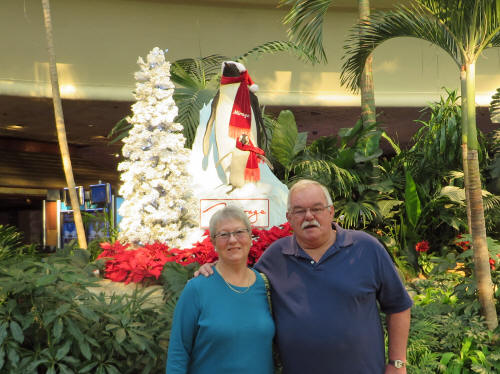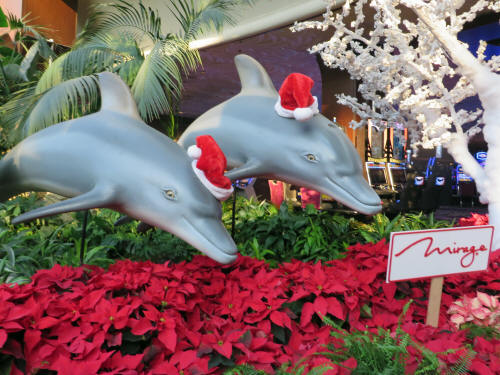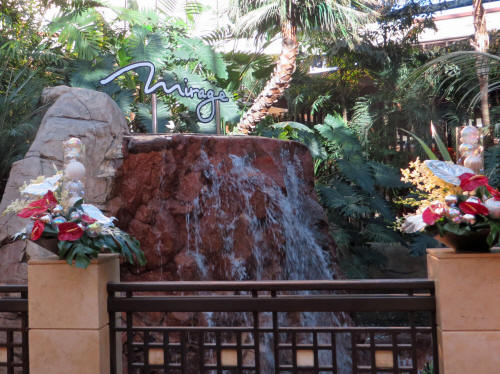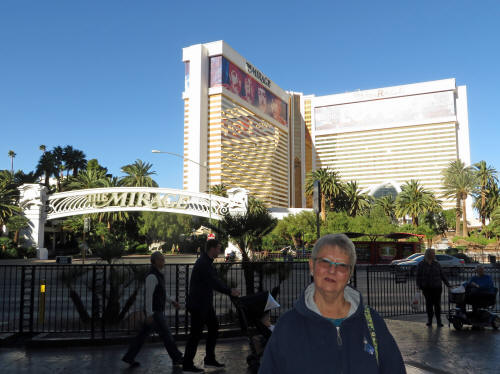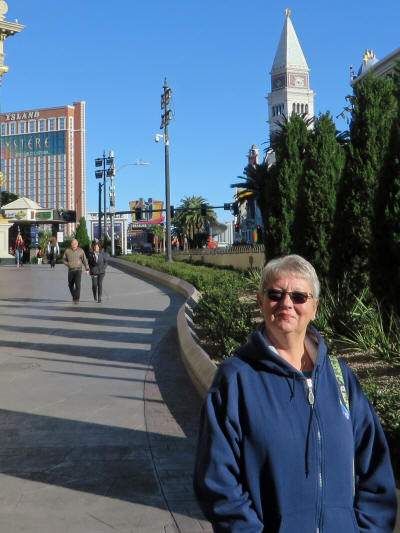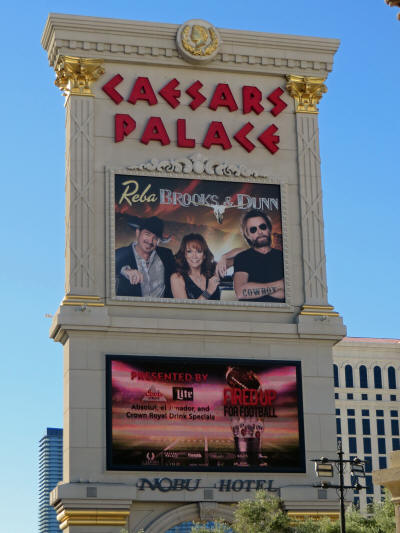 We got tickets to see Reba McEntire along with Brooks & Dunn on Tuesday night!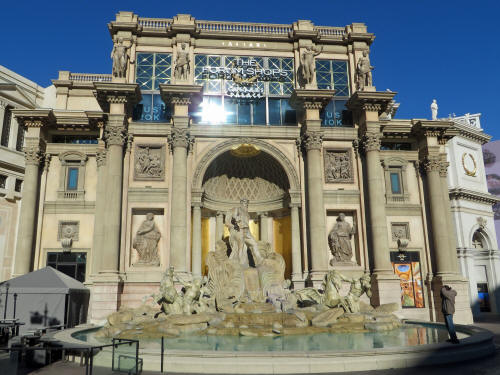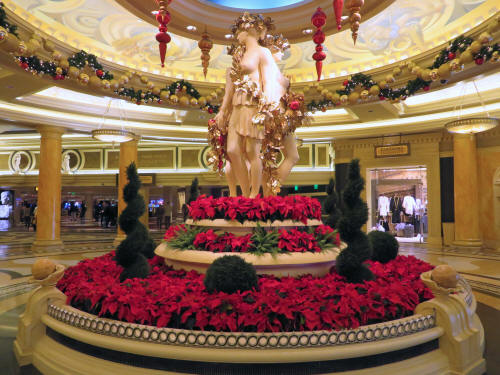 Santa had his Harley all set up to deliver some gifts!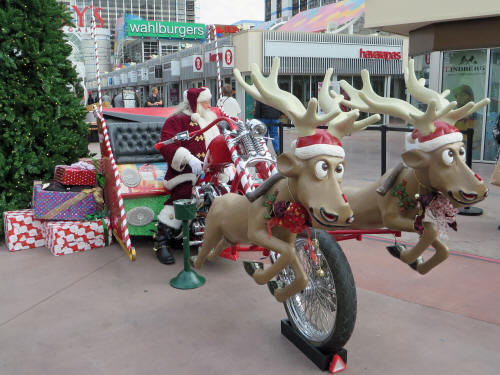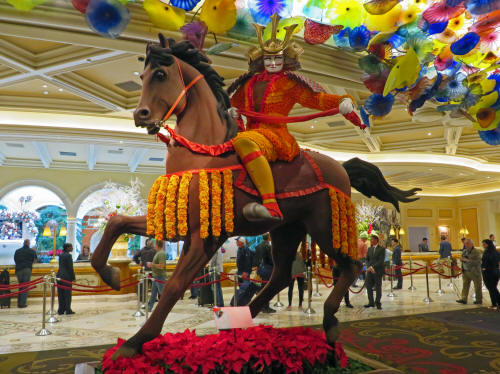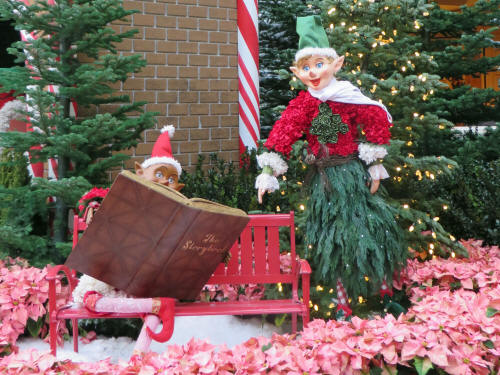 The Conservatory at The Bellagio was beautifully decorated. Almost everything you see here is made from flowers. It's amazing.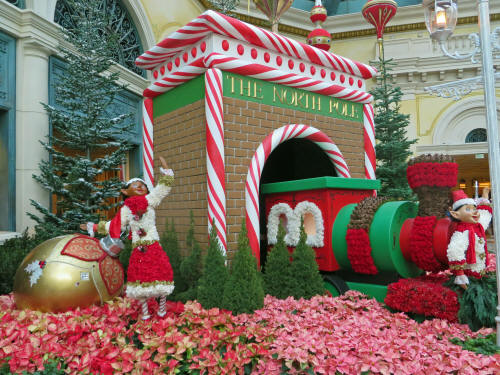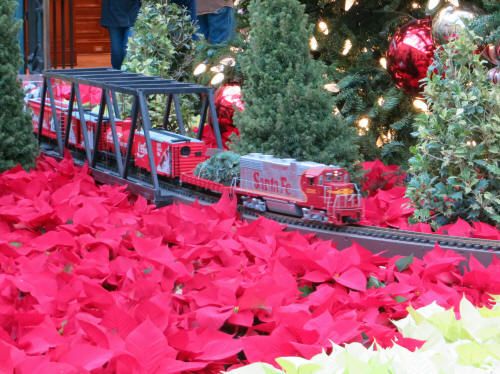 There were plenty of polar bears (all made from flowers) frolicking around the Christmas tree!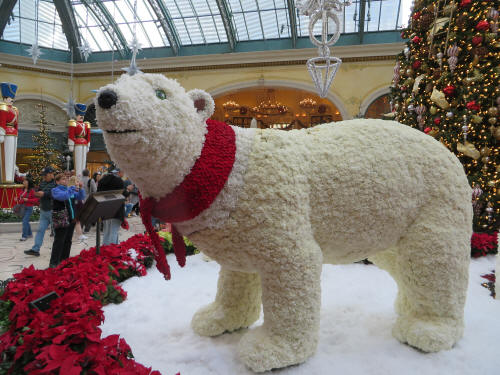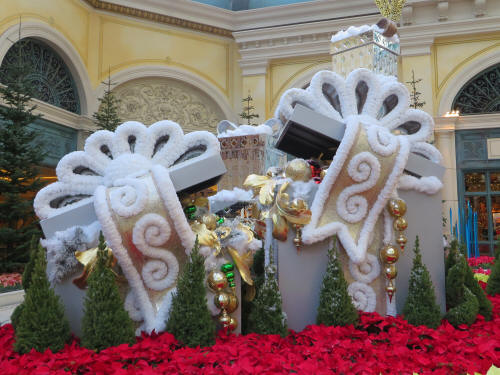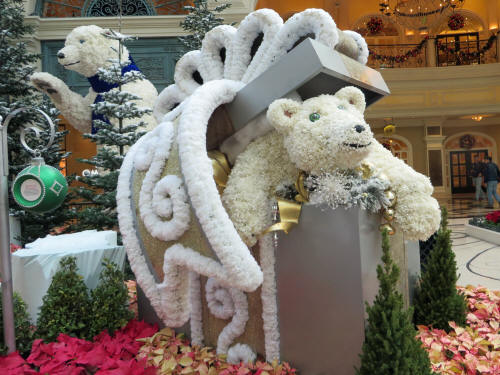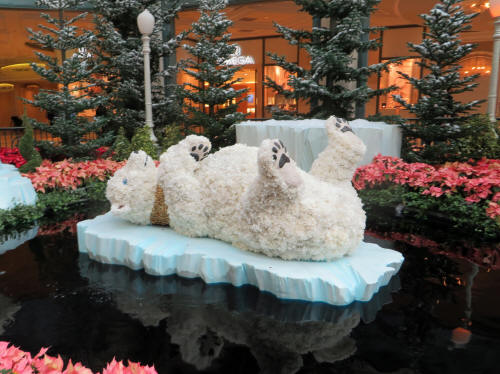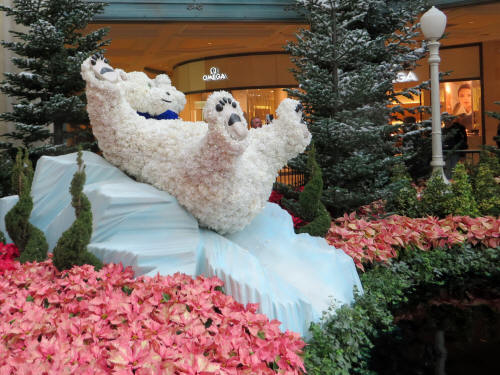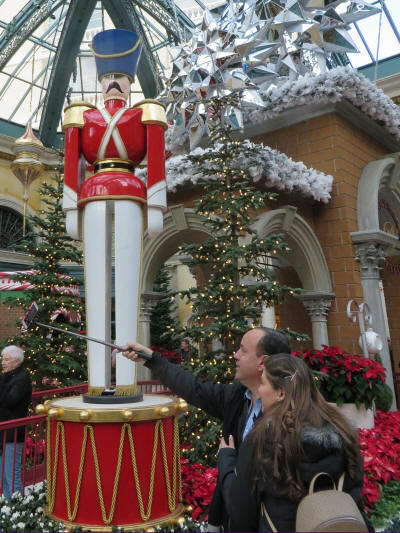 Every time I lined up a picture of the nutcracker some idiot with a selfie stick butted in!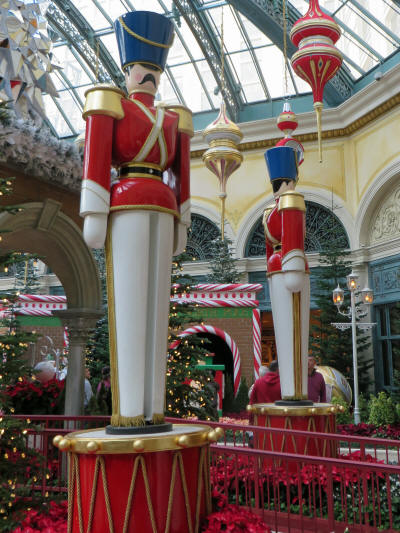 So I had to move and take this picture instead!
In the evening we went to a museum of neon lights, appropriately named The Neon Boneyard!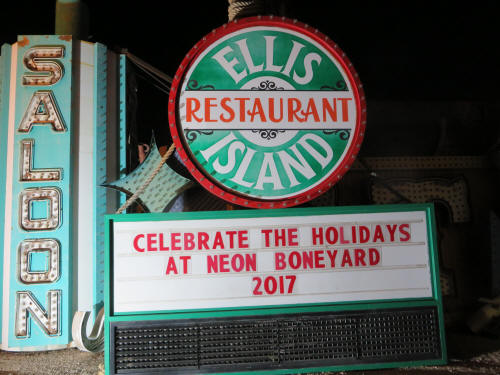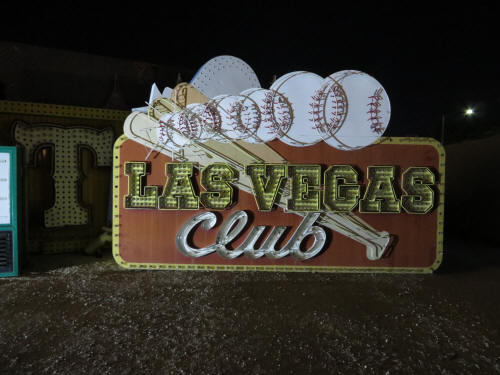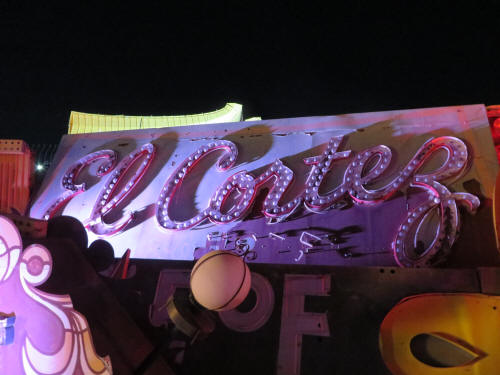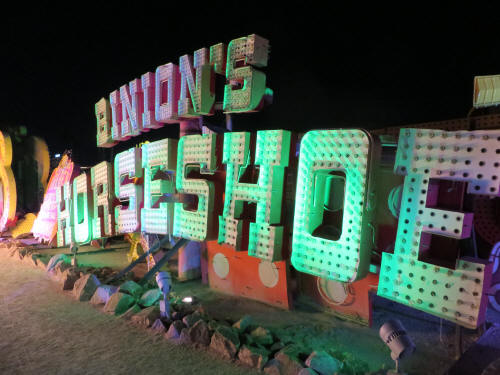 Many of the signs, recovered from Las Vegas building that were being demolished, were in true boneyard condition . . . but some had been lovingly restored.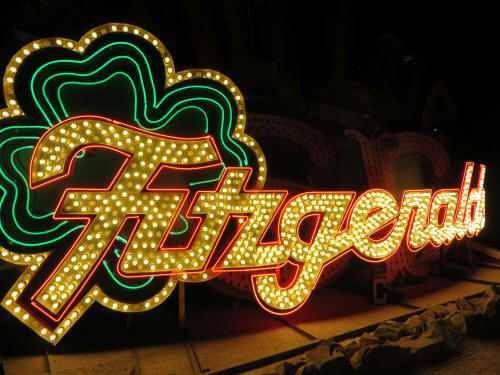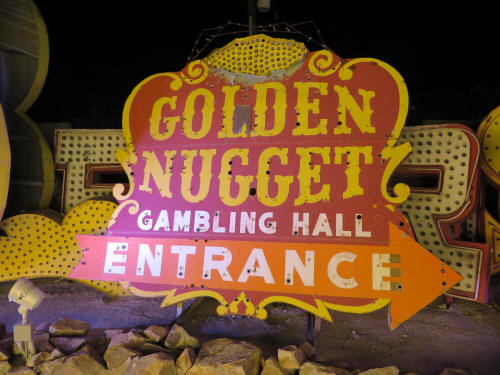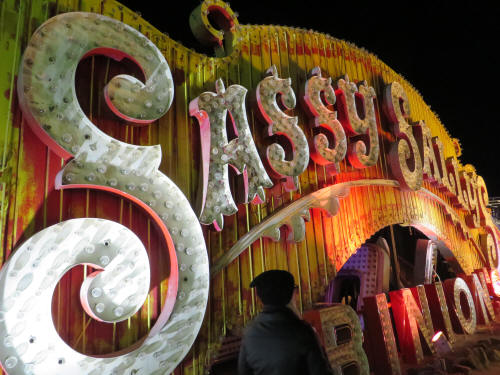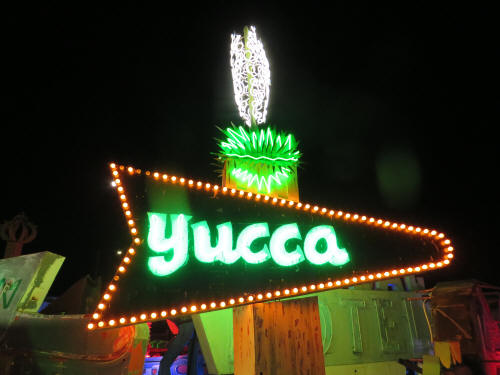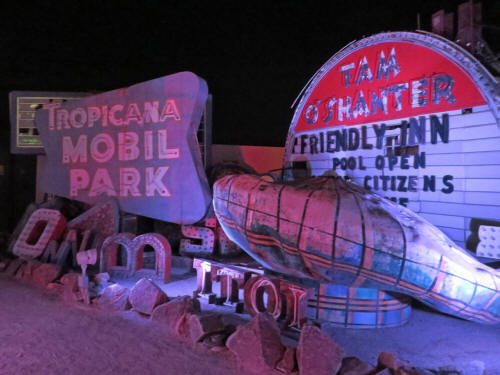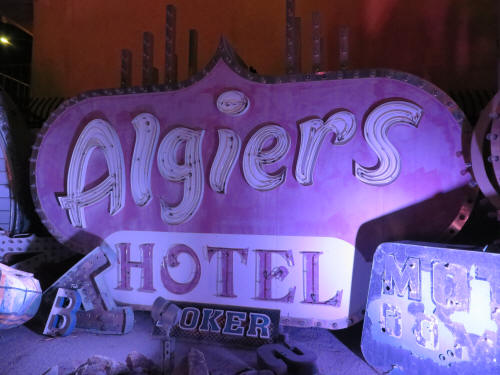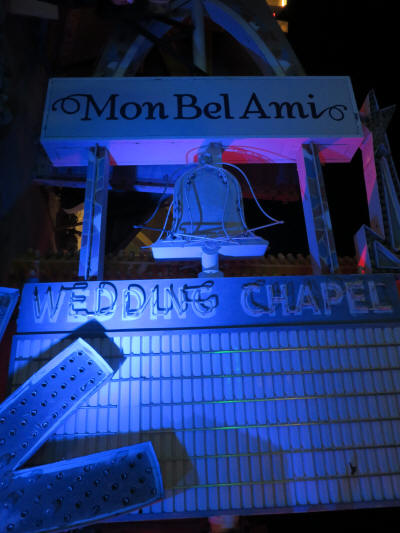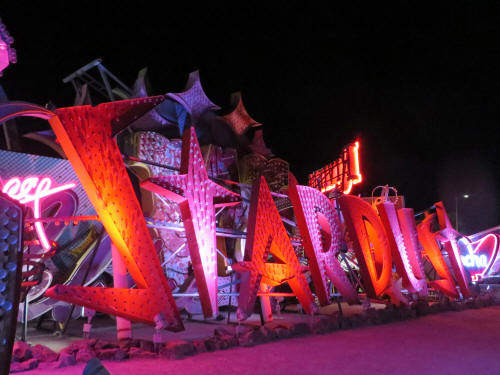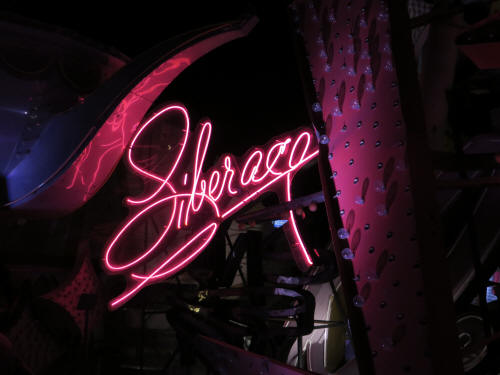 Who can forget Liberace? He was a fixture in Las Vegas!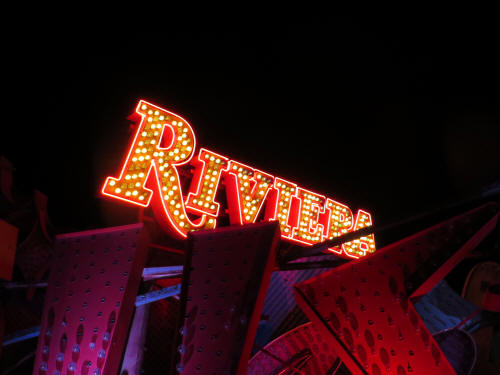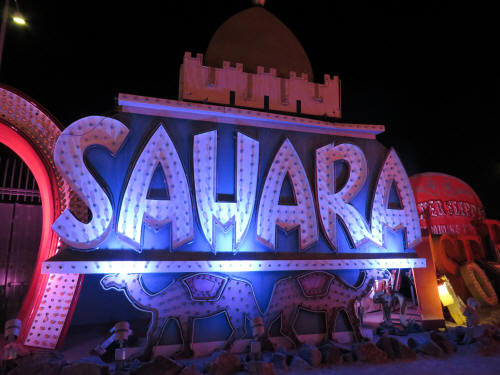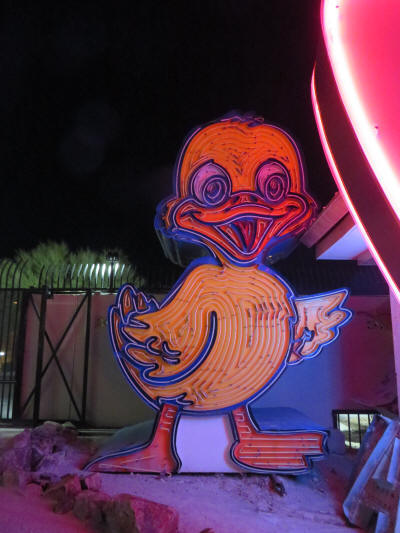 Our guide did a wonderful job describing the old signs we saw, and putting them into place historically. Las Vegas has a shady and questionable past and so do many of the signs that have been collected for the boneyard!
Our last stop of the day was Fremont Street in downtown Las Vegas. Several blocks in the downtown core have been canopied and every night a video show is displayed on the canopy.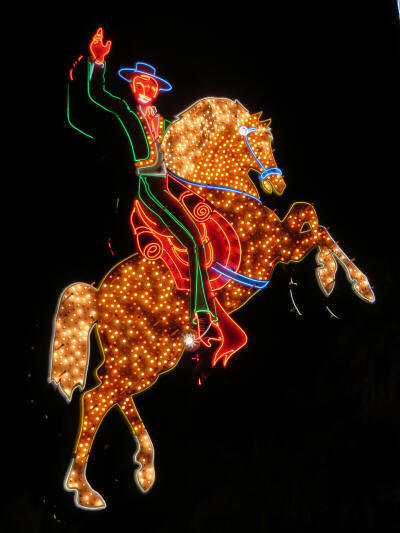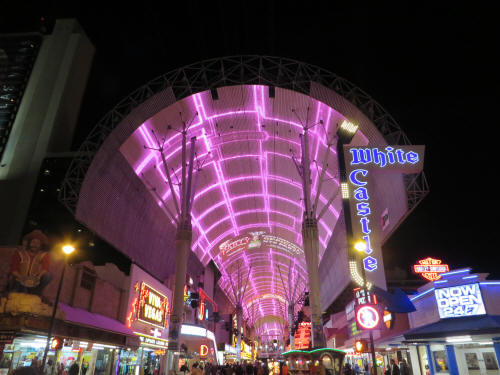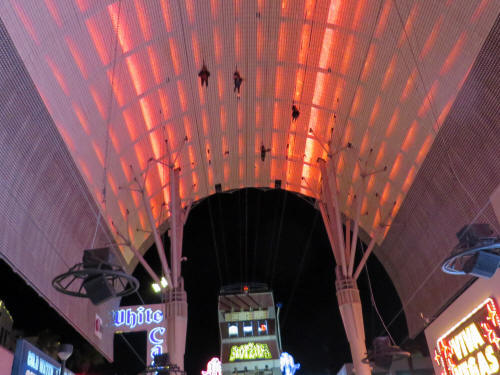 Some of the braver individuals can even zip-line for several blocks!
It can be alarming when they go screaming overhead!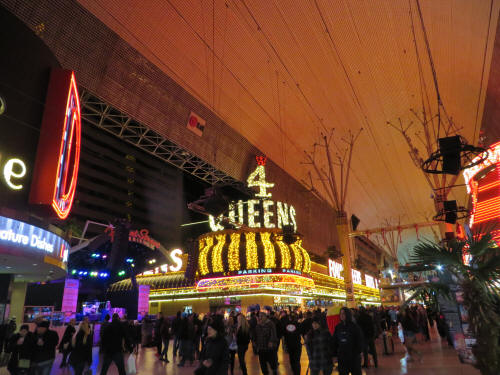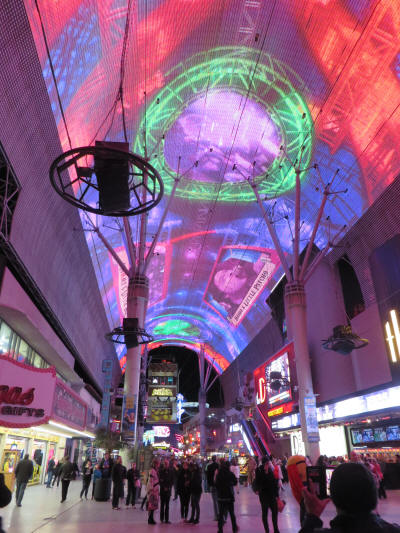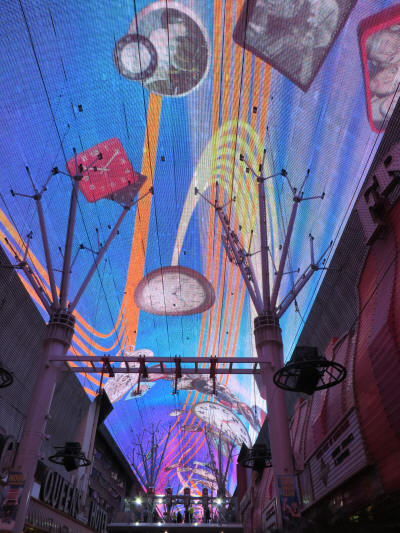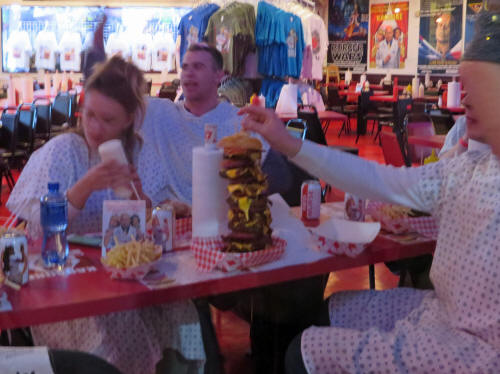 We passed the Heart Attack Grill on our way back to the parking lot.
The food is so bad for you that all diners must wear hospital gowns.
This is their signature dish, the "Quadruple Bypass Burger!" When it's served with
their "Flatliner Fries" it's guaranteed to clog your arteries in one sitting!
The strip was still hopping when we called it a night just after 11:00 p.m.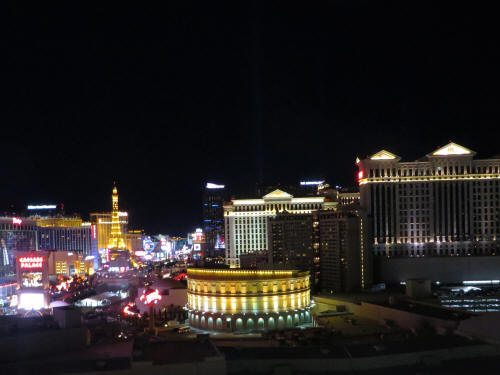 ---
Tuesday Dec 5, 2017
Once again we had a busy day and a late night. Mostly pictures for you to look at, I'll fill in more details later!
We slept in a bit and each enjoyed a $5.00 cup of coffee in the room before striking out for a day exploring. We drove out Las Vegas Boulevard (The Strip) past all the resorts and casinos and stopped across from the airport at a Jack in the Box restaurant for breakfast. Carol had French toast and I had scrambled eggs, sausage and home fries. I think it was the best fast-food breakfast I've ever had!
We stopped at the Outlet Mall on Las Vegas Boulevard South and I joined Carol in the Disney outlet for a few minutes. There was nothing I needed so I returned to the car to read while she scoured some shoe stores. She was back sooner than I expected with a few Disney trinkets and no shoes. Yes, no shoes! I was surprised too!
Next stop was WalMart. Would you believe Carol travelled all the way to Las Vegas to buy some BVD's Jockeys Fruit of the Looms for me? Strange but true!
Then it was time for my treat . . . a trip to Red Rock Canyon about 20 miles north west of the city.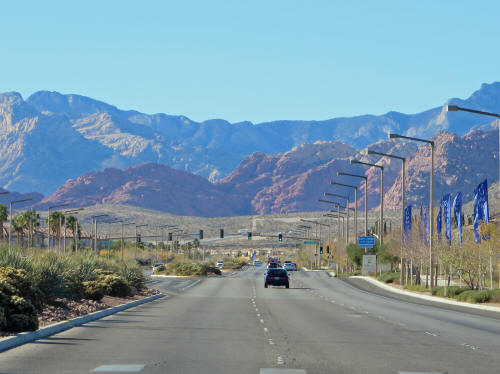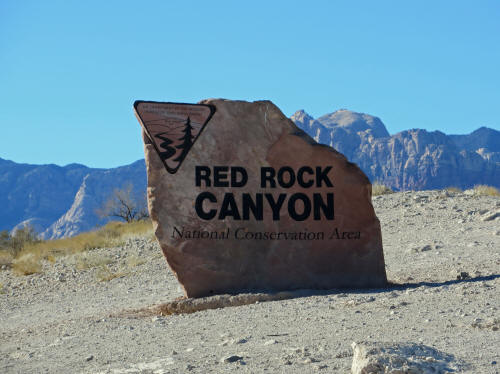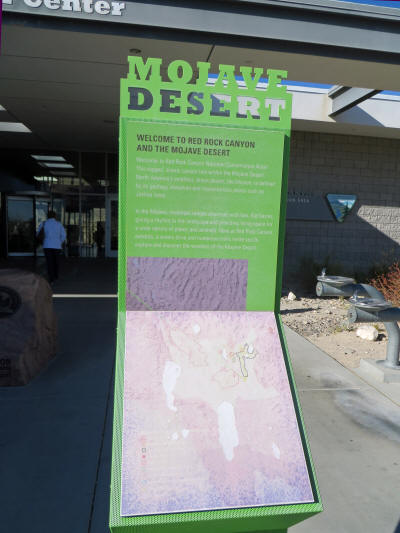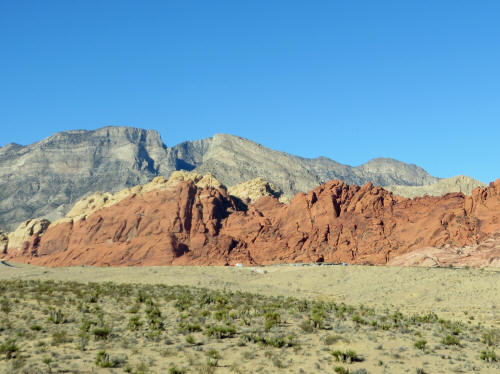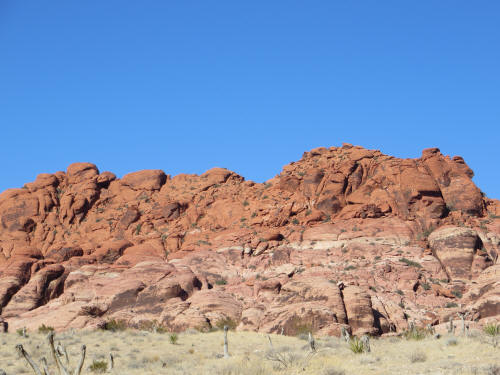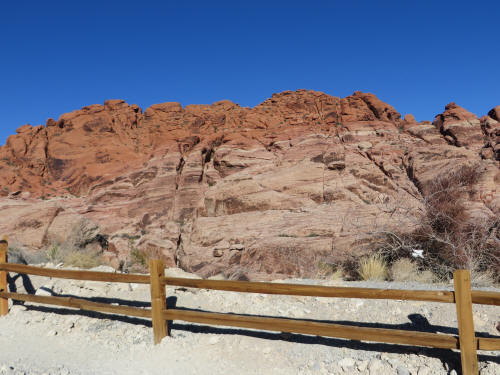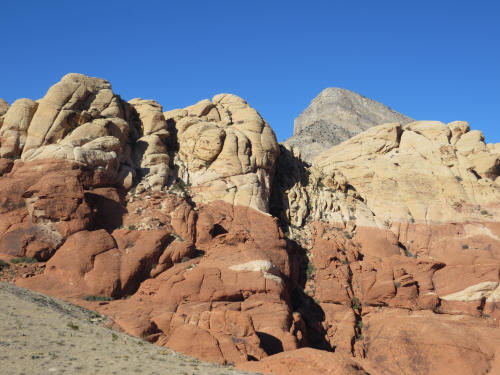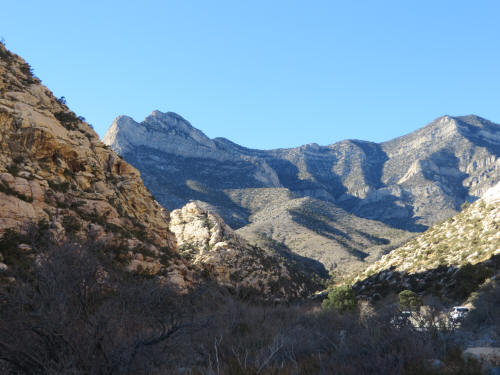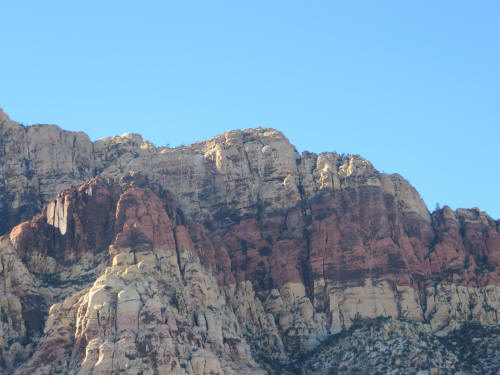 After a gruelling day driving the 13-mile trail through that scenic desert canyon we returned to The Mirage and stopped at Las Vegas Burger for lunch. The burgers were great and the strawberry milkshake we shared was even better!
After a refreshing nap we walked down The Strip to Caesar's Palace to see Reba McEntire perform with Brooks & Dunn. We booked late, just yesterday, so we didn't get very good seats. We were well off to the side on the second balcony, but the sightlines turned out to be a bit better than we expected.
We had seen Celine Dion, Cher and Elton John in the same theatre and we knew that photography was not allowed for those shows; people who had cameras had to surrender them and pick them up after the show. So we left the camera behind and we were very surprised when they told us that photos were OK, just no flash please . . . and no videos.
It was a fantastic show . . . just an awesome show and we were sure wishing we had the camera, with telephoto capability. Carol did capture a couple of "Okay" shots with her phone, but it doesn't do telephoto well at all.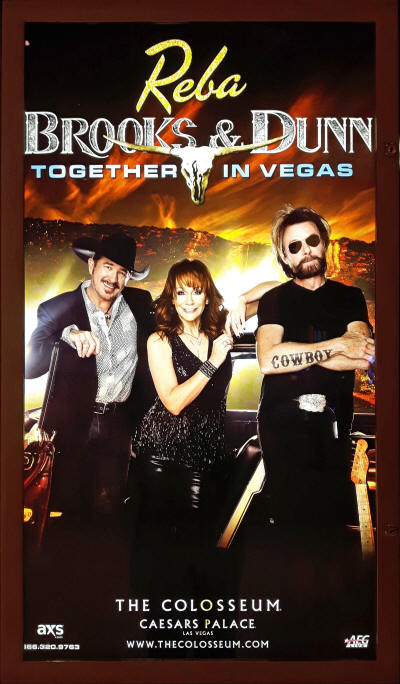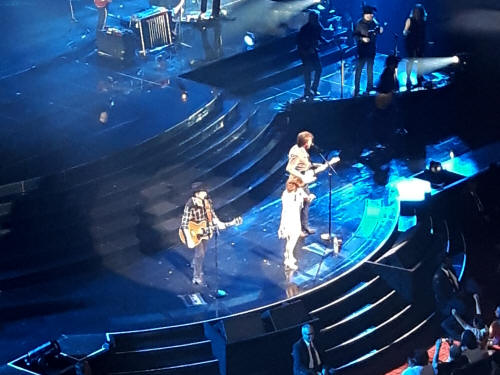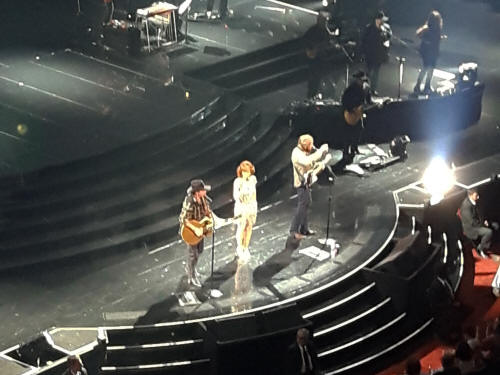 On our way home after the show we stopped once again at Las Vegas Burger, this time for a late-night snack. We shared an appetizer of potato skins and each had a milkshake. Carol had a sea-salted caramel shake and I had banana cream pie shake. Yummy!
Tomorrow we drive across the Mojave Desert to Los Angeles so Carol spent a few minutes packing before we crashed for the night!
---
Wednesday Dec 6, 2017
We were checked out of the Mirage and on our way to Los Angeles at 8:30 a.m. Traffic was light and we made consistently good time all day.
We pulled over and had Egg McMuffins for breakfast at Primm, just before crossing the California State Line.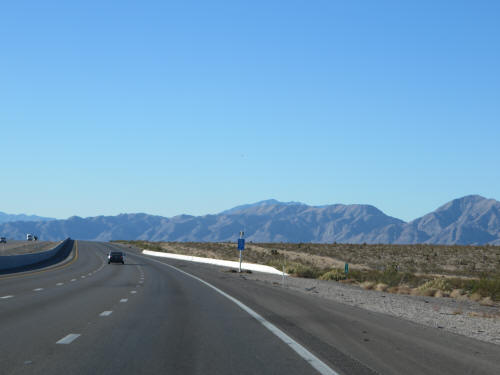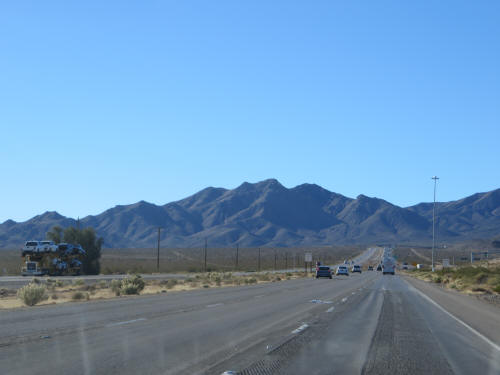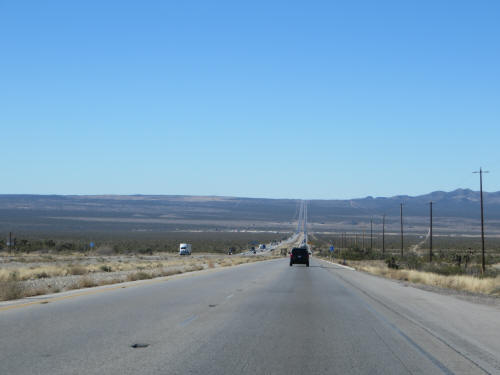 I really enjoy the drive across the Mojave Desert, it's such a stark environment, so different than what we're used to! We saw sand, dust devils, sandstone mountains, arroyos, wadis, washouts, Joshua Trees, sagebrush, mesquite and so many other common desert sights. This time we didn't see any wild horses or wild burros, even though Carol kept a vigilant eye out for them!
We pulled over for lunch in Barstow California at 11:30 and arrived at In-N-Out Burger about 15 seconds behind a busload of Japanese tourists! Bad timing! I wish we had been 15 seconds ahead of them!
Our stop was a bit longer than we had hoped, but we enjoyed our burgers once we got them!
By 1:00 p.m. the San Bernardino mountains appeared on the horizon and we saw a few traces of smoke and haze from the wildfires just north of the city in Ventura County.
We pulled into the Candy Cane Inn, our home for the next eight days, at 2:00 p.m. and by 2:30 we were checked in and unpacked. After a quick visit to the little variety shop next door for some soft drinks and snacks for the room we took a well earned nap!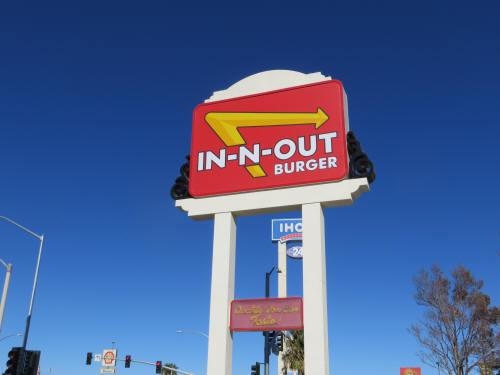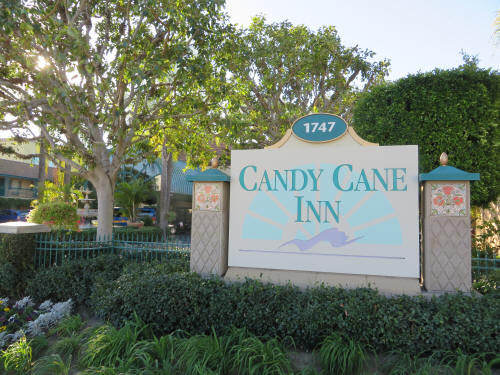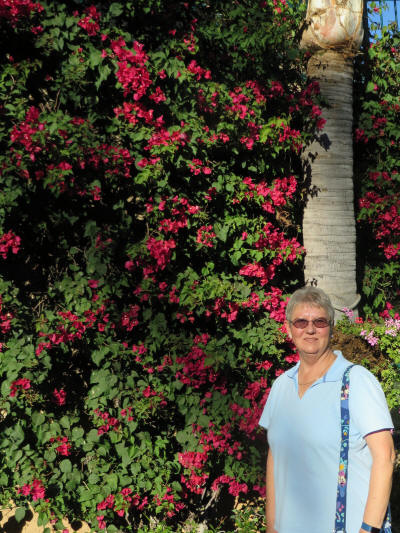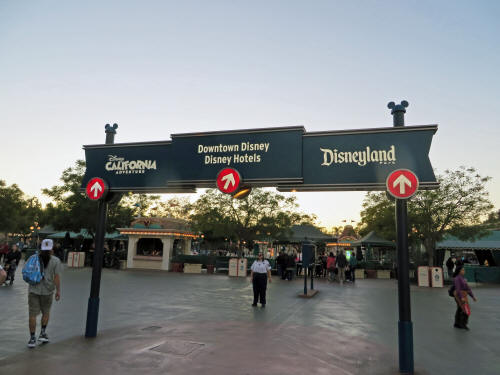 We caught the 4:30 hotel shuttle to Disneyland and poked around Downtown Disney for a few minutes. The Christmas decorations were just starting to brighten up in the ever dimming twilight so we roamed around snapping pictures.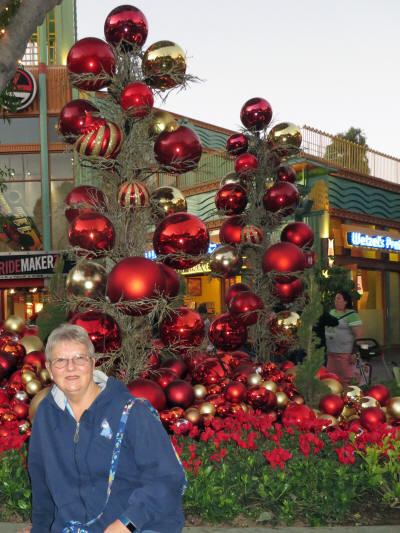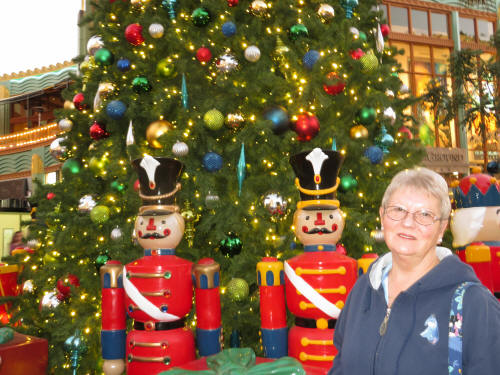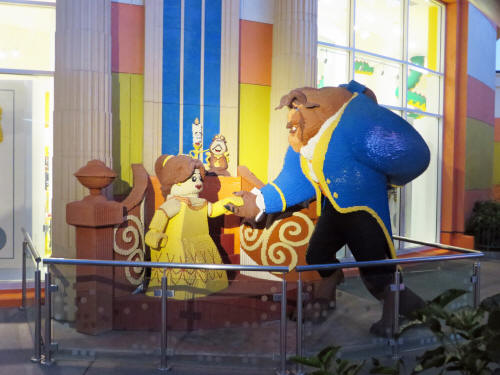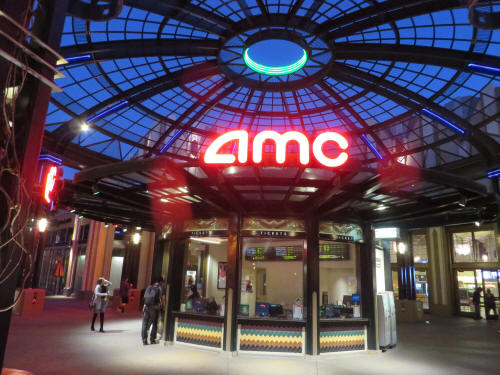 We stopped at AMC Theatres and picked up tickets to see Thor: Ragnarok later in the evening.
Naturally we had dinner at Earl of Sandwich. It's one of our Disney traditions! They make the best sandwiches - it's partly due to the bread they bake fresh in the store every day!
After dinner we wandered over to the nearby Disneyland Hotel. It's easy to find, just exit Downtown Disney and walk under the giant sorcerer's hat . . .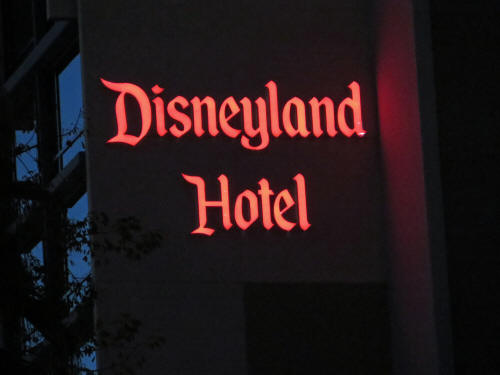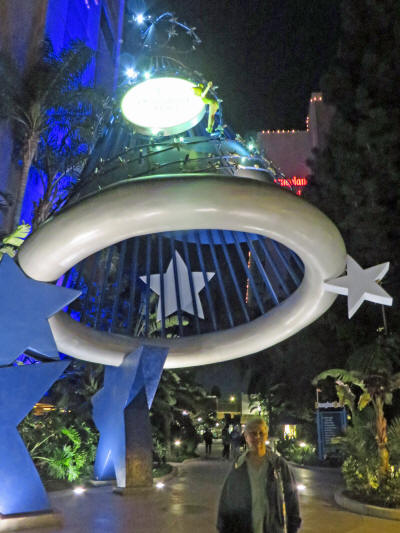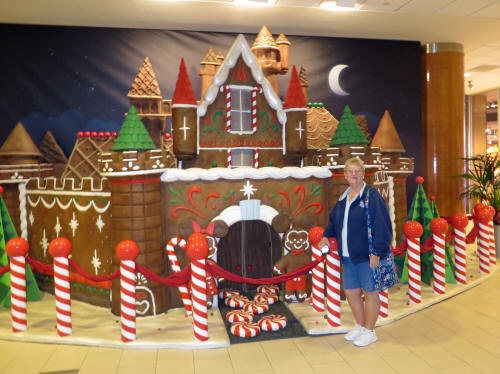 The huge gingerbread house in the lobby smelled great!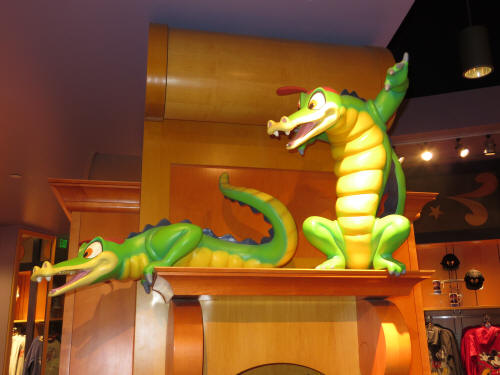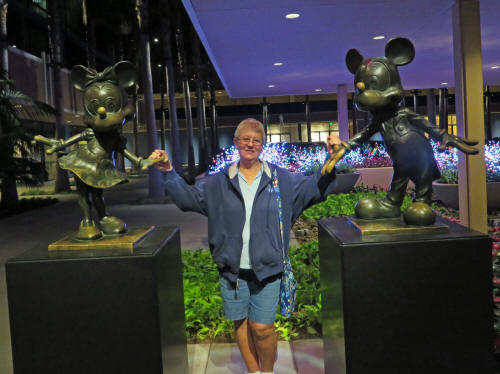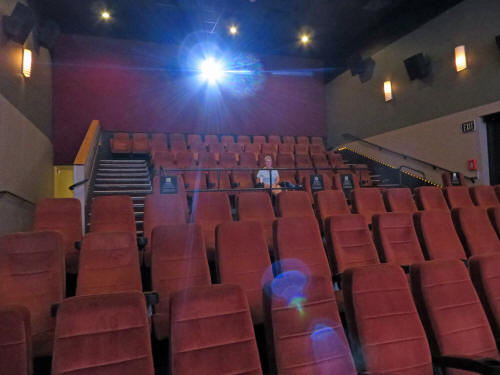 We were seated in the AMC Theatre at 6:30 waiting for the 6:45 show to begin. We had the entire theatre to ourselves until about 5 minutes before showtime, then a half-dozen other's came filing in. We really enjoyed the movie!
Carol browsed quickly through the World of Disney Store on our way back home. We caught the 9:45 shuttle back to our hotel and capped our night off with a long soak in the hot tub! Aaahh!
---
Thursday Dec 7, 2017
We expected the parks to be crowded this time of year so we wanted to get an early start most days. I enjoyed the complimentary breakfast they provide at the Candy Cane Inn before we caught the 8:30 a.m. shuttle to Disneyland.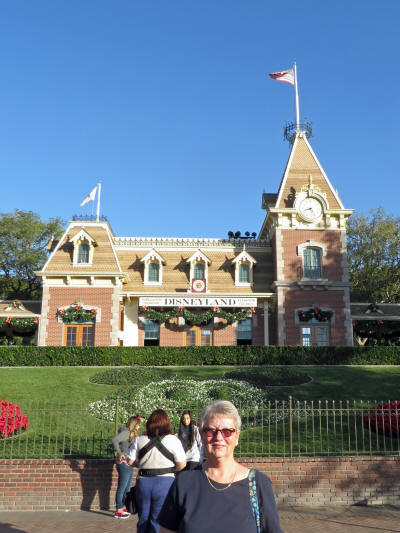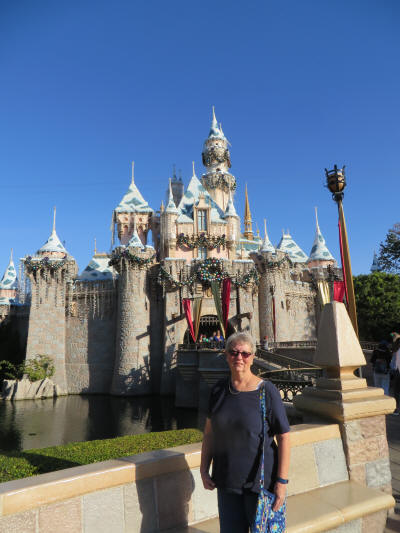 We took our time strolling down Main Street USA and snapped a few pictures before walking through Sleeping Beauty Castle into Fantasyland.
Our first ride of the day was Mr. Toad. It's a classic; sure hope they don't replace it like they did at Walt Disney World!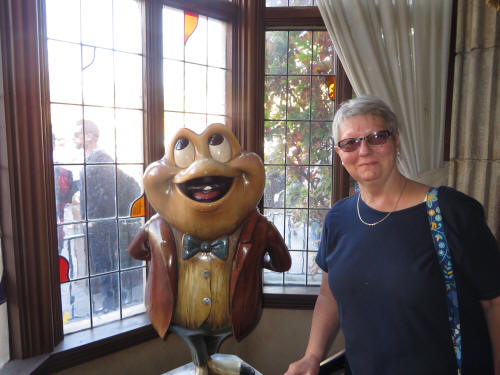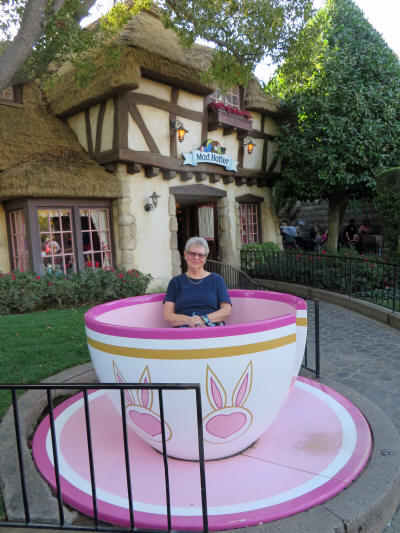 Carol was happy to pose in a teacup, but she refused to ride! She doesn't like the spinning!
We carried on to It's A Small World. This great old attraction is all decorated for Christmas and the area gets very congested later in the day as people wait for the lights and the projection show. Wait times in the Stand-By line can be well over an hour later in the day. Unfortunately the ride was down for a few minutes when we arrived.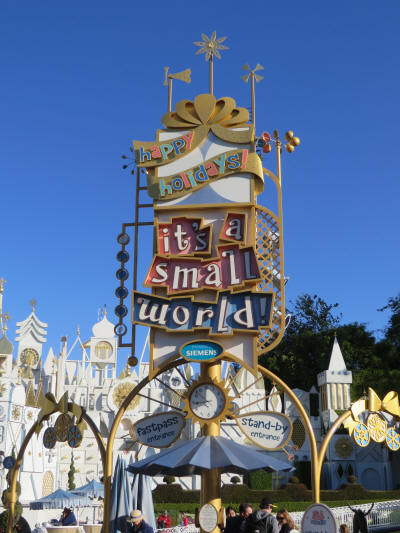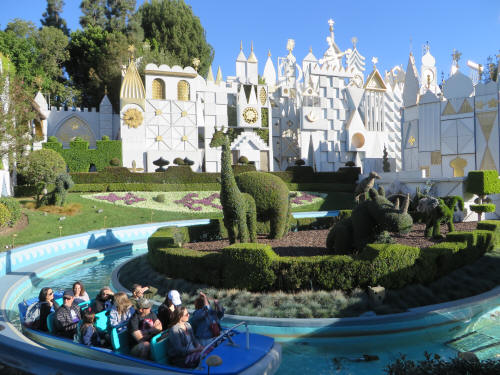 We carried on to Toontown. As we walked up the hill into Toontown Goofy appeared and we had a few minutes alone with him before the throngs of children arrived and took his attention away from these two old geezers!
We walked around and enjoyed the sights, the characters homes and all the interactive gags in the area. It may be our last time there, the area is rumoured to be at risk as new developments transform the park.
Just before we left Pluto came out to play and we were able to get a picture with him as well!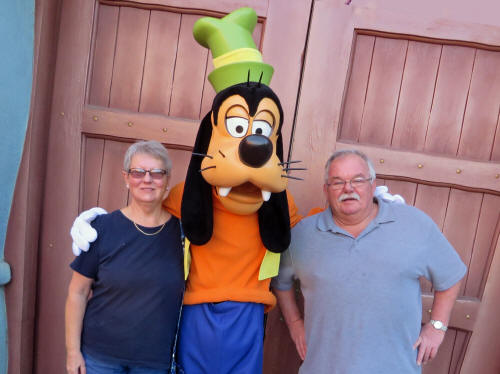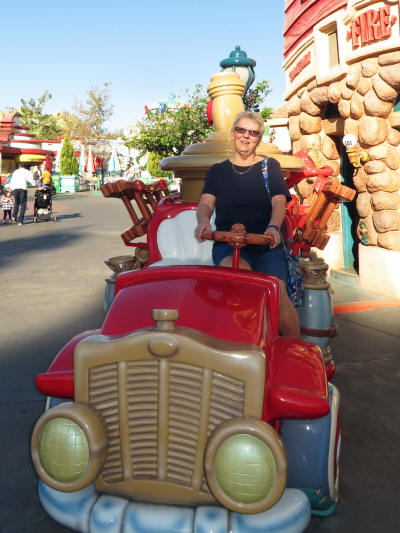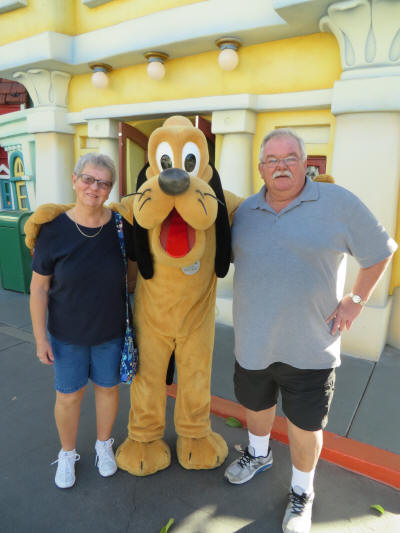 It's A Small World was back in operation as we left Toontown so we hopped in line and took a ride. The California version is the original ride, moved to Disneyland after the 1964 New York World's Fair, and it's quite a bit different from it's Florida cousin.
Each year at Christmas they add some wonderful holiday elements to reflect the many different Christmas / Hanukkah / Kwanza traditions all around the world.
Even the 'mind-worm' song is replaced from time to time with Christmas carols. If you haven't seen this ride in California during the Christmas season, you really should!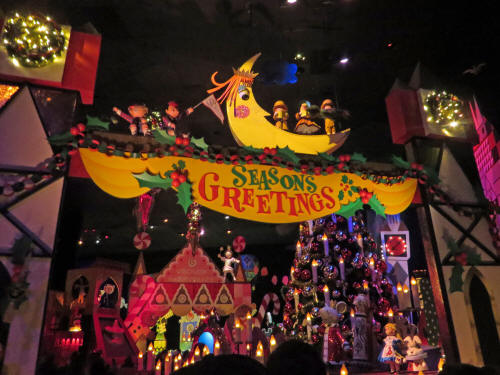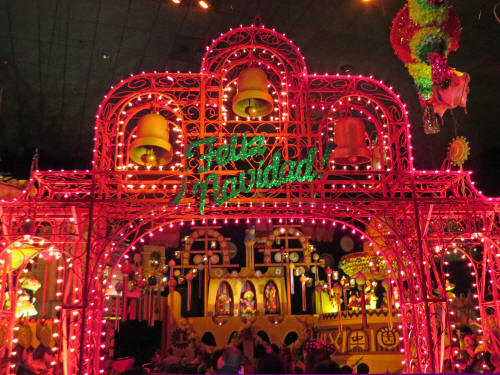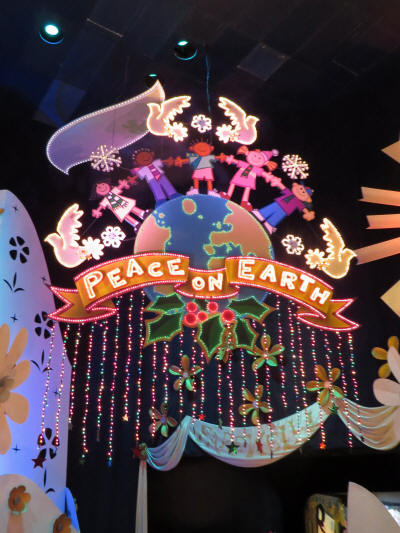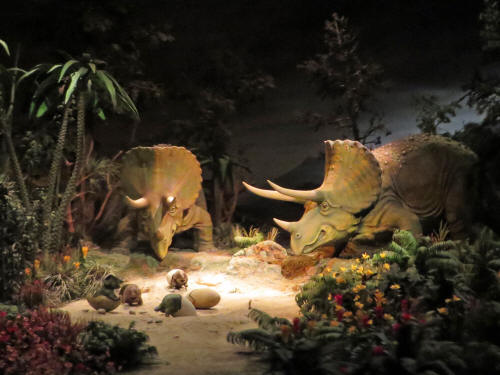 We caught the train at the Toontown Station and rode around the park to New Orleans Square. Those two Triceratops on the left were lurking as our train passed through Primeval World!
We were a little bit early for our FastPass at The Haunted Mansion so we stopped at The Royal Street Veranda for coffee and fritters.
The line for Pirates of the Caribbean was very short when we finished our coffee so we took a quick spin with Captain Jack and the buccaneers before heading over to the Haunted Mansion.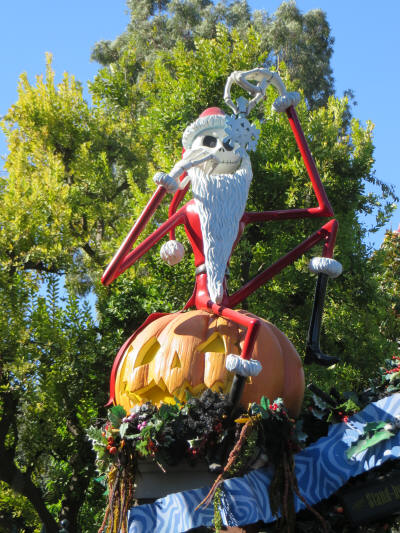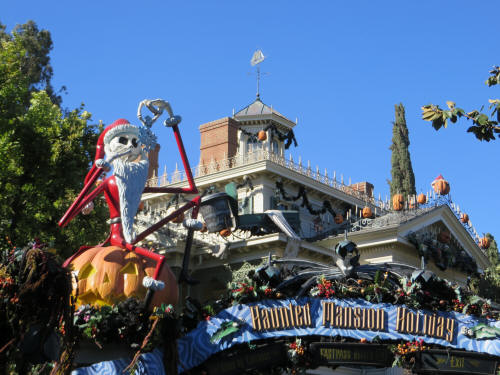 The Haunted Mansion also transforms for the holidays. The changes here are much more extensive and lavish than those at It's A Small World!
Jack Skellington and the characters from Tim Burton's Nightmare Before Christmas have totally taken over the mansion. The mish-mash of Halloween and Christmas displayed throughout the attraction is truly astounding.
As your 'ghost-host' narrator says, "You never know what to expect when two holidays collide!"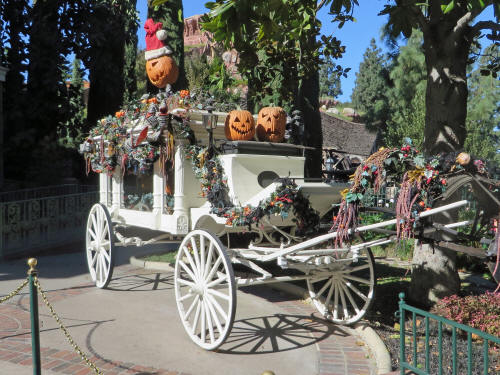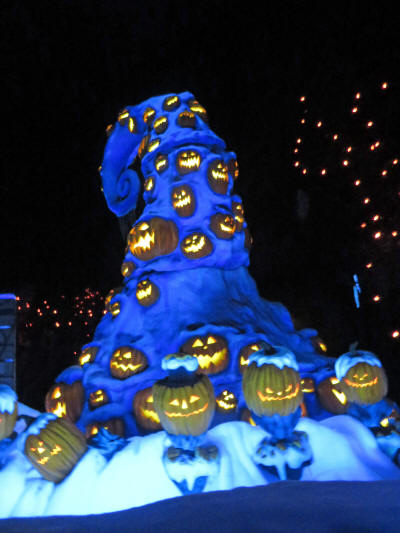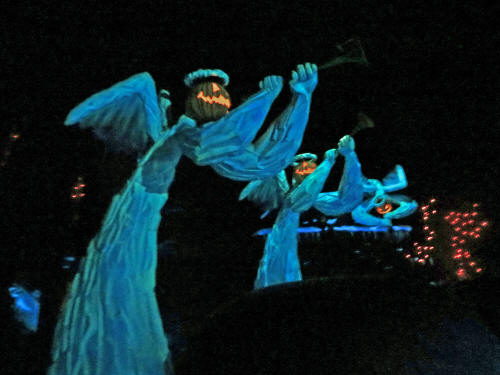 It was almost time for our lunch reservation at Carnation Café so we headed toward Main Street, with a slight detour to pick up FastPasses for Big Thunder Mountain Railroad. This route took us past the Pin Store in Frontierland, so naturally Carol had to stop!
Lunch at Carnation was good, as it always is, but we missed seeing Oscar there. He holds the record as the longest serving Disney cast member. Oscar Martinez started working at Disneyland on December 29, 1956 and he retired just a few months ago on September 27, 2017. Wow! That's just over 61 years!
Congratulations Oscar, we sure hope you are enjoying your retirement!
By the time we finished lunch it was time for our FastPass at Big Thunder so we strolled over to Frontierland and rode the rails on the 'wildest ride in the wilderness!'
The park was beginning to get crowded in the early afternoon so we took the back trail, past the area that used to be Big Thunder Ranch, on our way to Fantasyland. We had planned to walk through the castle, but it was closed to accommodate the Christmas Fantasy Parade which was to start momentarily.
We paused at The Hub and took a few pictures as we waited for the parade to start.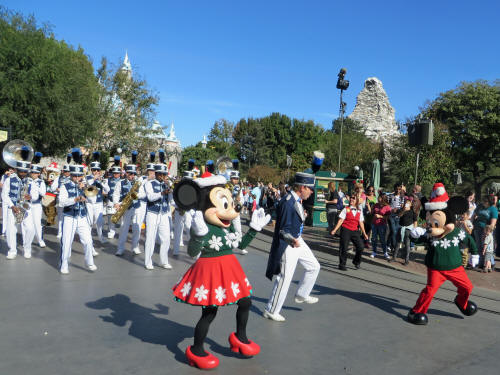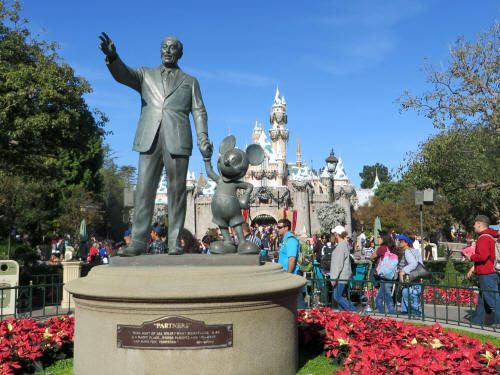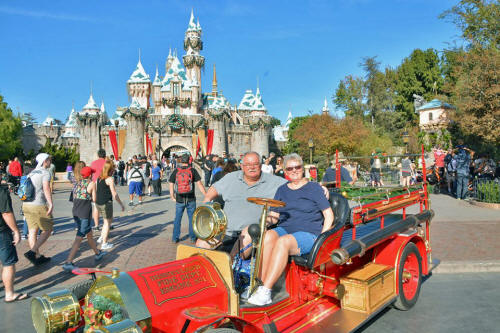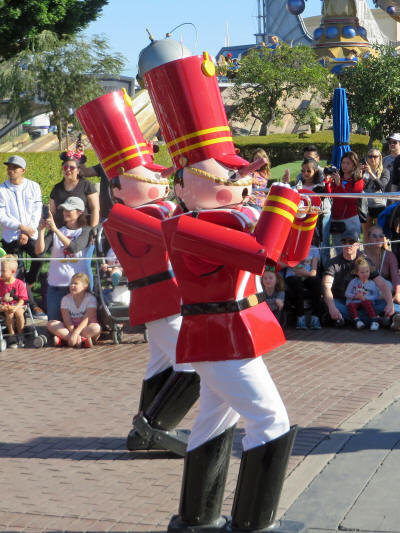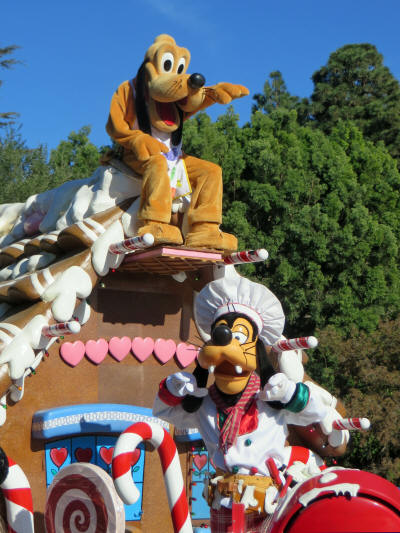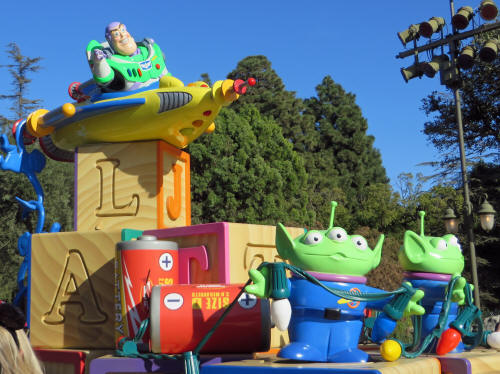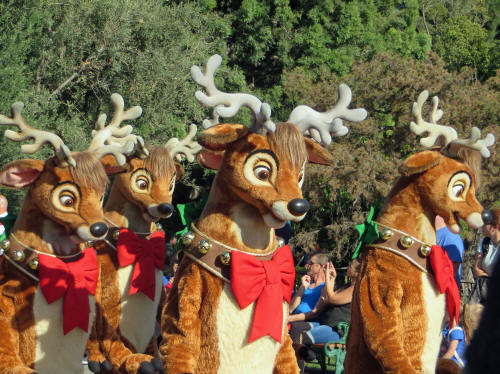 When the parade was over we headed to Tomorrowland for a spin with Buzz Lightyear but there was a huge line so we passed it by! Since we were so close to the Little Green Men store Carol stopped in for a few minutes to check out the latest pins, then we caught the 1:45 shuttle back to our hotel.
After a refreshing nap we boarded the 4:30 shuttle for a return trip to Disneyland. Our first stop was The Gallery in Town Square where Carol had a close look at the Sleeping Beauty cel one of the Ink and Paint artists was working on. I sort of expected that one of those cels might follow us home, but I was wrong. Most of our available wall space has been filled with cels, so Carol has become very selective!
Do you see Carol's jacket? Evenings were very cool during our stay!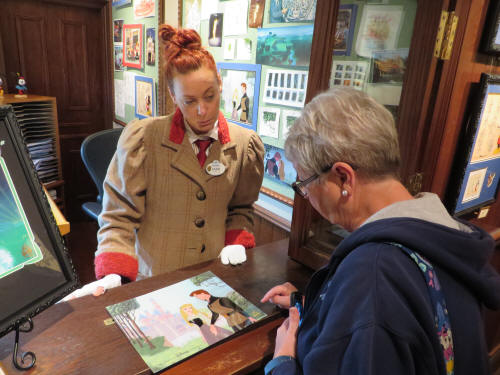 I stood in line at the Plaza Inn while Carol dashed off to Tomorrowland to get us FastPasses at Buzz Lightyear. Just a few minutes after she got back we were seated in the restaurant ready to enjoy our favourites, fried chicken for Carol and Cobb salad for me.
"What do you mean they changed the menu?"
"No Cobb salad? Chopped salad? What's that?"
It turns out that it's a plain old tossed salad with a few chopped veggies added. No egg, no cheese, no ham, no bacon, nothing like a Cobb salad.
It was okay, but on the whole dinner was disappointing for me. Carol loved her fried chicken though!
By the time we finished dinner it was time for Buzz Lightyear. This is a much better ride in California! The laser guns detach from the dash of your space-cruiser so it's much easier to aim.
Carol and I get very competitive as we spin through Sector 9 fighting off the evil Emperor Zurg. I squeaked out a narrow victory in this particular battle, but I think she is slightly ahead of me in the overall war!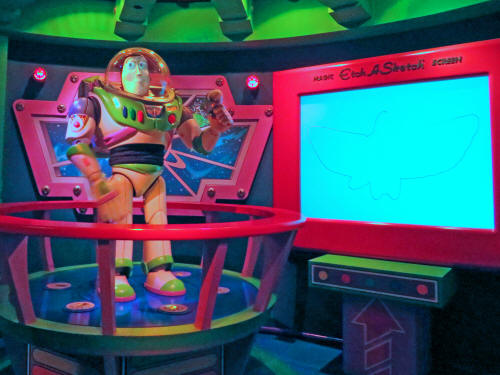 We headed to It's A Small World to enjoy the Christmas spectacle. The exterior of the building is decorated with thousands and thousands of lights for the holiday season.
It's really a sight to behold, and naturally it draws huge crowds each and every night!
Every 15 minutes throughout the evening the lights dim and a stunning show, timed with lively Christmas music, is projected on the face of the ride. Lights, lasers, music and animation all interact to create a dazzling effect.
Disneyland is a wonderful place to be during the holiday season!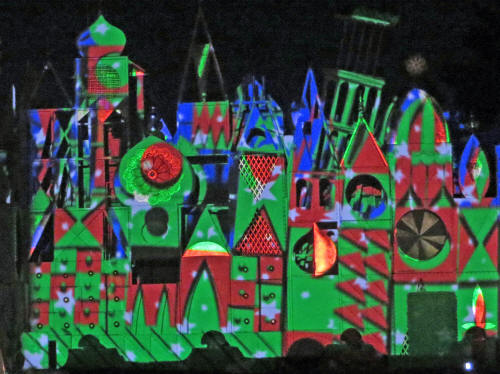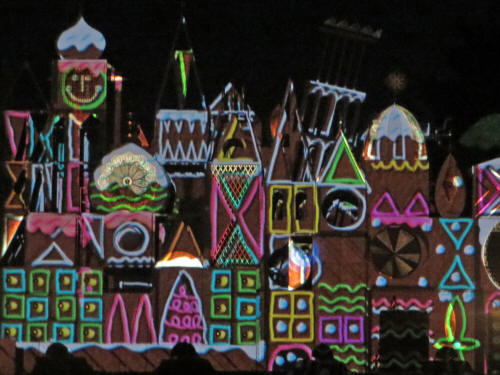 After enjoying the projection show a couple of time we made our way back toward Fantasyland and took a ride with Alice along the way. The Alice in Wonderland ride is unique to California and it's one of our favourite things to do there.
We always ride it several times while we're at Disneyland!
Next on our agenda was Pinocchio, another 'unique to California' ride that we never miss. We were about half-way through the dark, and sometimes scary ride when our car came to a halt. We sat still for a few minutes, then all the lights came on. Soon a cast member arrived, stepped on the lever that released our lap restraints and we were told to walk to the exit.
I managed to snap two pictures with the lights on before another cast member growled, "No pictures please!"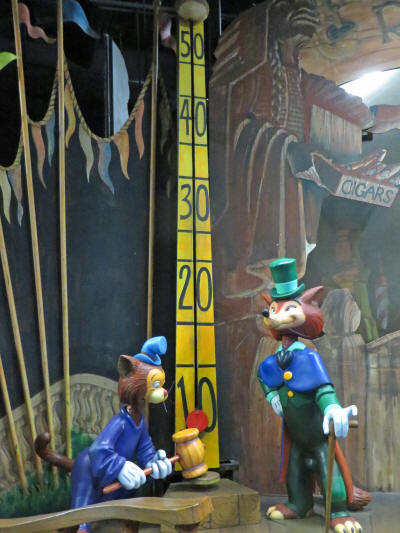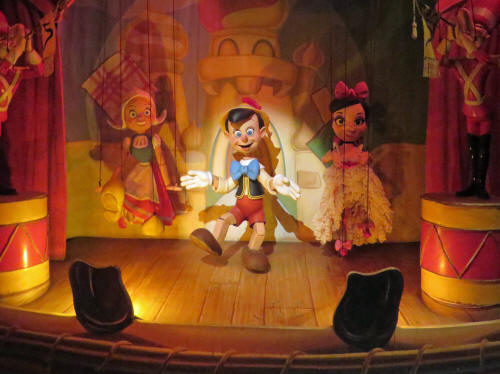 Fantasyland was closing as we exited Pinocchio; the area is shut down during the nightly fireworks show. We were the last two people to walk through Sleeping Beauty Castle. They closed the door behind us!
We found a comfy table at Jolly Holiday and zipped up our jackets to ward off the cold and the wind. We savoured hot coffee while we waited for the special holiday fireworks show, 'Believe . . . In Holiday Magic'.
We were very disappointed when they announced that the fireworks were cancelled because of the high winds!
We dragged our chilly carcasses to the exit and caught the 9:45 shuttle back to the Candy Cane Inn.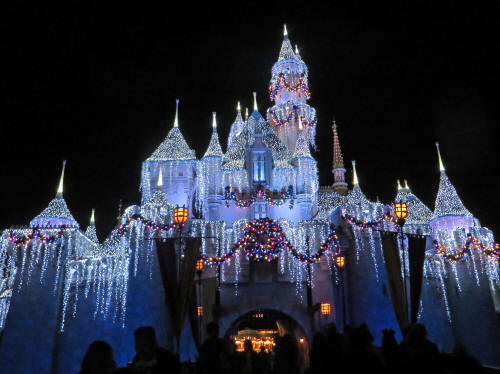 ---
Friday Dec 8, 2017
Once again we caught the 8:30 shuttle. This morning the line at the bag-check area was huge . . . a sure sign that things are heating up for the weekend! It took us close to a half-hour to get through the compulsory bag-check.
Carol sprinted ran walked faster than me and picked up FastPasses for Guardians of the Galaxy. When I caught up to her we walked over to Monsters, Inc. where there was no line.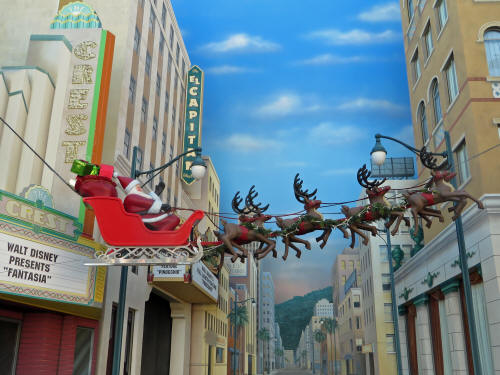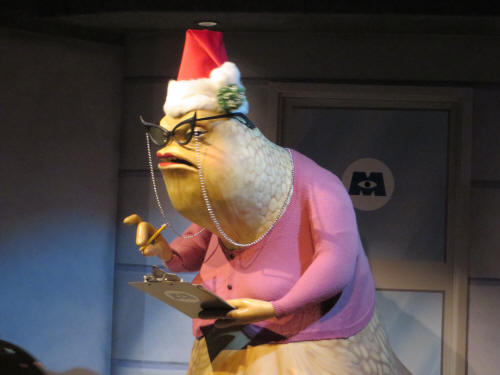 When we finished our ride there was still no line, so we walked directly from the 'unload' area to the 'load' area and rode it again!
Roz was watching, but she didn't rat us out!
We had some time to kill before our FastPass time with the Guardians so we hopped on a Red Trolley for a round trip to the park entrance and back.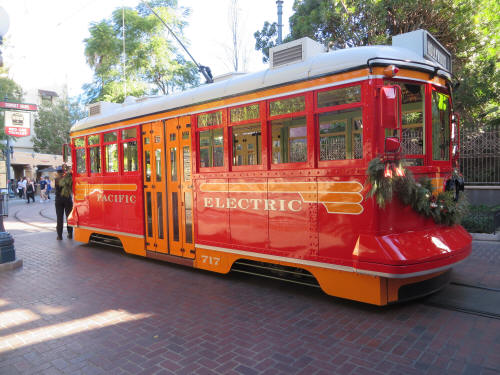 The trolley had us back at 10:25, just in time for our FastPass. We both really enjoyed the new Guardians ride. The former Tower of Terror has really transformed.
The motion is the same; up and down in a high speed elevator, but the story line and the decor have been adapted to blend well with the movie clips starring the Guardians.
I wasn't at all sure I would like the change, but I do. It's better than the original!
We walked through Bugs Land on our way to Cars Land. Carol heard something as we walked past one of the food carts . . . it was a churro which was calling out to her! Yummy!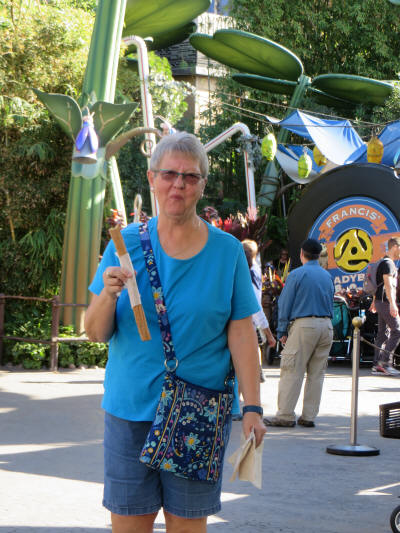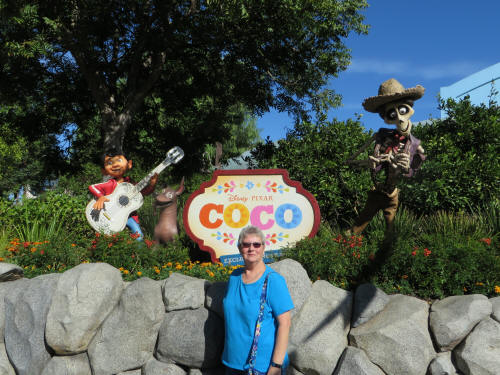 We took a ride on Mater's Junkyard Jamboree and chuckled at the special Christmas sound track.
Then we took our first ride on Luigi's Rollickin' Roadsters. It's cute, the cars whirl and spin in a simulated dance. Imagine, if you can, an Italian square-dance!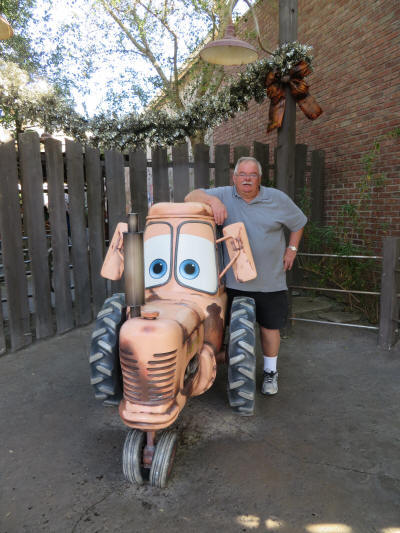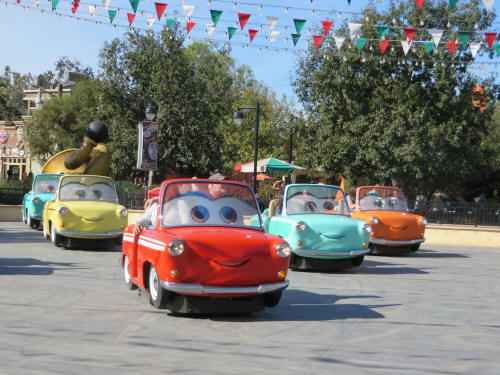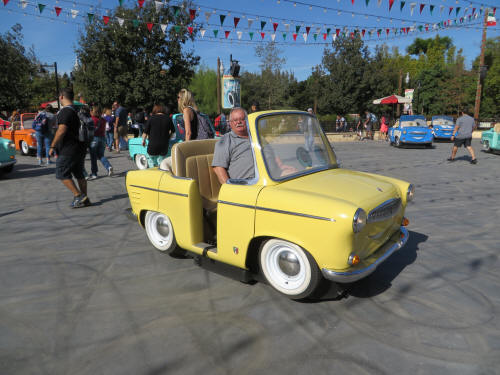 We had a nice lunch at Flo's V/8 Café then headed to Radiator Springs Racers to join the single rider's line. Ouch! The ride was broken down. We asked a cast member if she had any idea when it might be going again. Naturally she couldn't tell us anything, but we ended up having a very nice chat with Kristen from Whittier California.
Kristin took time to fully explain the FastPass MegaPass system to us and when she was done she gave us two complimentary FastPasses, one for Radiator Springs Racers and one for Toy Story Midway Mania. Thanks so much Kristen!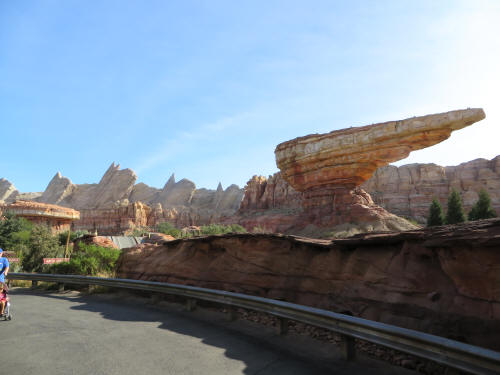 We headed directly toward Paradise Pier to ride Toy Story and paused briefly along the way while I used the single rider line to ride California Screamin'.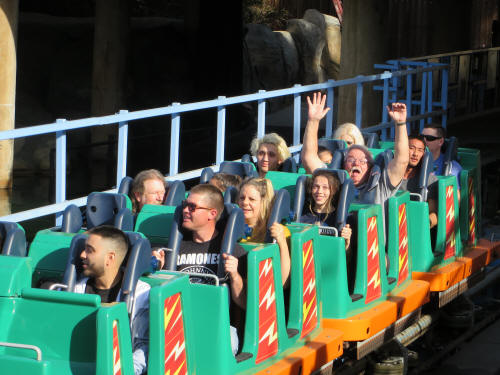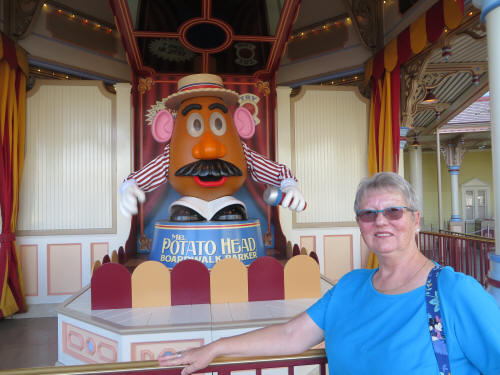 Toy Story is another ride that brings out the beast in each of us. We tossed our rings, popped our balloons, broke scads of plates and then overwhelmed the old prospector at the mine train!
Once again I managed to record a slim victory in a hard fought battle. I think I hold the overall edge in the Toy Story war, but Carol always contends that her accuracy is much better than mine.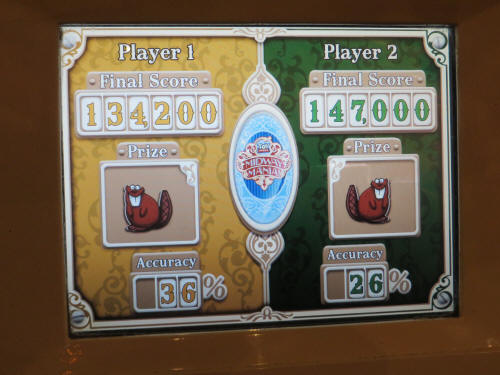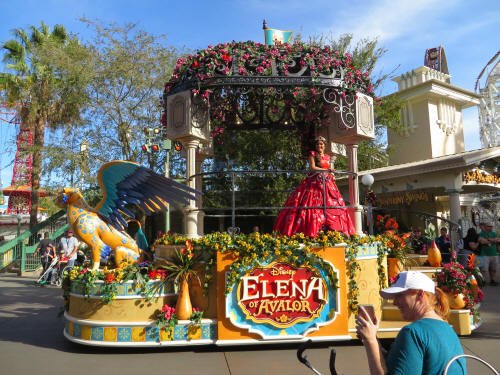 We walked around the lagoon on our way to the park exit and caught the 2:45 shuttle back to the hotel.
After a refreshing rest we boarded the 4:30 shuttle and went straight to Disneyland for dinner at River Belle Terrace. We had booked the Fantasmic Dinner Package. We checked in a bit early and had a very nice dinner.
After dinner we had a bit of time before Fantasmic so we hustled across to California Adventure and used the FastPass Kristen gave us to take a spin on Radiator Springs Racers.
Radiator Springs takes on a totally different look at night. It looks even better when it's illuminated!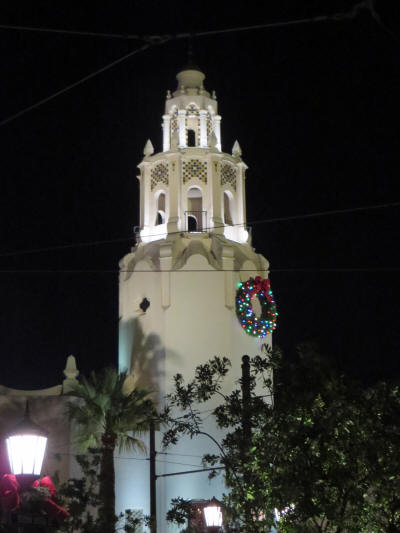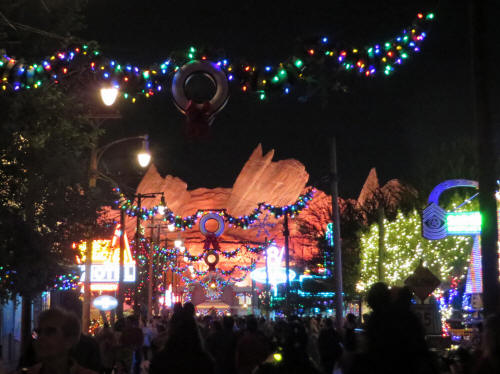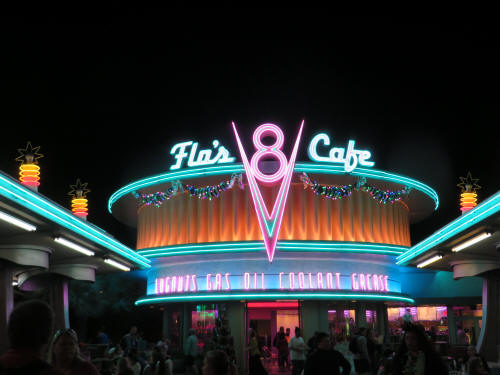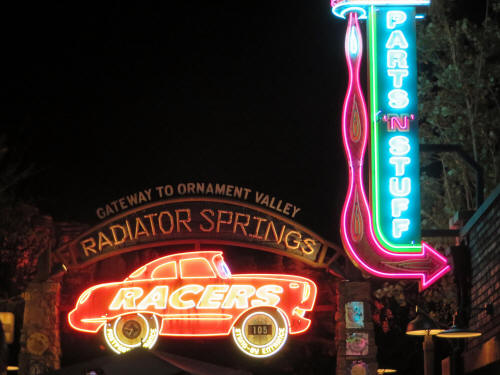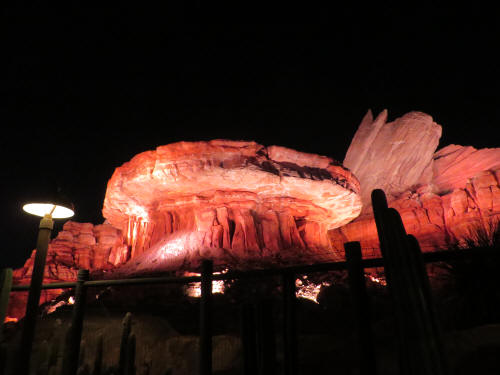 We were back at New Orleans Square in plenty of time for Fantasmic and got a very good vantage point in our preferred viewing area. There is no amphitheatre in California, you watch the show from the walkways alongside the Rivers of America. Everyone sits on the sidewalk and there's never anyone standing in front of you to block your view.
The show seems much more intimate at Disneyland. You are much closer to the action, the pirate battle takes place on the Columbia and the finale has the performers on the Mark Twain Riverboat.
Once Fantasmic was over we stayed in place at The Rivers of America to watch the 'Believe . . . In Holiday Magic' fireworks. Once again we were disappointed, the fireworks were cancelled because of the wind.
We were both cold and tired when we caught the 10:15 shuttle to our home away from home.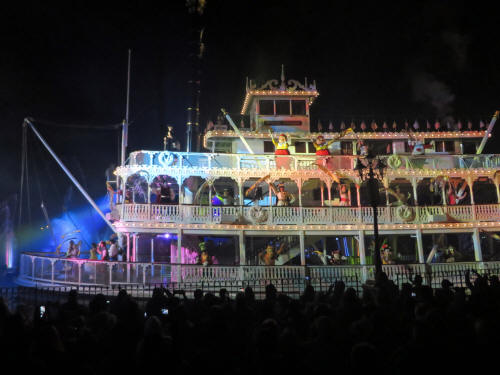 ---
Saturday Dec 9, 2017
We had decided months ago to avoid the theme parks on the weekend, when they're terribly busy, so today was designated as a "Walk In Walt's Footsteps" day. Not the tour in Disneyland that goes by the same name . . . we did that years ago. Instead, we hopped in the car and drove around the Los Angeles area seeing sights that had a special Disney significance.
Our first stop was only about two miles southwest of Disneyland, The Stanley Ranch Museum and Historical Village at 12174 Euclid Street. The historical village is operated by the Garden Grove Historical Society and is the home of Walt Disney's first animation studio. When Walt and Roy first arrived in Los Angeles in 1923 they roomed with their uncle, Robert Disney and set up their studio in his garage. In 1984 that historic old garage was donated to the Garden Grove Historical Society and moved from 4406 Kingswell Avenue to the village on Euclid Street.
The society does not have a web site, but when I did an Internet search the night before Tripadvisor.com indicated that they opened at 9:00 a.m. We arrived at about 9:15 a.m., eager to kick off our 'Disney day'. As we walked from the small parking area toward the entrance of the historical village we were stopped by a lady who was stretching a flag-draped rope across the entrance to block access to the village
"Are you here for a tour?" she asked.
"No," I replied, "we're looking for Robert Disney's garage."
"I don't know a Robert Drimbley." she said rather gruffly.
"No, Robert Disney, he was Walt Disney's uncle and Walt had his first animation studio in his uncle's garage."
"We're closed right now." she snapped, "This is private property you know! You'll have to book a tour and come back on the first or third Sunday of the month."
I quickly surmised that this lady was either a volunteer or a highly skilled rope stretcher; she had definitely not been hired because of her people skills!
After her less-than-cheery greeting we slunk back to our car . . . hoping for a warmer reception at our next stop!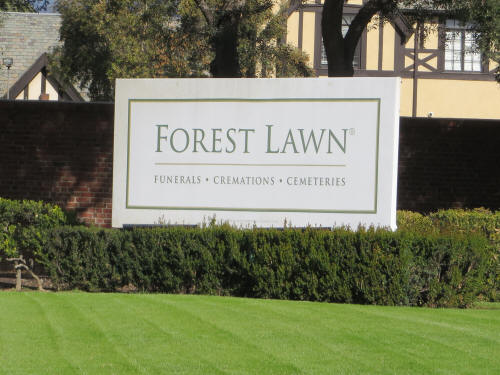 We drove north about 30 miles, through Los Angeles, to Forest Lawn Memorial Park in Glendale. We were trying to track down Walt's grave site near the Court of Freedom. It's a huge cemetery, about 300 acres, and the receptionist who greeted us at the entrance gate was very helpful. She highlighted our route on a map of the grounds and gave us some helpful driving hints.
Within a few minutes we arrived at the court of Freedom and began our brief search for his final resting place.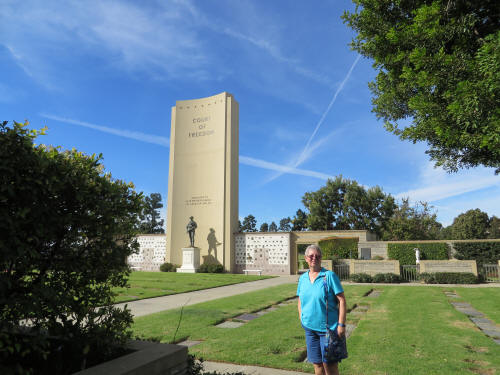 If you stand at the back of the Court of Freedom building and see the statue behind Carol, Walt's grave is in the corner to your right.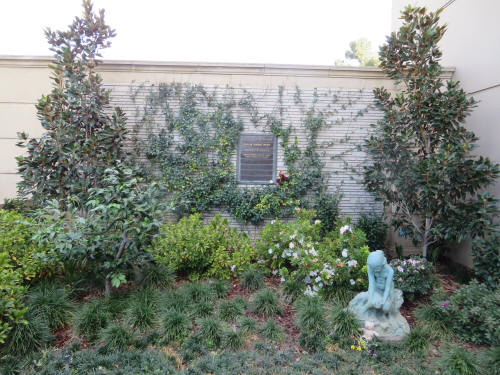 The Disney Family Plot at Forest Lawn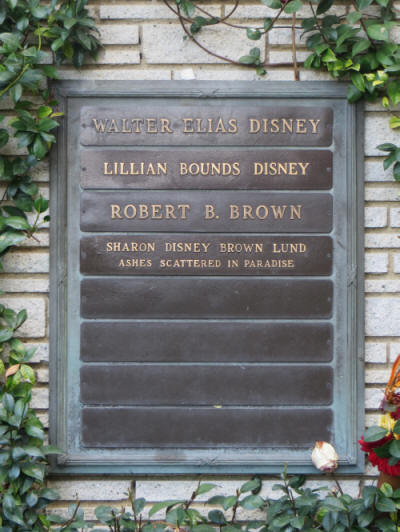 For a man who had such a profound impact on so many people, who left such a rich legacy behind, we were surprised at the humble family plot.
We spent a few minutes paying our respects to this incredible man, then carried on to our next stop.
A quick 7 mile drive took us to Burbank, the current home of the Disney Studios complex. It was a just a reconnaissance mission, we wanted to get the lay of the land before coming back the following day for a D23 event.
The complex houses the Disney Animation Building, the Team Disney Building, many of the movie studio stages, ABC Television Studios and Carol's favourite - the Mickey's of Glendale Store.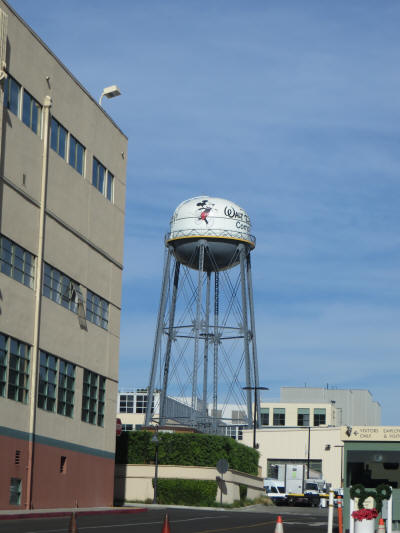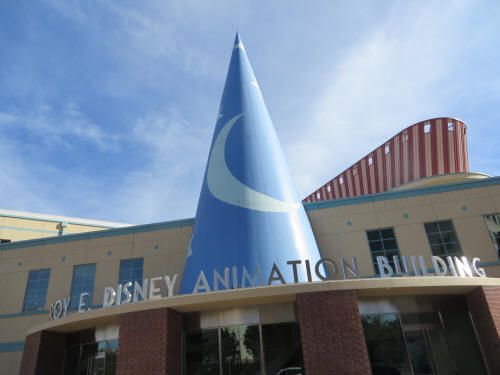 After a quick peek at the Disney Studios property we took a 2 mile jaunt on the Ventura Freeway to Griffith Park. If you're a Disney fan you've probably seen that film clip of Walt, where he reminisces about sitting on a park bench dreaming of a park where parents could have fun along with their children.
That park bench, in Griffith Park, was where Walt was originally inspired to build Disneyland.
Today Griffith Park is the home of Walt Disney's Carolwood Barn. The barn was originally in Walt's backyard at 355 Carolwood Drive. Walt had a lavish model railroad in his yard, he named it the Carolwood Pacific Railroad and in 1998 when the Disney family sold the Holmby Hills estate the barn was dismantled and reconstructed as part of the Railroad Museum maintained in Griffith Park by the Los Angeles Live Steamers club.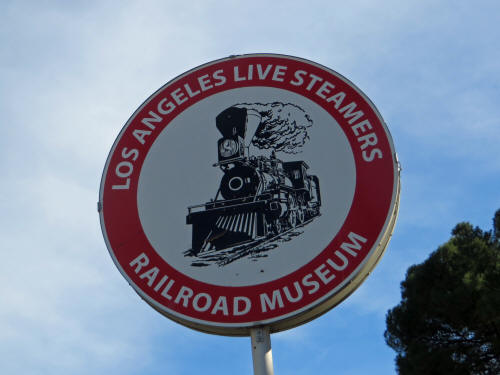 Like our stop at Walt Disney Studios, this was an investigative foray only. We knew that the museum is only open to the public on Sundays and that Walt's barn is only open on the third Sunday of each month. We planned to visit tomorrow and, since it wasn't the third Sunday, we knew we would likely only be able to see Walt's barn from a distance.
A quick 5-mile drive took us to our next stop at 2695 Lyric Avenue where we found the house Walt Disney built in 1926. In fact, Walt and his brother Roy built identical homes side-by-side on Lyric Avenue. Roy's home at 2697 Lyric was a mirror image of Walt's!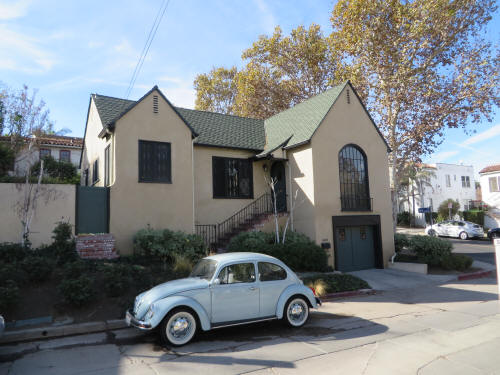 Walt Disney's house built in 1926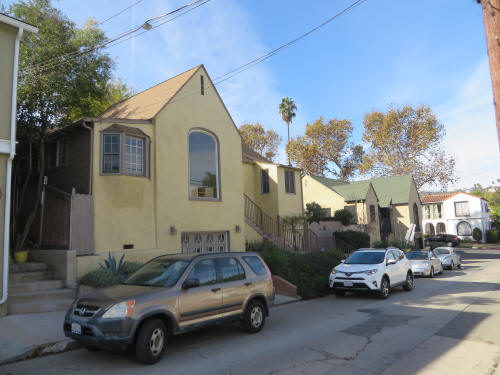 Roy Disney's 1926 house - next door to Walt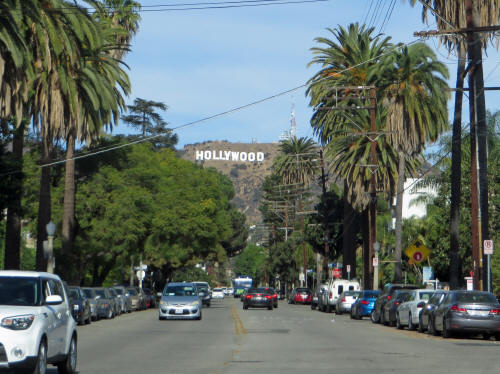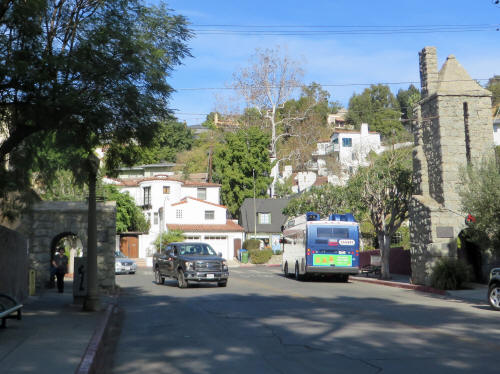 On our way to our next stop, about three miles from Walt's first house, we had a terrific view of the famous Hollywood sign. That's no co-incidence since our next destination was the stone gates built in 1923 to mark the entrance to the new real estate development known as Hollywoodland.
The sign originally read Hollywoodland, but it deteriorated over the years, and when it was first refurbished in 1949 the last four letters were dropped, creating the iconic Hollywood sign we know today.
Do you see the bus in the picture above? It's the same bus as the one in the picture on the left. It's parked at a bus stop right beside the 1923 stone gates we were looking for.
Look carefully at the picture above. Do the gates look familiar?
Close your eyes and imagine that you're at Walt Disney World and you're approaching the Tower of Terror at Disney's Hollywood Studios. On your left you should be imagining a stone building that used to house the FastPass dispensing machines. On the right you should be picturing a stone tower that houses restrooms.
That's right, those buildings in Florida are replicas of these old 1923 structures in Hollywood.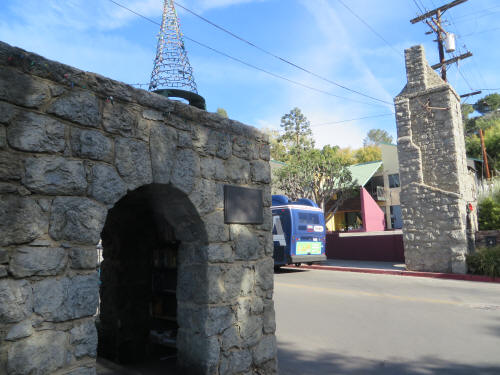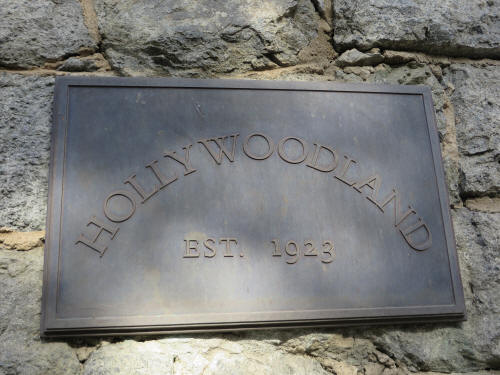 Next time you're at Disney's Hollywood Studios in Florida look around and you might just find a replica of this brass plaque that has marked the Hollywoodland entrance in California for almost a century!
Our next stop was only two miles away at 1660 North Highland Avenue, just around the corner from Hollywood Boulevard. It is only steps from Disney's El Capitan Theatre, Disney's Soda Fountain, Grauman's Chinese Theatre and the Dolby Theatre, home of the Academy Awards.
The building pictured on the right, at 1660 North Highland Ave., was purchased in 1928 by Max Factor who was the most sought-after cosmetologist in tinsel town! The building was totally transformed in Art Deco style and re-opened in 1935 as the Max Factor Makeup Studio. Today the taller portion, on the left, houses the Hollywood Museum and the shorter portion, on the right, is home to Mel's Drive-In.
Does the building seem familiar to you? Next time you're at Disney's Hollywood Studios look very carefully at the buildings along Hollywood Boulevard as you walk toward Grauman's Theatre. In the midst of all those Art Deco facades on the left you will find a replica of the Max Factor building.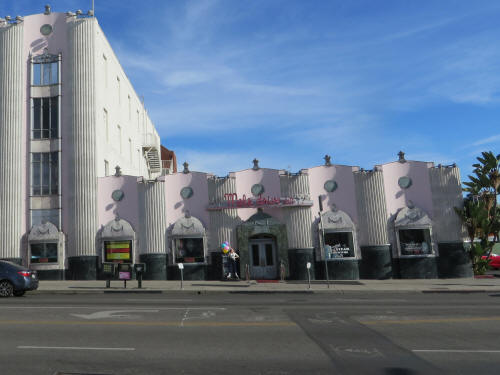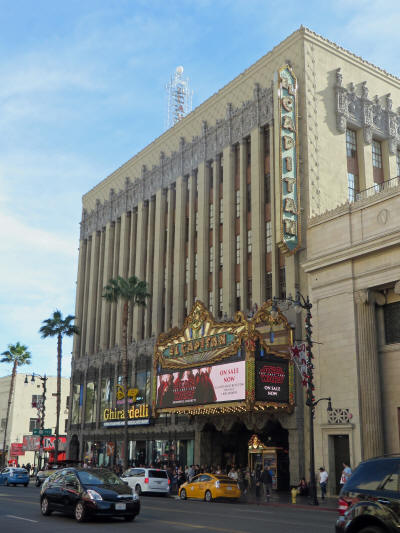 Around the corner from Max Factor was the stop Carol had been looking forward to! Disney's Soda Fountain has recently been renovated and is now operated under license by Ghirardelli's. We had stopped at the soda fountain several times before and always enjoyed their unique ice cream sundaes, and the special Disney pin that came with each sundae. They always had special Limited Edition pins that weren't available anywhere else. Carol was a big fan of the Soda Fountain pins and she really enjoys Ghirardelli chocolates . . . it sounded like a marriage made in heaven.
Unfortunately, the 'new and improved' soda fountain was a big disappointment. It had lost all of the 'Disney feel' and now it's just another chocolate shop. They didn't have any pins with their sundaes and Carol couldn't find a single pin she wanted to buy. She was done shopping very quickly . . . surprisingly quickly.
It's too bad that new is not always synonymous with improved!
We spent a few minutes walking up and down Hollywood Boulevard looking at the stars along the Hollywood Walk of Fame. These Disney-related stars are all within a block of the El Capitan Theatre and the Soda Fountain.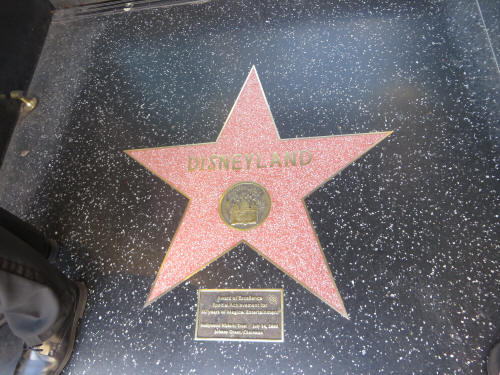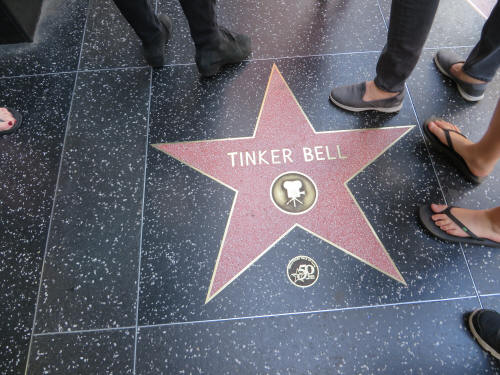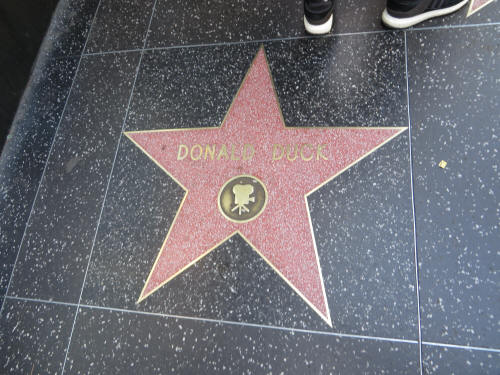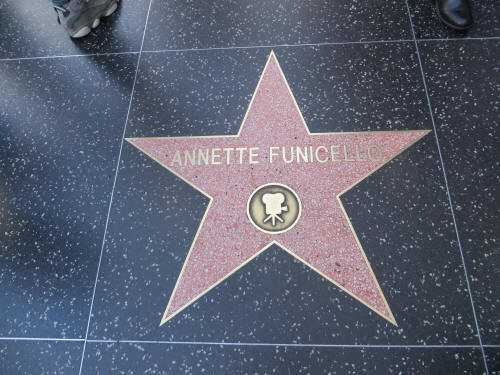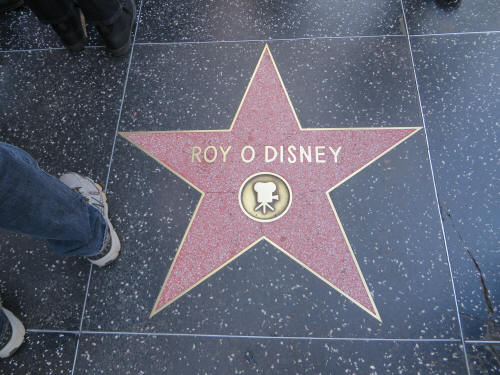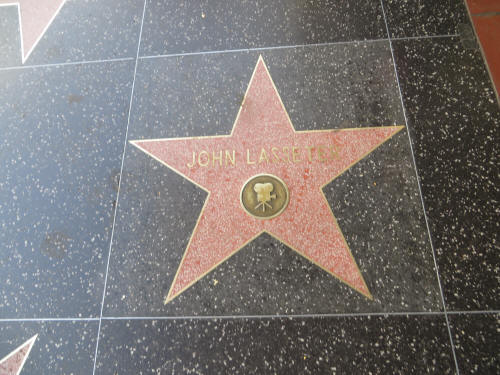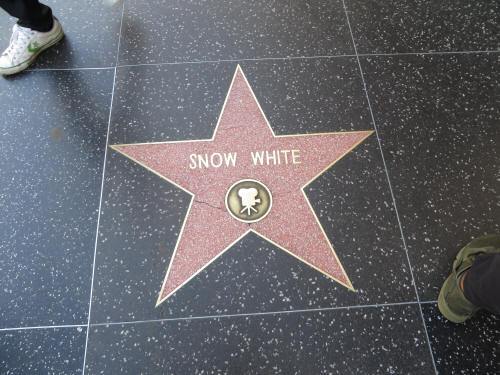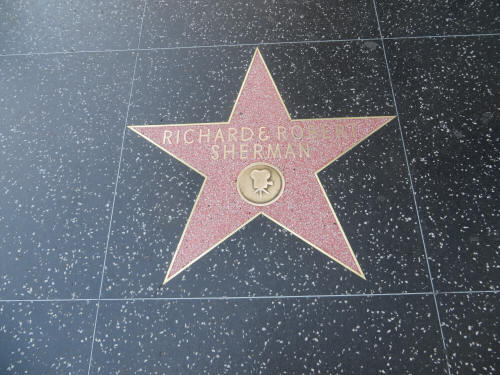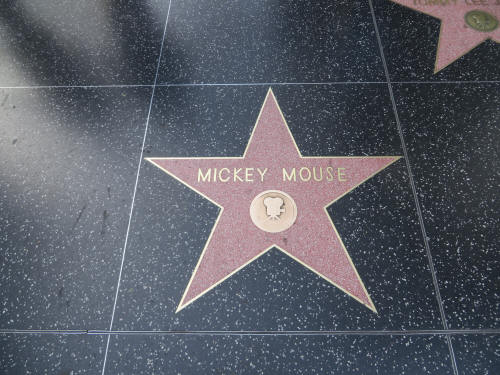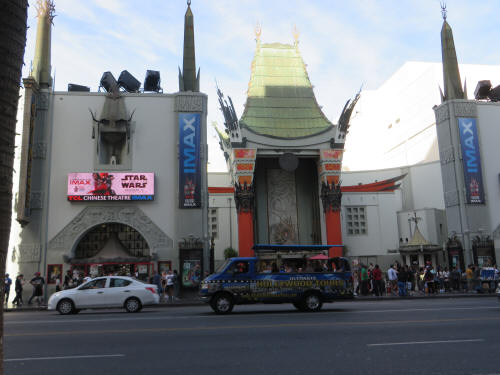 Directly across the street from the El Capitan Theatre is the Dolby Theatre, home of the Academy Awards, and beside the Dolby Theatre is the familiar building pictured on the left.
Grauman's Chinese Theatre has been a Hollywood landmark since it opened May 18, 1927. The handprints, footprints and autographs of nearly 200 Hollywood celebrities are pressed into the concrete of the theatre's forecourt.
The replica of Grauman's Theatre in Disney's Hollywood Studios has housed the Great Movie Ride since the park opened in 1989 but closed in 2017 and is scheduled to re-open as Mickey and Minnie's Runaway Railway.
The colds Carol and I had been fighting for the last few days were really getting us down by early afternoon, so we did a quick drive-by at 5370 Wilshire Boulevard and Carol snapped the picture on the right as we slowly cruised past 'The Darkroom'.
The building's facade features a 9-foot tall replica of a Minolta Camera and it has been a Hollywood landmark since it opened as a camera store in 1938. Today the building houses a restaurant, but if you want to see how it looked back in 1938 look for the replica at Disney's Hollywood Studios. It's a remarkably good reproduction!
We decided to skip our last planned stop and head directly back to the hotel.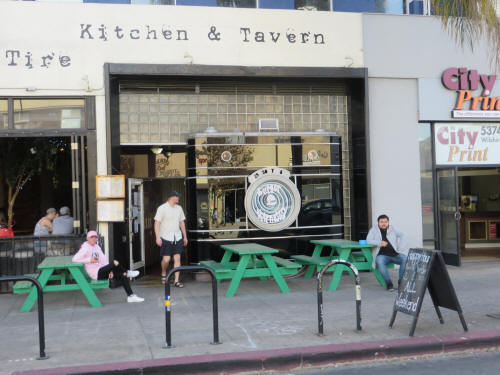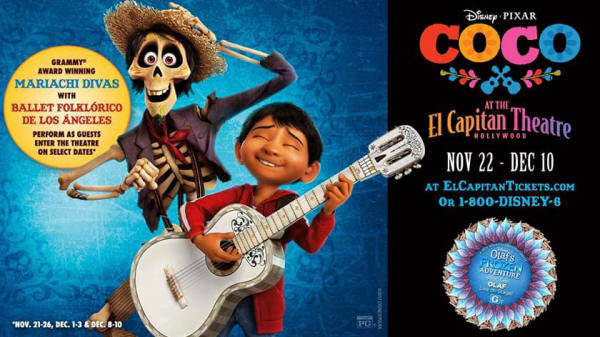 We enjoyed a relaxing few hours back at the Candy Cane Inn; we really needed to get our second wind before heading back to the El Capitan Theatre for a special treat!
The newest Pixar movie was being shown there, and for a limited time the Mariachi Divas along with some talented Mexican dancers were performing prior to the movie.
It was a terrific performance!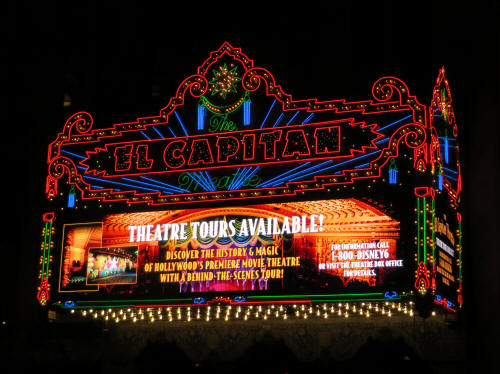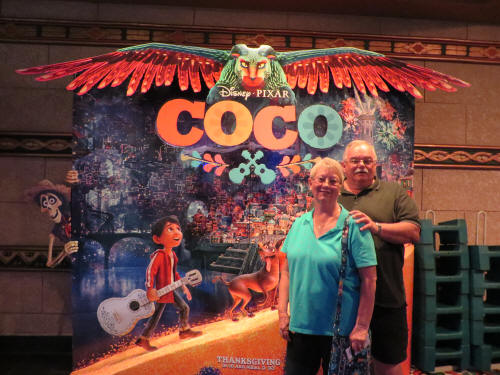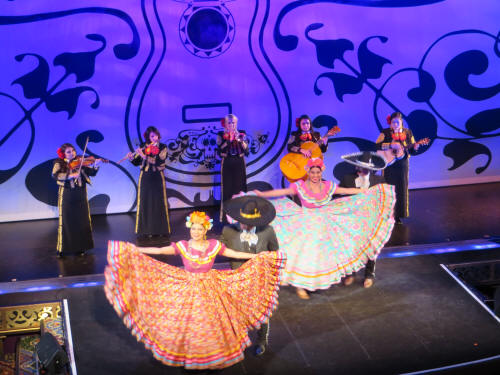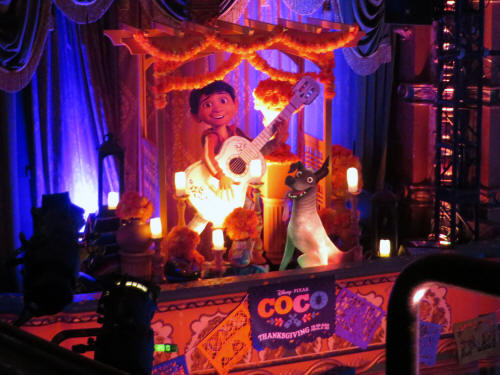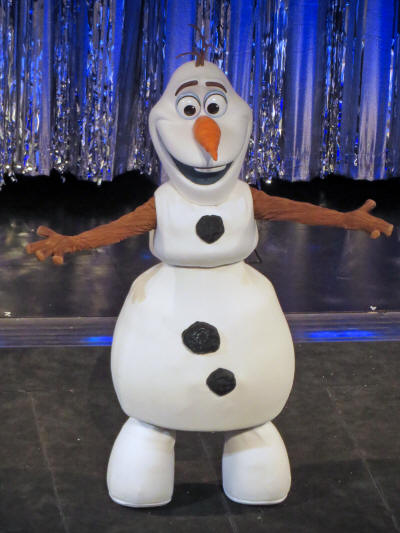 Just before the feature movie Olaf from the Pixar movie Frozen made a personal appearance and introduced his brand new short feature 'Olaf's Frozen Adventure'.
The Olaf short was cute and entertaining, but the feature movie, Coco, was wonderful. Once we saw it we understood why all the reviews we read had been so positive. It's a great story, well written, well produced and well presented.
We were really pooped by the time we got home just after midnight!
---
Sunday Dec 10, 2017
I'd like to tell you that we woke up fully recharged, refreshed and totally over our colds . . . but that would be a lie! We were moving pretty slow and we took advantage of our opportunity to sleep in. It helped!
We enjoyed a relaxed breakfast beside the pool and watched as the staff started packing up the buffet area at 9:30. After a restful morning we got underway at about noon.
Our first stop was the one we skipped the day before, at 6671 West Sunset Boulevard, the Crossroads of the World. This one should look familiar to every Disney fan. This is the first thing you see after you enter Disney's Hollywood Studios. The only difference is that the Florida version is a bit taller and Mickey Mouse stands on top of the globe.
The Crossroads opened in 1936 as a shopping mall and office complex. Today it is primarily offices, most of them associated with the entertainment industry.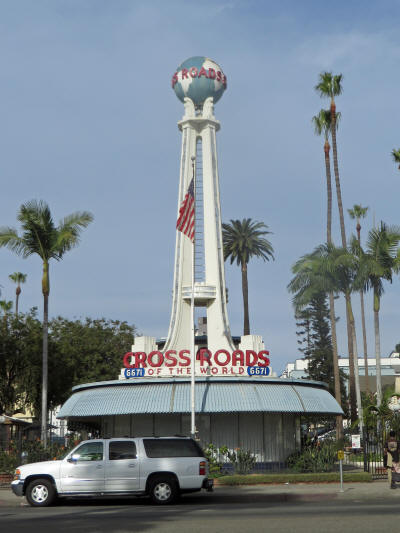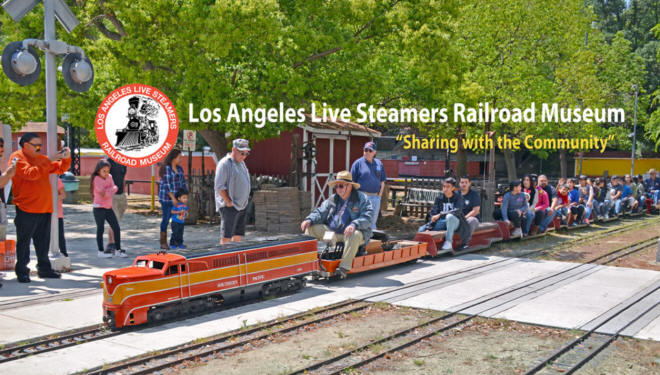 From the Crossroads we drove around the western side of Griffith Park to visit the Los Angeles Live Steamers Club and see Walt's Carolwood Barn.
As I mentioned earlier, we knew that we wouldn't be able to get close to the barn or see inside, but we were hoping to see it from a distance. As we walked through the entrance gate there were other guests buying $3.00 tickets for a ride through the property on one of the model trains.
The picture on the left, from the Steamers web site, shows a model train similar to the one we rode.
We asked the two people in the ticket office if we would be able to get a glimpse of Walt's barn from the train ride, and they said that we would see it twice, once from the front and then again from the rear.
As we bought our tickets we explained that we were visiting from Canada and wouldn't be around to see the barn when it was open on the third Sunday but we'd be happy if we could get even a glimpse of the barn from a distance.
A few minutes later, as we waited in line to board the next train, the lady who sold us the tickets called to us through the ticket window. I went back, and as I leaned down to listen, she said, "If you go to the back of the office my partner Jack will walk you back to Walt's barn."
Yes, even though it wasn't open to the public we were going to get close to Walt's barn! We were flabbergasted! I don't know how many times we said thank you . . . but it was a lot!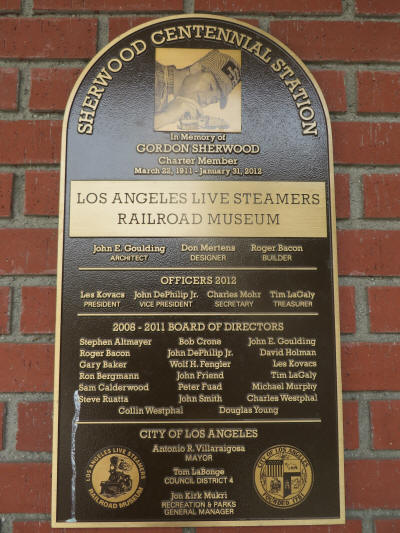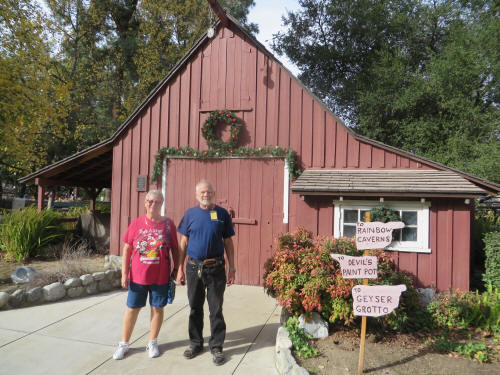 Carol and Jack at Walt Disney's Carolwood Barn - Griffith Park
I couldn't help but contrast our greeting today with the reception we got the day before at the Garden Grove Historical Society. The 'train folks' are sure a lot friendlier than the 'historical village' folks!
As we walked toward the barn our guide Jack, who was a fairly new member of the Steamers, explained about the trains and artefacts we passed by. He told us about Walt's barn. It's registered as an official museum and designated as an historic site so it will be preserved for eternity. The barn is administered by a special sub-group within the Steamers organization, sort of a 'club within a club'.
We spent about 15 minutes with Jack, walking around Walt's barn, and taking in the sights and sounds of the surrounding area.
(Don't tell anyone, but Carol and I actually touched the barn!)
We even had the chance to talk to a few of the other railroad buffs who were busy tinkering with their trains. As we gazed around we got a sense of what a dedicated bunch they are.
The props and detailed scenery around their track network is wonderfully done. There are a lot of man-hours, no doubt all volunteer, wrapped up in the scenes alongside those tracks!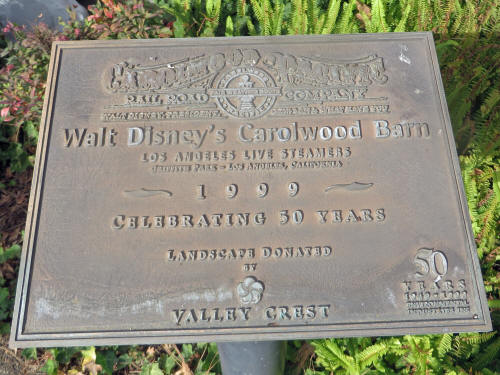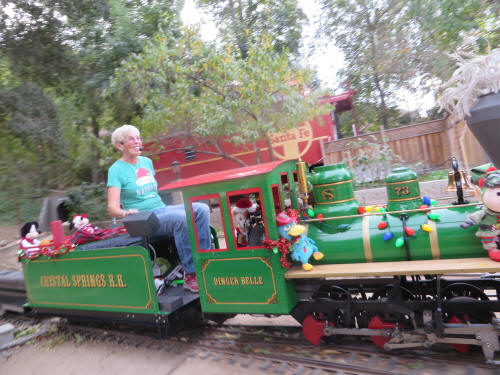 After thanking Jack for the fortieth or fiftieth time we lined up again for our train ride. The circuit took us for three complete loops around the property which contains about 4 ˝ miles of track in two different gauges.
The lady in that fuzzy picture on the left (shot from our moving train) had just finished decorating her train for Christmas and was taking it out for a joyride. Doesn't she look happy?
Our train had an 'engineer' up front operating the locomotive and a 'conductor' at the rear who explained the sights and exhibits as we passed them.
There were bridges, tunnels, trestles, turntables, water towers, ghost towns and so much more . . . all built by dedicated train fanatics.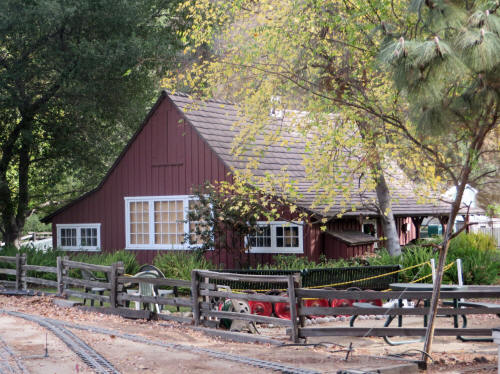 Walt's barn as seen from the train ride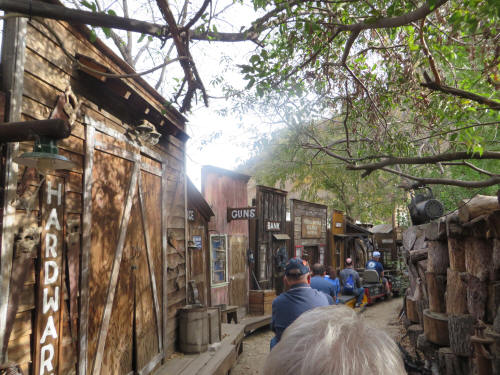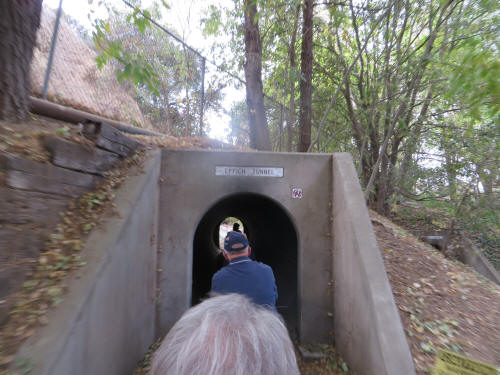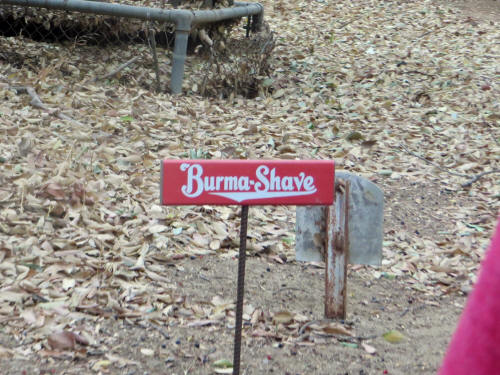 Yes, there were even some humorous old Burma-Shave signs!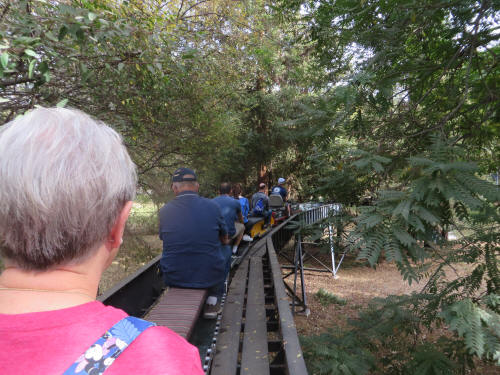 If you have a few hours to spare in Los Angeles, take a trip to Griffith Park and enjoy a train ride. We had a blast!
Oh yeah - Jack, thanks again!
From Griffith Park we took a short drive to Walt Disney Studios at 500 South Buena Vista Street in Burbank. It was time to 'Light Up The Season' with other members of D23, The Official Disney Fan Club.
We arrived a few minutes early and parked on a residential street just around the corner from the studios. We didn't realize it when we parked, but we were actually joining a line of other D23 members who had arrived early. At 3:30 p.m. our entire line of cars pulled forward, turned the corner and drove to the entrance to the Studios.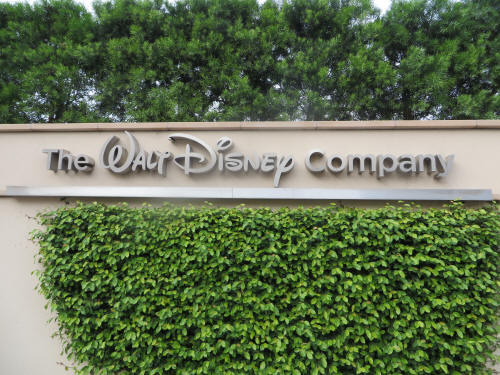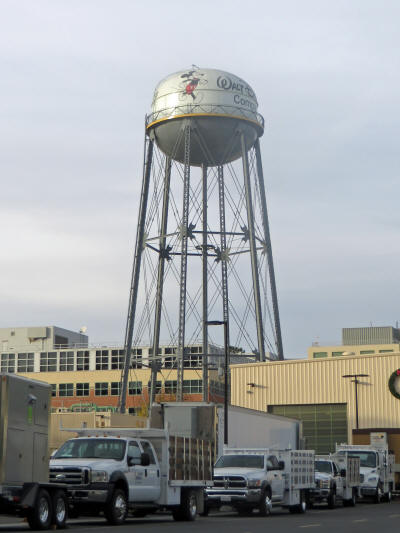 We were directed to a multi-story parking garage inside the studio complex. Carol hopped out and joined the line waiting for wristbands while I parked the car; we ended up on the 'Pluto' floor of the garage!
The line moved very quickly, by the time I left the garage she was almost at the front of the line. We dropped off our contribution of toys for the 'Toys For Tots' campaign, picked up our wristbands and then followed the crowd as everyone headed through the Studios toward the area that had been set up for our event.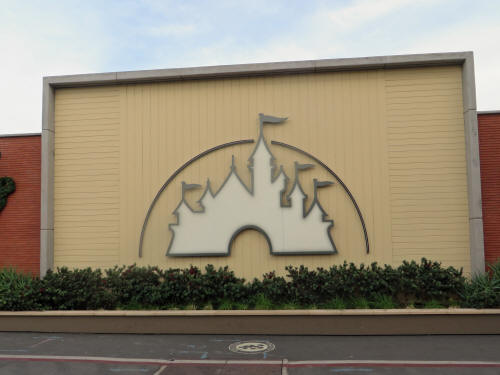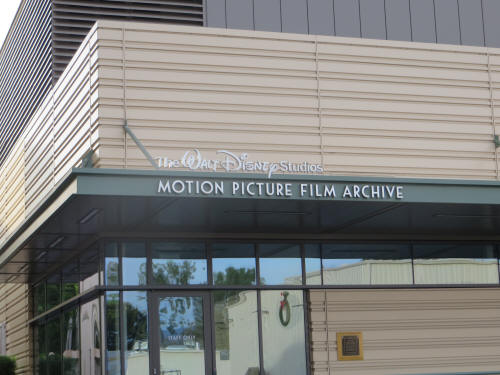 We passed a number of sound stages as well as some iconic signs and symbols along the way and finally came to some barricades where we waited, along with a few hundred other loyal fans, for the 4:00 p.m. opening.
A choir, all of them cast members at Walt Disney Studios, entertained us with Christmas music while we waited.
Finally it was 4:00 p.m. and after we were welcomed by the head of the D23 Club I tagged along behind Carol as she made her mad dash to the Studio Store. The store, often referred to as 'Mickey's of Glendale', was a very popular destination; almost everyone was heading there, looking for special merchandise normally only available to Disney cast members. Access to the building was controlled, they were only admitting about 30 people at a time. Carol was in the first group that was allowed in and she was beaming as she went in the door.
There were tables and chairs just outside the store, near the Christmas tree, so I found a comfy spot to wait. I was surprised when Carol came out the door about 15 minutes later. She was empty-handed. She was hoping the find some of the hard-to-find Limited Edition pins produced by Walt Disney Imagineering but there was nothing in the store that caught her eye.
Yeah - I was shocked too!
We checked out the Holiday Train that was treating children to a scenic ride around a parking lot beside the Studio Store and enjoyed a huge serving of delicious bread pudding from a food cart. Yummy!
We roamed around the grounds, taking advantage of the many photo-ops there. Minnie posed with us in front of the Christmas tree, the Little Green Men from the Toy Story movie showed Carol how the claw works then we walked past some gigantic nutcrackers on our way to the Legends Plaza.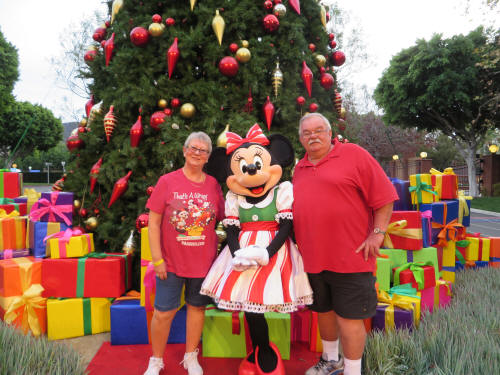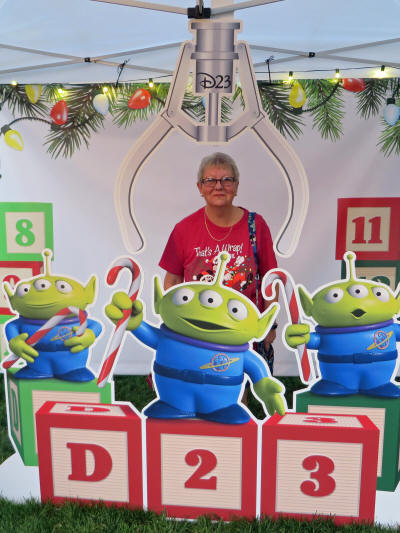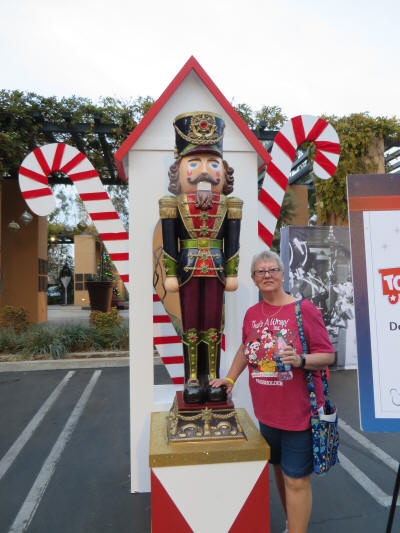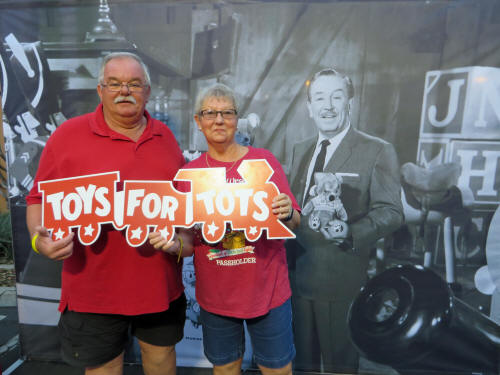 Walt was even there to pose with everyone who donated to the Toys For Tots campaign. (Okay, I admit it, that's not really Walt, it was just a big picture we stood in front of!)
The Disney Corporation and Disney cast members have generously supported Toys For Tots since 1948 and we were hapy to have the chance to help in a small way!
We spent quite a bit of time wandering through the Legends Plaza. Directly in front of the Team Disney building which has the Seven Dwarfs supporting the roof is a large area which has been set aside to pay homage to the many people who have made an extraordinary contribution to the Walt Disney Company.
Roy Disney and Minnie were all dressed up for the Christmas season!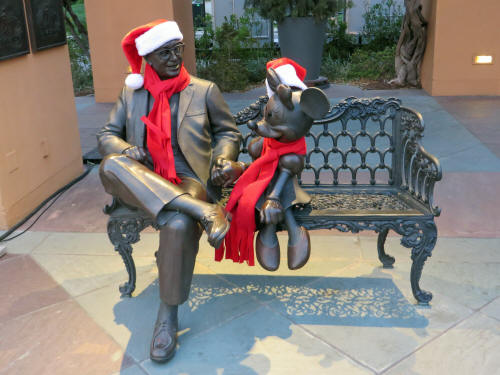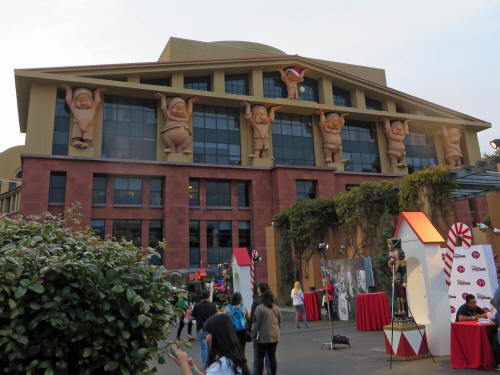 Even Dopey, way up at the top of the Team Disney Building had a Santa hat on his head.
I suppose that Dopey's head might be a bit more sensitive to cold than most of the other dwarfs!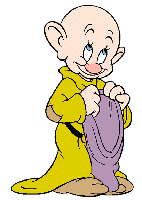 The 'Disney Legend' award was established in 1987 and since that time has been awarded to a few hundred people who have made that "extraordinary contribution" to Disney. Recipients include many of Walt's original animators, his 'Nine Old Men', movie actors and directors, and of course quite a few Imagineers.
We walked around the plaza enjoying the plaques paying tribute all of the Disney Legends, but especially those we have been honoured to meet, Marty Sklar, Bob Gurr, Tony Baxter, Bill Farmer and Tom Nabbe.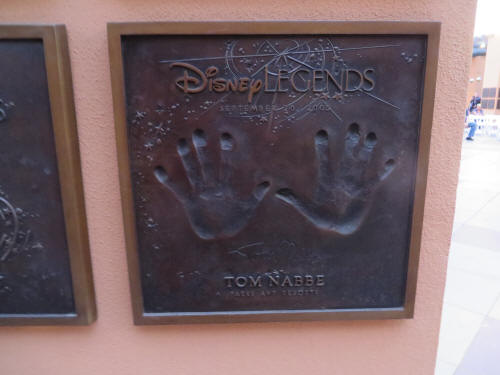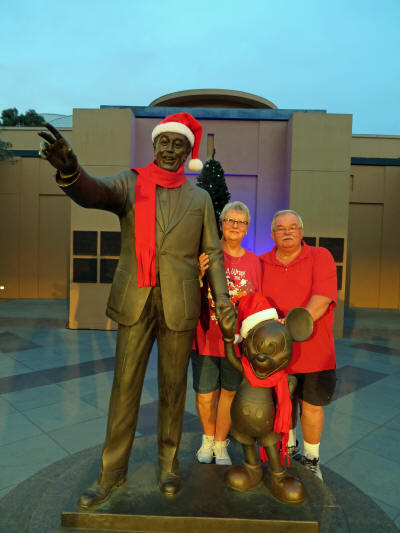 We have lots of pictures of 'The Partners' statue from Anaheim's Disneyland and Orlando's Magic Kingdom, but we were allowed to touch this one in the Legends Plaza and pose beside it.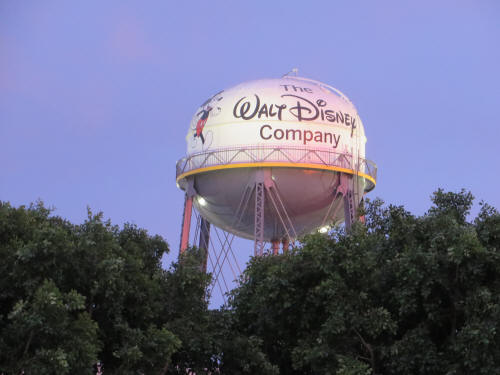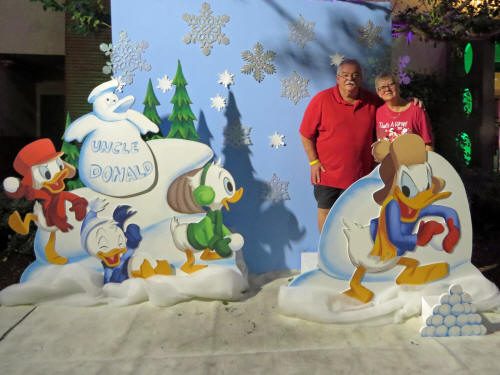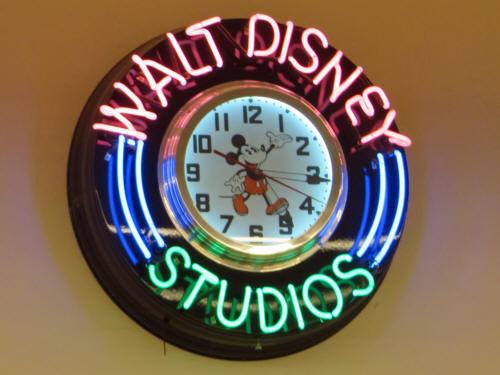 As we wandered around the grounds I asked one of the cast members where I could find that street sign, Mickey Ave. and Dopey Drive. He gave me a sort of vague and meandering answer that led me to suspect that the signpost is taken down for events such as ours. There's always the possibility that it might 'walk away' if it wasn't supervised. That's a shame, I really would have liked to see it!
It was almost dark when we poked our heads in the Walt Disney Studios Commissary. We were still quite full from the bread pudding we had eaten earlier so we were content to just look around and soak in the sights.
The clock you see on the left is a one-of-a-kind, unique to the Walt Disney Studios Commissary!
At 6:00 p.m. we returned to the courtyard near the Studio Store to watch the tree lighting ceremony. The cast choir performed a few numbers before the big countdown . . . then the big tree lit up to a fanfare of cheers!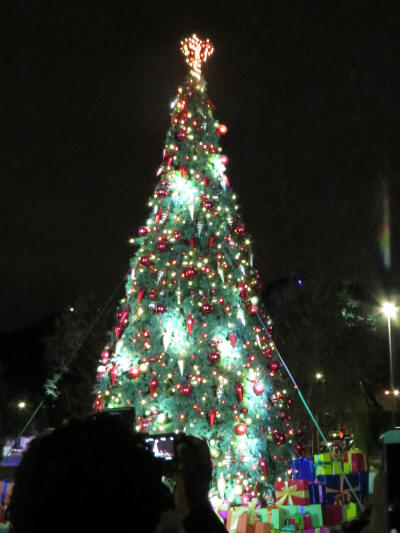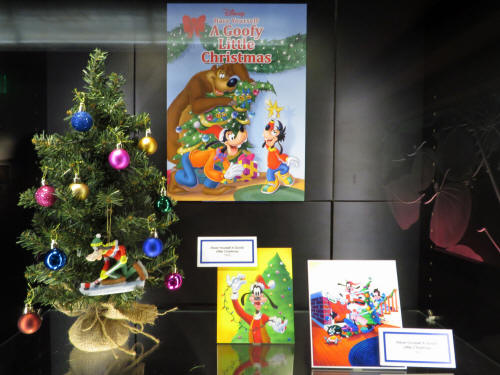 The last item on our agenda was a stop in the Studio Theatre to watch a brand new short feature, A Goofy Little Christmas. It was cute and fun to watch . . . I'm always a sucker for Goofy . . . but we were both feeling a bit down with our colds again.
When the 6:30 presentation of the animated short was over we strolled slowly toward the parking lot to make our way home.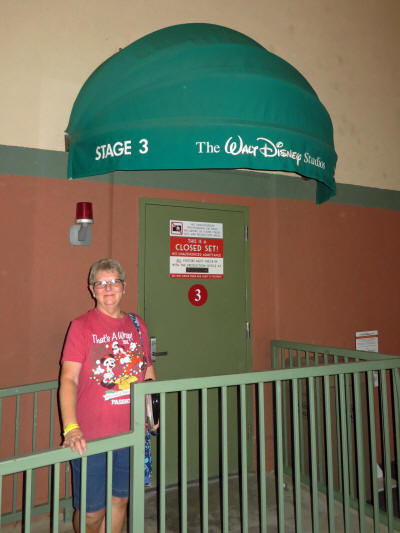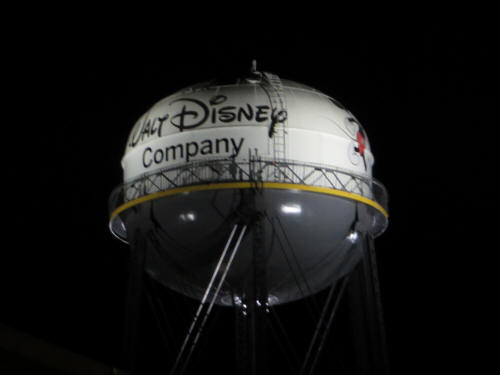 Naturally we had to pause for a few more pictures along the way!
It had been an awesome day, getting up-close at Walt's Barn in Griffith Park and then spending time at Walt Disney Studios. We scratched a couple of things off the bucket list today!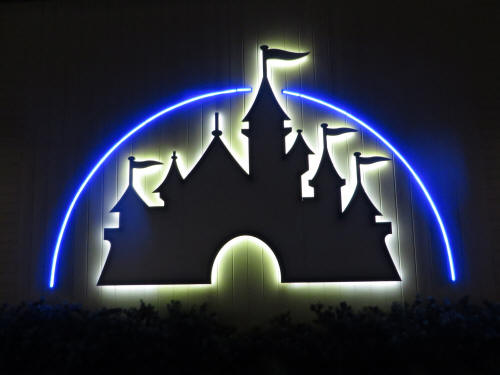 ---
Monday Dec 11, 2017
We were up at about 7:00 a.m. and after a few cups of coffee in the room I went off to the pool area for breakfast. Carol joined me within a few minutes and we picked up my scooter. Because of my worn-out old legs and the cold I'd been fighting for weeks I thought I needed some assistance for our last three day at Disneyland! It was a great relief!
We scooted/walked to Disneyland and I rushed off to Indiana Jones to pick up FastPasses while Carol headed toward It's A Small World. The horse-drawn trolley was loading as she passed so she hopped aboard and clip-clopped her way to The Hub.
Tweedle Dee and Tweedle Dum greeted her as she debarked the trolley!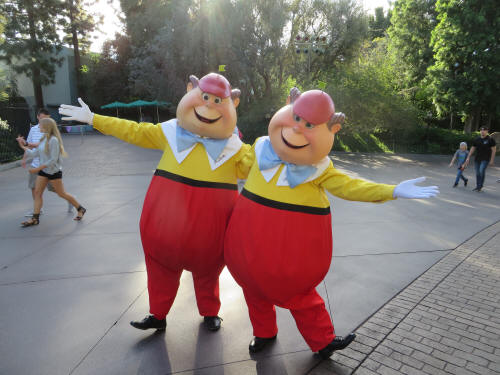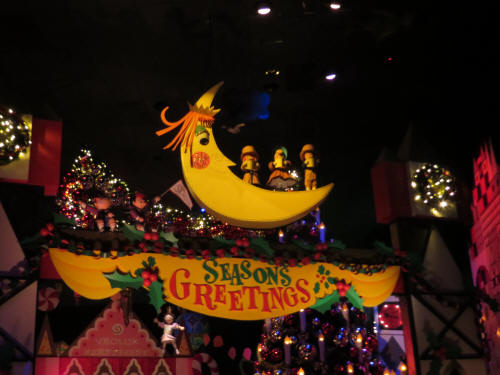 When I arrived at It's A Small World I found Carol in the shop admiring a small Dooney & Bourke purse. It was the second time she had fondled that particular one . . . not a good sign!
I dragged her away from the shop and we took a ride with all those singing and dancing dolls. This is not usually one of my favourite attractions, but the Christmas overlay they put up every year in California makes a huge difference in my enjoyment level.
I really enjoy it during the Christmas season!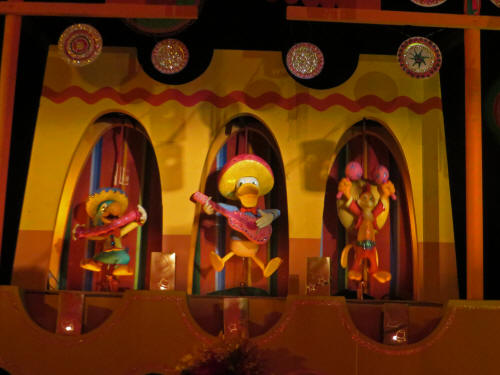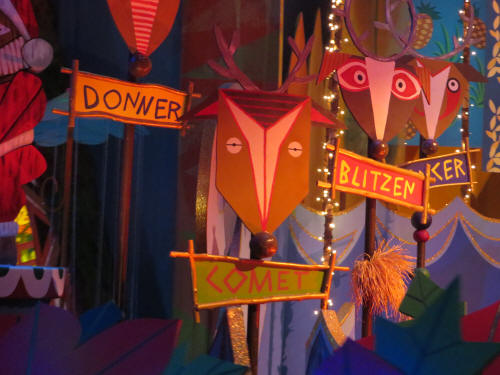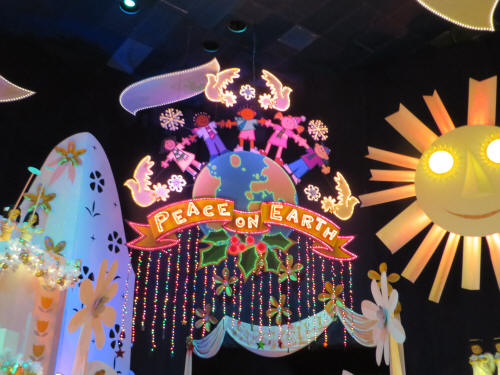 As we left the ride Carol's eyes drifted toward the little shop next door, but I took her by the elbow and we went right back into the line for a second ride on the happiest cruise that ever sailed.
Alas, when we exited after our second ride there was no way I could divert her attention . . . she went directly to the shop and bought that purse. Just like I knew she would!
The line was very short as we approached Storybook Land so we boarded our boat for a sail past those miniature scenes from all the classic children's stories and fairy tales.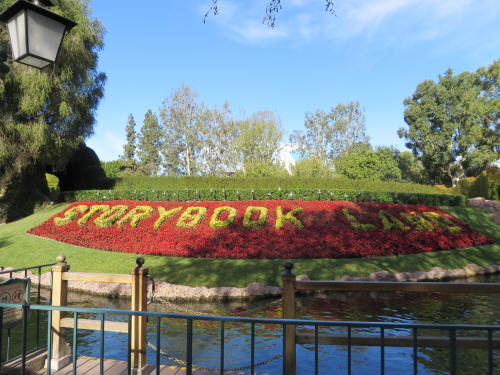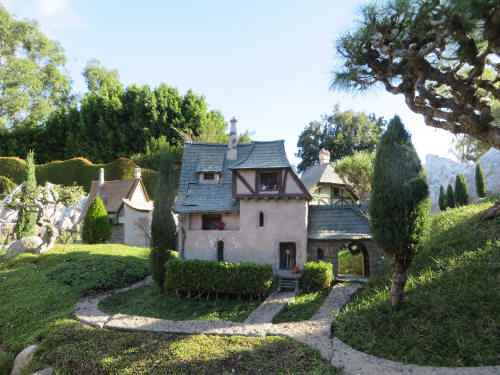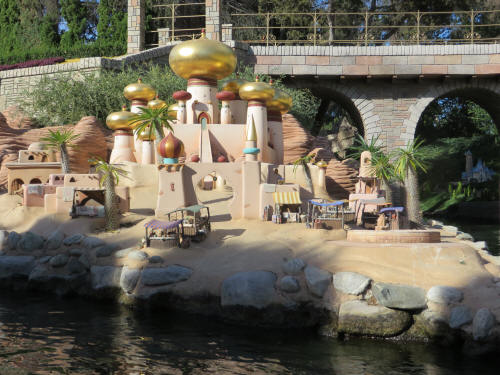 Next on our agenda was Indiana Jones. It was time to use the FastPasses I had picked up earlier in the day.
This attraction was built by Imagineer Tony Baxter; he was in charge of it's design and construction. Tony's team designed a new vehicle system, the Enhanced Motion Vehicle, specifically for this action-packed ride. The same system was later used in the Dinosaur attraction at Disney's Animal Kingdom, and we have heard it said that the tracks in the two rides are identical.
Why is it that we find the Dinosaur ride to be dark, dull, bumpy and uncomfortable, yet Indiana Jones is exciting and engaging?
Yes, it's bumpy but the story is so compelling that we barely notice the bumps!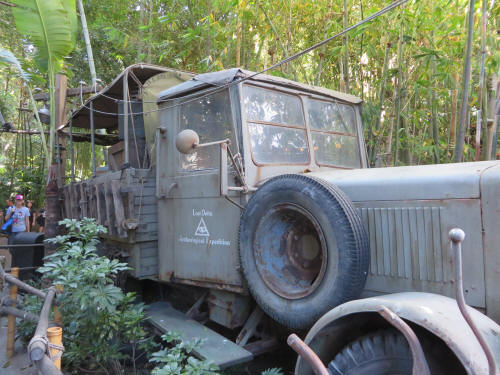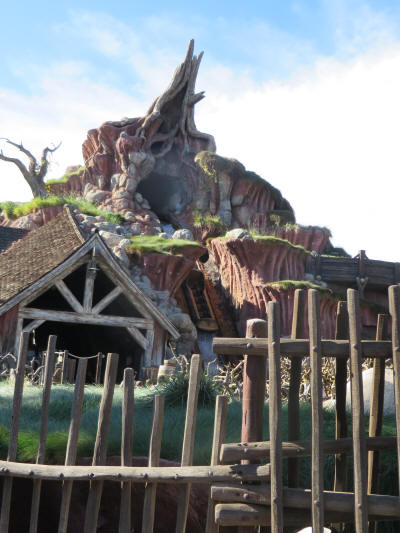 Our next stop was the world famous Jungle Cruise. We were a bit disappointed that they didn't do the 'Jingle Cruise' overlay this years, but there were a few special Christmas gags added to the skipper's normal stream of awful jokes!
Carol surprised me when she suggested that we take a plunge on Splash Mountain. She doesn't like to get wet unless it's very hot out, it was only in the mid 70's and we were both struggling with colds . . . but I'll take a run through the Laughin' Place any old time, so off we went!
We got a little wet, but not so wet that we were uncomfortable!
We stopped at The Hungry Bear restaurant next to Splash Mountain and had a quick bite of lunch, then topped it off with every Disney fan's favourite dessert - Mickey Bars!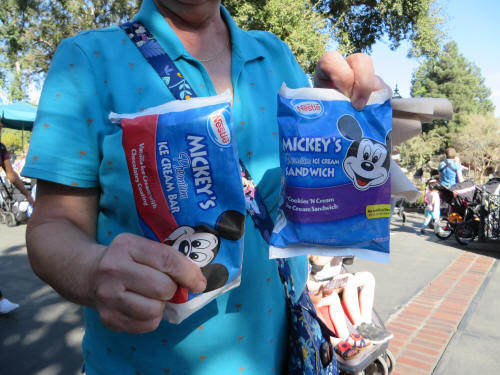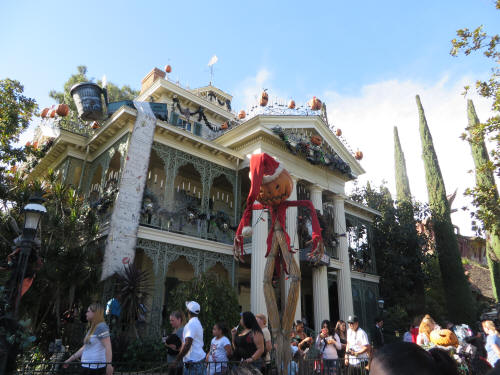 We were wearing down quickly; it was time to head back to the hotel for a rest, but the Haunted Mansion beckoned one more time.
We really find it hard to walk past the mansion during the holiday season; the Nightmare Before Christmas overlay just mesmerizes us!
After a quick spin with Jack Skellington and the 999 Happy Haunts Carol boarded the 2:15 shuttle back to the Candy Cane Inn while I scooted down Harbor Boulevard!
Zzzzzz!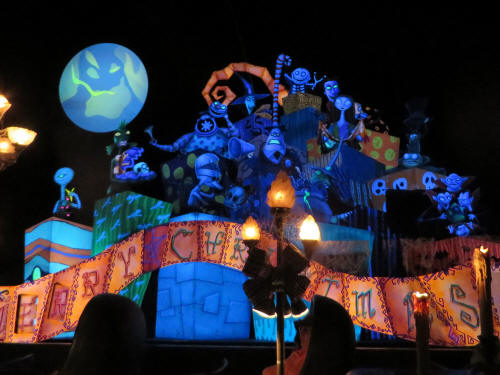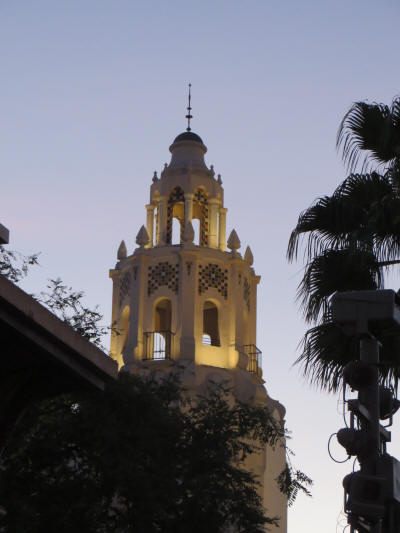 We were feeling refreshed again by the time the 4:30 shuttle was pulling out. The sun was just setting as we entered the park and many of the buildings, in shadow but backlit by the setting sun looked quite striking.
We had no dinner reservations so we wandered a bit looking for something that appealed to us. Our first stop was the Fiddler, Fyfer and Practical Café (Starbucks). Nope - nothing there we wanted! We checked out the Smokejumpers Grill beside Soarin' - nothing caught our eye.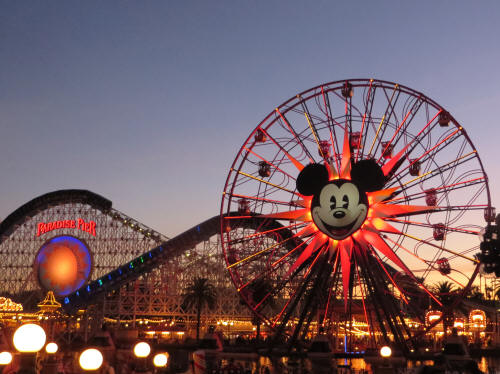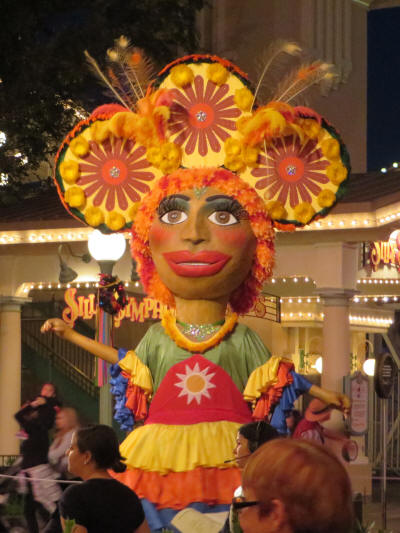 We ended up at Boardwalk Pizza and Pasta, near the Jumping Jellyfish. We had walked past a few days before and thought the pasta dishes we saw looked pretty good. They were OK, but not quite as good as we were expecting!
After dinner we decided that we had time for a quick spin through Radiator Springs before our World of Color Dessert Party so we scooted over to Cars Land and hopped in the Single Rider's line. Ornament Valley looks so different at night! This is one ride you definitely have to do twice, once in the daylight and once in the dark!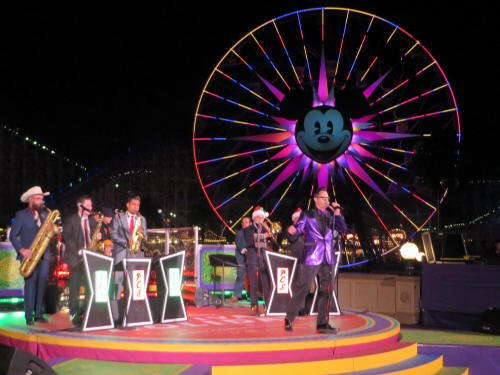 As we approached the World of Color amphitheatre area a small band was setting up on a stage beside the lagoon. We sat for a while and listened to the Phat Cat Swingers.
It was time to line up for our preferred seating area at the Dessert Party, but as we walked past the Voyage of the Little Mermaid we noticed there was no line at all! It was a walk on - so we did.
It's not a thrill ride, but it has a very high 'cute factor'.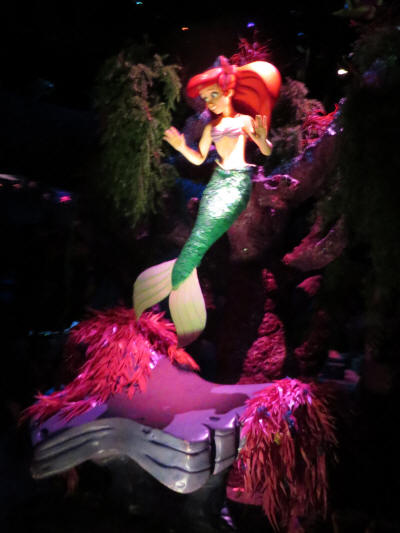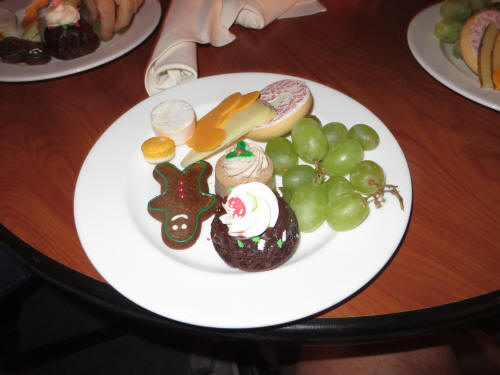 After our undersea adventure we joined the line for the 8:15 World of Color party and were promptly seated. We had plenty of time to enjoy our dessert plates and chat with the couple from Quebec who shared our table.
The World of Color show began at 9:00 It's an extravaganza of music, light, fire, lasers, animation and water. Lots and lots of water!
The lagoon is filled with fountains that dance and swirl in time with the music as the colors change. Animated Disney characters are projected onto the mist from the fountains, flames fill the lagoon from time to time, fireworks flash overhead and lasers light up the sky; it's a show that captivates all of your senses!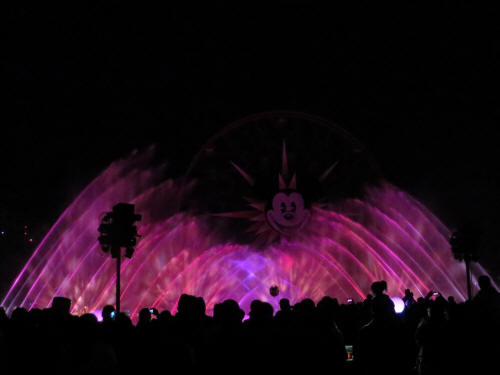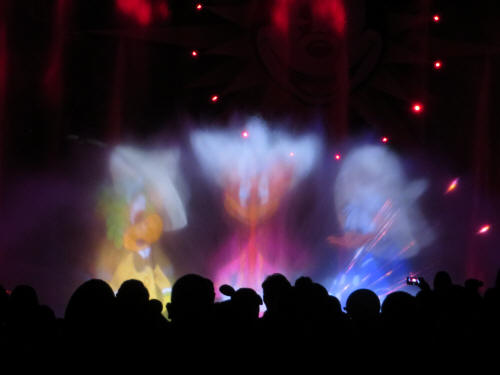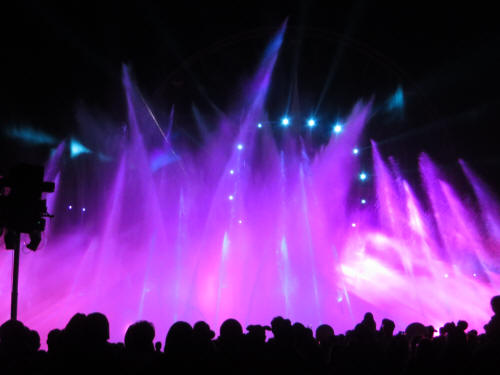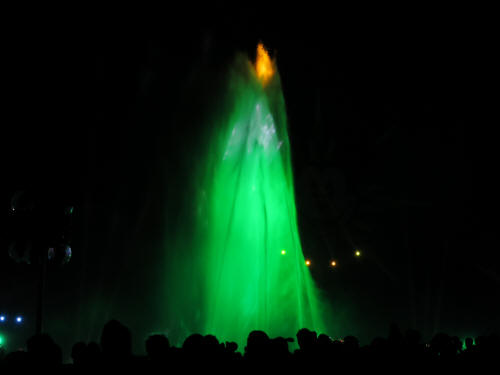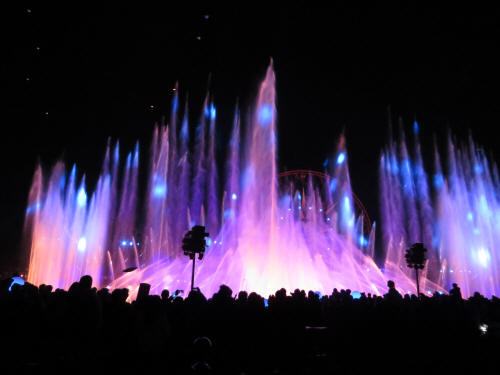 We sat a few more minutes after the show and chatted with out tablemates before heading toward the park exit. As we passed Soarin' we noticed that no one was in line, so we took a quick hang-glider flight around the world before catching the 10:45 shuttle home.
We were both exhausted after a long day, but it was surprising how much we were able to do on a busy day at the park when we weren't really feeling up to scratch!
---
Tuesday Dec 12, 2017
We had a very slow start to the day. In fact, we were both feeling so bad that we spent a few minutes talking about cutting the trip short and heading home early. In the end we decided that it was too much hassle to try changing our flight if it would only save a couple of days!
So we caught the 9:30 shuttle and spent the morning in Fantasyland.
Once we arrived at Disneyland Carol stopped long enough to buy the new FastPass Max with her smart phone. It costs $10 per person per day and the app on your phone allows you to make up to 3 FastPass bookings using your phone. Once you have used the first of those three passes the app will tell you when you can book your fourth pass. We were able to make quite a few bookings during the day and we bypassed quite a few long lines!
An additional perk - the FastPass Max gives you unlimited access to PhotoPass downloads for the day.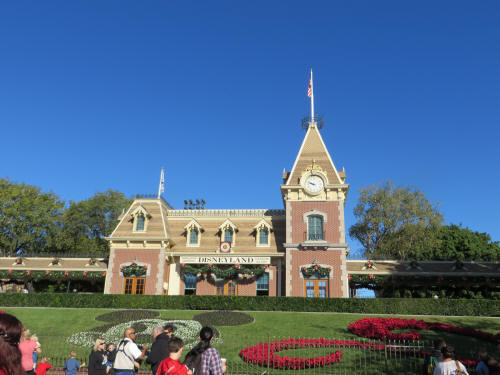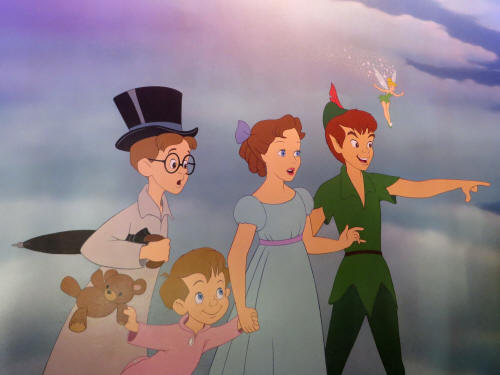 We were a bit reluctant to pay for FastPasses, but it wasn't long before we agreed that is was good value for the money.
Using the FastPasses, and using stand-by lines in between times, we were able to enjoy Buzz Lightyear, Pinocchio, Snow White, Peter Pan, Mr. Toad, Alice in Wonderland, The Haunted Mansion and Big Thunder Mountain Railway . . . all before lunch!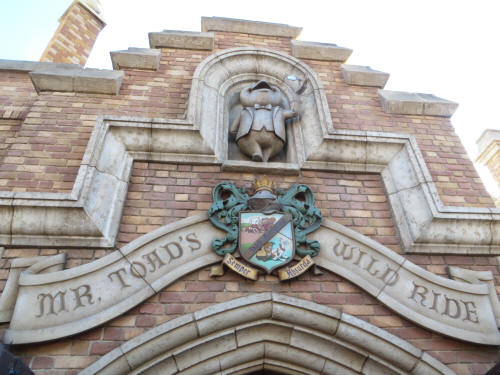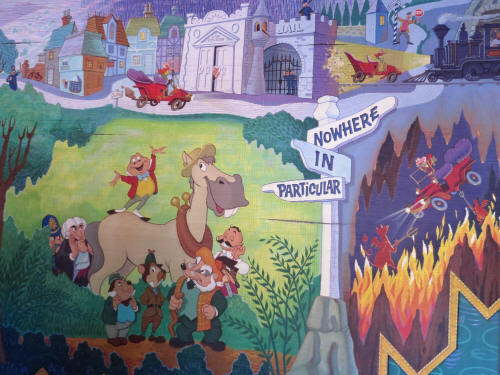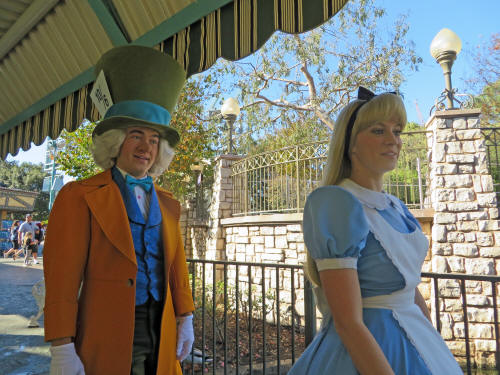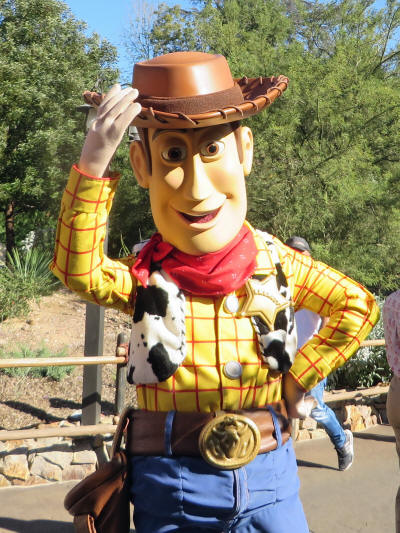 After finishing all those attractions in such a short time we decided that we would definitely buy the pass again the next day!
I mentioned above that we enjoyed the Haunted Mansion again. A funny thing happened as we walked up the FastPass line toward the mansion . . . we were just about to make the turn where the line loops around to the side of the building when we heard our names called out from the verandah. It was our friends Nancy and Mary Catherine from Utah. They were almost in the door but stopped to wave at us. One of the cast members came over, dropped the rope and waved us right up the steps where we joined our friends.
We probably cut in front of a hundred other people in that FastPass line, but it sure was nice to ride with our friends. When we left the mansion we stopped for a few minutes to chat, this was the first time we'd seen them since January 2011 when, oddly enough, we bumped into them at Disneyland.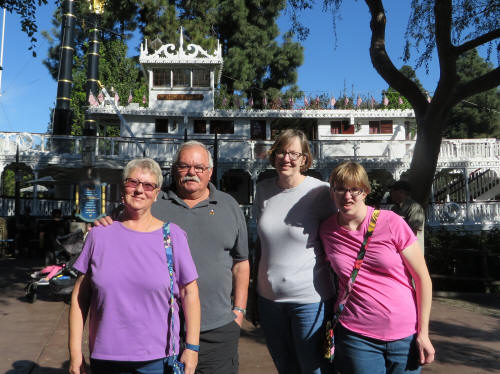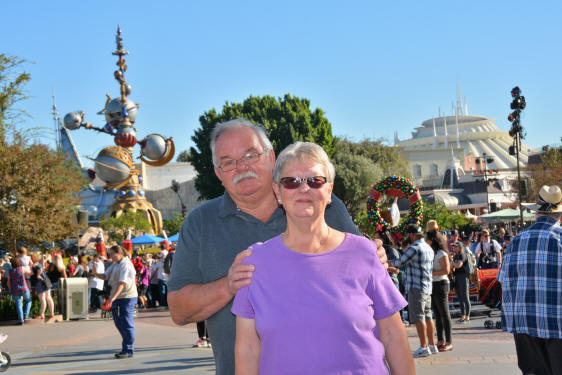 Carol and I stopped for a quick hot dog for lunch, then stopped to watch the parade. Carol wandered off to shop while I guarded our 'spot'. I was very impressed when she returned with a Dole Whip Float for me. One of my favourite Disney snacks.
After the parade we headed to Tomorrowland for a spin on Buzz Lightyear before we went home for a nap. Dang! Buzz wasn't operating. It was probably just as well, we needed a rest far more than we needed a ride on Buzz!
We caught the 2:15 shuttle home and enjoyed a nice long nap!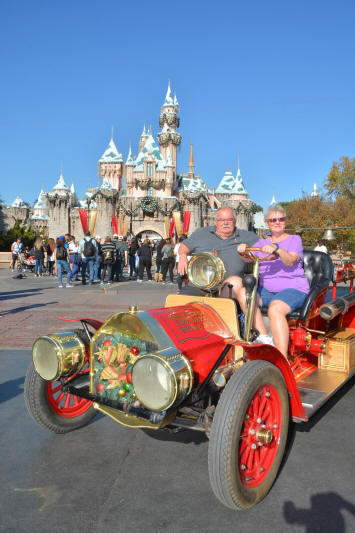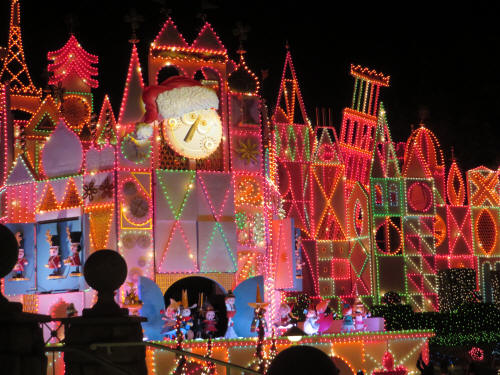 By 4:30 we were on our way back to Disneyland.
Our first stop was Buzz Lightyear - it was working again so we used our FastPass and helped Buzz defeat the evil Emperor Zurg!
We enjoyed a nice dinner at Café Orleans (I just love the Monte Cristo sandwich there) and then slowly made our way to It's a Small World. There is a show projected on the exterior of the attraction, every 15 minutes, throughout the evening. It's an amazing display of lights, geometric shapes, animation, bouncy music and of course, Disney characters.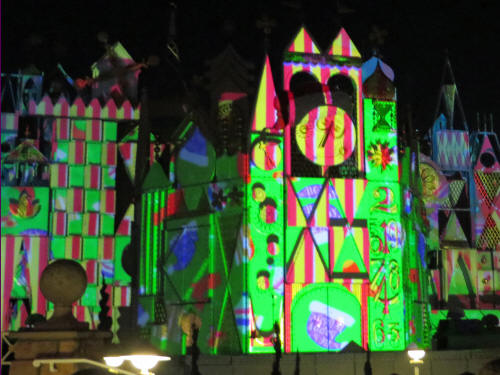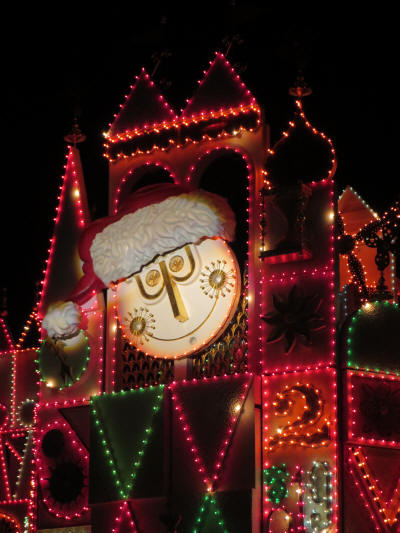 We watched the show twice then used our FastPass to take a ride through the attraction. A FastPass is a must at night, the line is often over 90 minutes long!
After our ride we were both feeling all done in. We needed to go home so badly that we didn't even wait for the shuttle . . . we walked down Harbor Boulevard to the Candy Cane Inn. It's really not far, but it sure seems like it after a long day!
Carol went directly to bed at 9:00 p.m. I soaked for about 20 minutes in the hot tub, then I was off to bed as well.
---