Disney Dollars were first released to the public on May 5, 1987. The bills came in one and five dollar denominations from 1987 to 1989 but in 1990 they added the ten dollar bill to the list. The bills are redeemable for goods or services at Disney theme parks, Disney Cruise Ships, Disney's Castaway Cay port of call and Disney stores, unless indications to the contrary are printed on the individual bills. They can also simply be exchanged back to U.S. currency. They are collected by Disney memorabilia fans. Special editions are sometimes sold to Disney Cast Members as a form of incentive.
Disney dollars come in A dollars and D dollars. The former created for Disneyland in Anaheim, California (hence the A), and the latter D for Walt Disney World in Florida. Since 2005 they have also issued T dollars for The Disney stores.
In 2005 only, Disneyland (A) and Walt Disney World (D) released a $50 bill that were designed by Disney artist Charles Boyer (Mr. Boyer personally signed a select number of these bills) for Disneyland's 50th Anniversary Celebration. The bills designed by Boyer were marked as B's.
New Disney dollars have been produced every year since 1987 except 1992, 2004, 2006, 2010 and 2012.
Disney Dollars are created with anti-counterfeiting features such as microprinting, and hard to scan/copy reflective ink and imprinting on the front and back of the bill. In addition the bills are printed with serial numbers and letters which are unique to each bill.
Here are pictures of my collection:
---
1987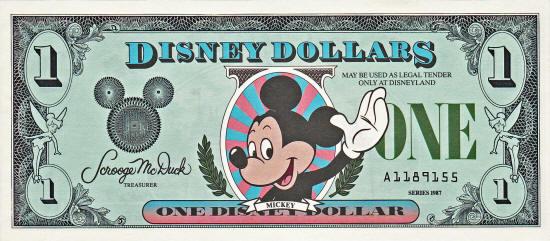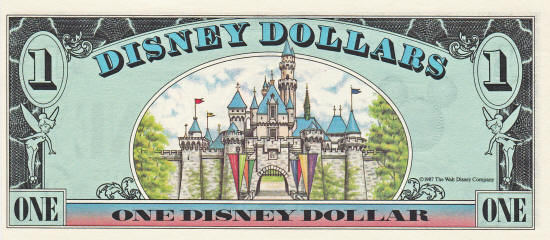 1987 $1 Bill A Series - Face
1987 $1 Bill A Series - Obverse
---
1988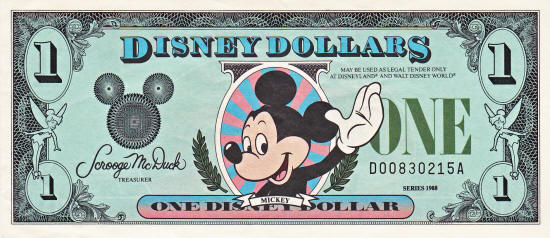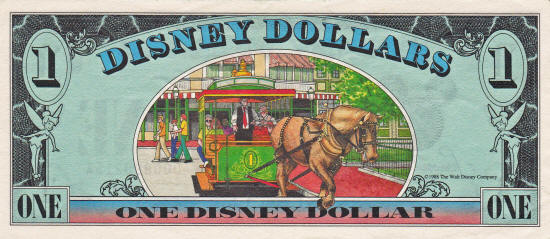 1988 $1 Bill D Series - Face
1988 $1 Bill D Series - Obverse
---
1989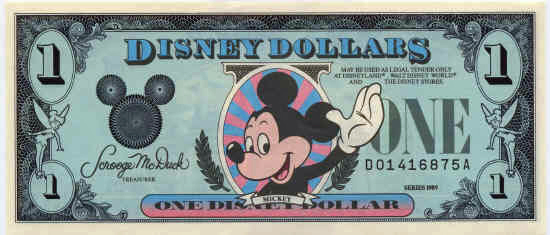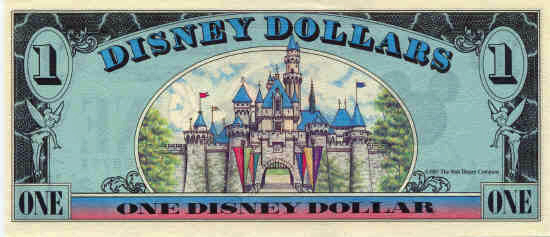 1989 $1 Bill D Series - Face
1989 $1 Bill D Series - Obverse
---
1990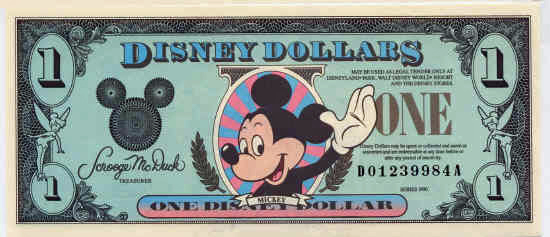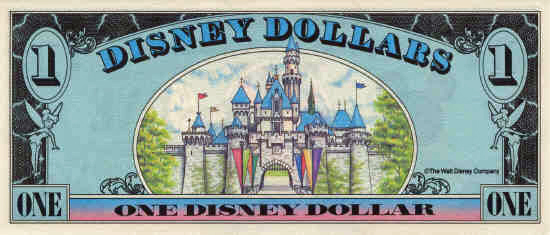 1990 $1 Bill D Series - Face
1990 $1 Bill D Series - Obverse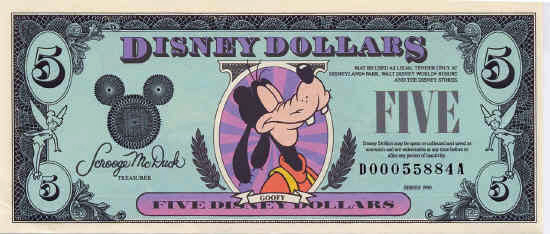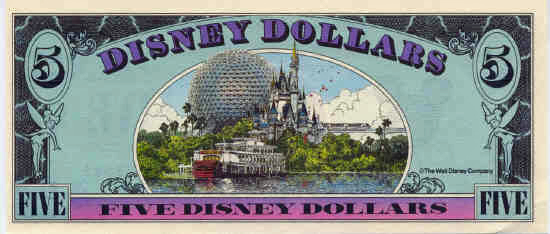 1990 $5 Bill D Series - Face
1990 $5 Bill D Series - Obverse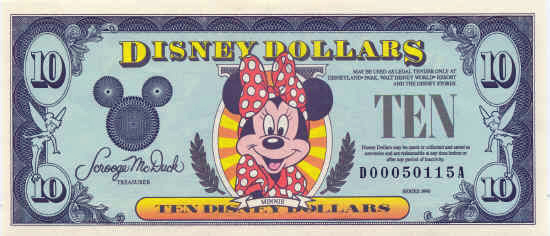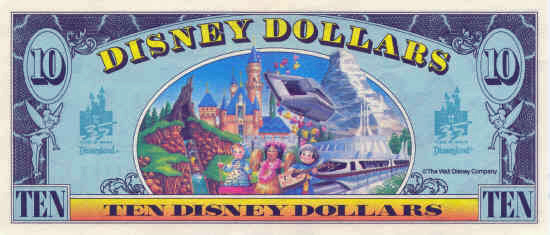 1990 $10 Bill D Series - Face
1990 $10 Bill D Series - Obverse
---
1991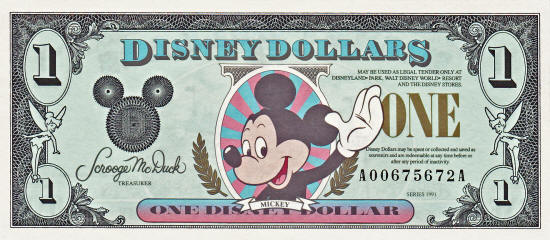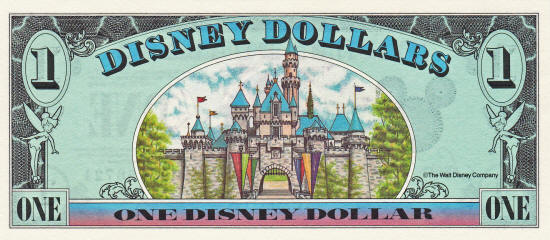 1991 $1 Bill A Series - Face
1991 $1 Bill A Series - Obverse
---
1993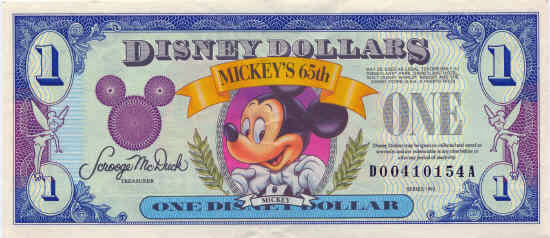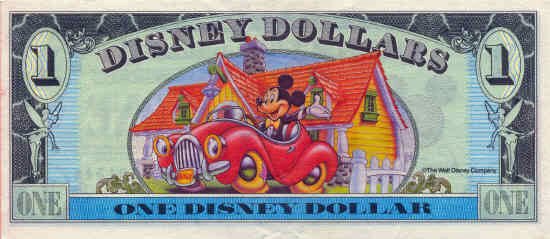 1993 $1 Bill D Series - Face
1993 $1 Bill D Series - Obverse
---
1994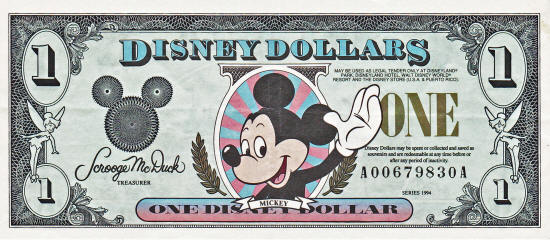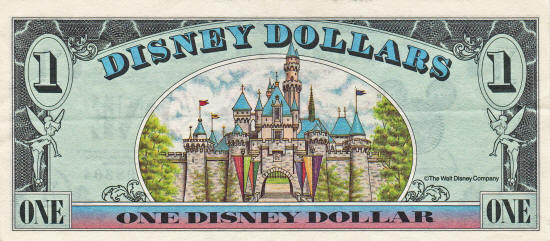 1994 $1 Bill A Series - Face
1994 $1 Bill A Series - Obverse
---
1997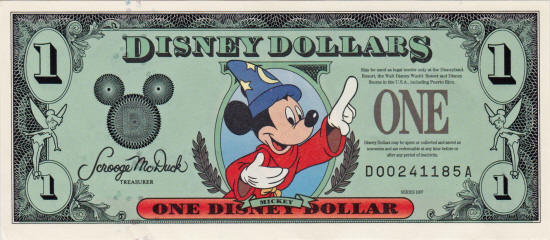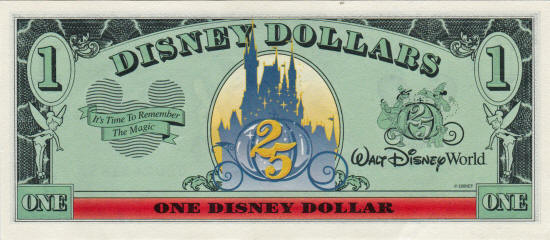 1997 $1 Bill D Series - Face
1997 $1 Bill D Series - Obverse
---
1998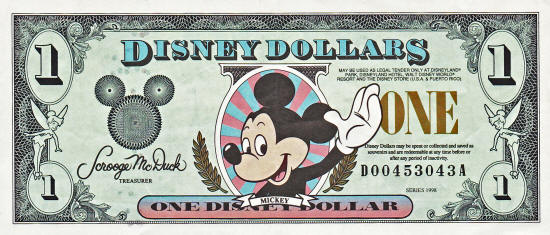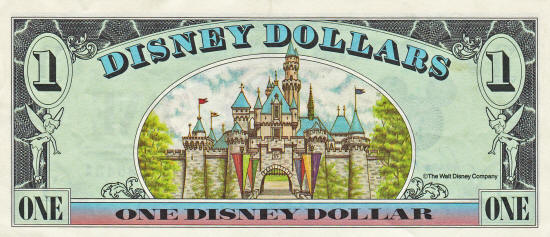 1998 $1 Bill D Series - Face
1998 $1 Bill D Series - Obverse
---
1999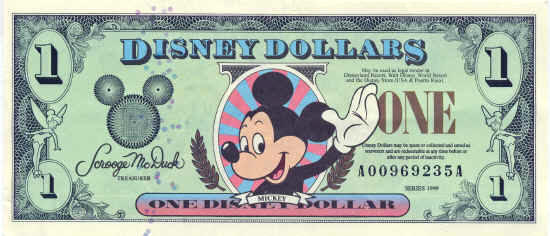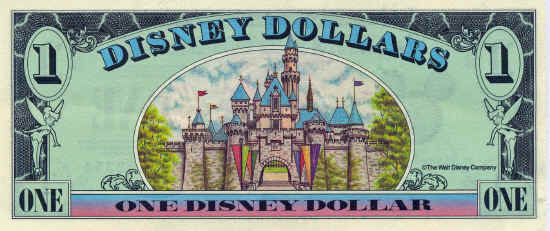 1999 $1 Bill A Series - Face
1999 $1 Bill A Series - Obverse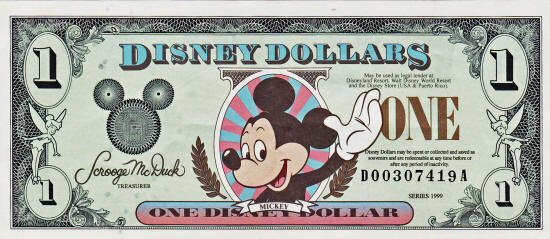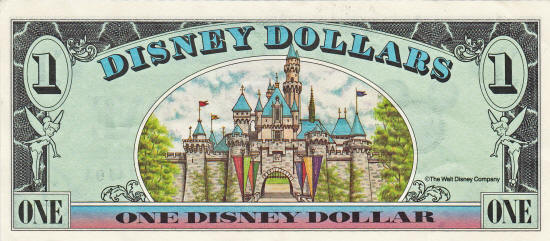 1999 $1 Bill D Series - Face
1999 $1 Bill D Series - Obverse
---
2000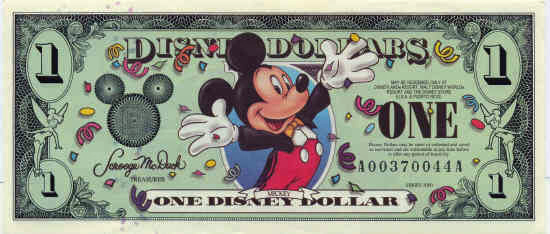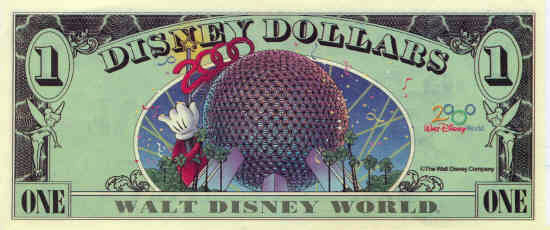 2000 $1 Bill A Series - Face
2000 $1 Bill A Series - Obverse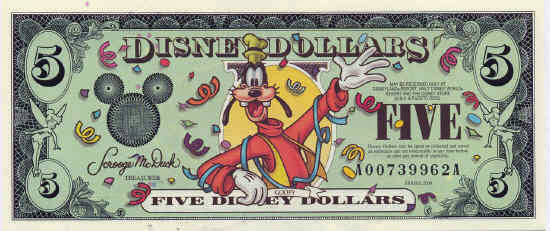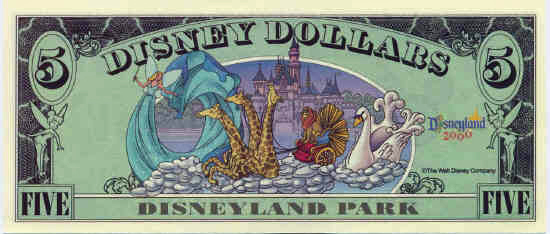 2000 $5 Bill A Series - Face
2000 $5 Bill A Series - Obverse
---
2001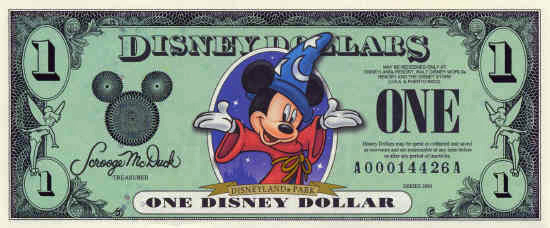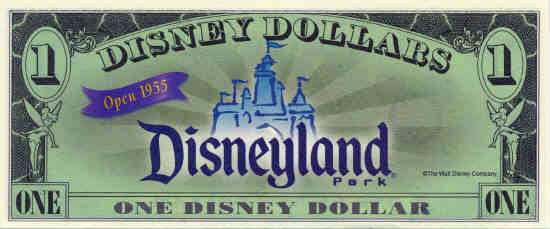 2001 $1 Bill A Series - Face
2001 $1 Bill A Series - Obverse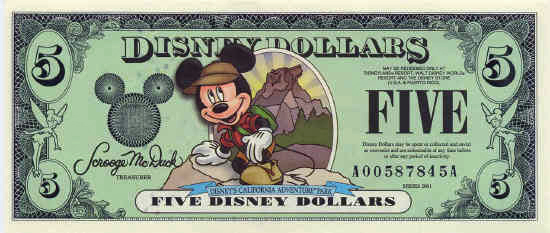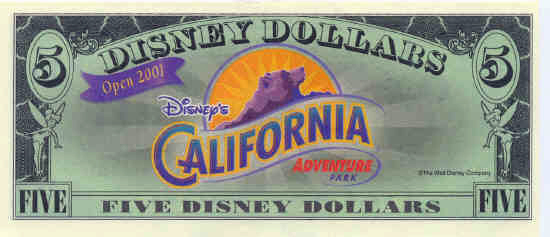 2001 $5 Bill A Series - Face
2001 $5 Bill A Series - Obverse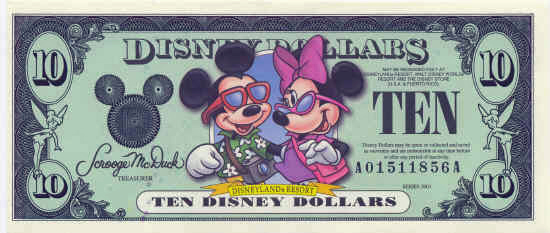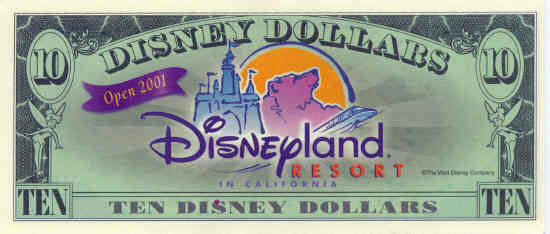 2001 $1o Bill A Series - Face
2001 $10 Bill A Series - Obverse
---
2002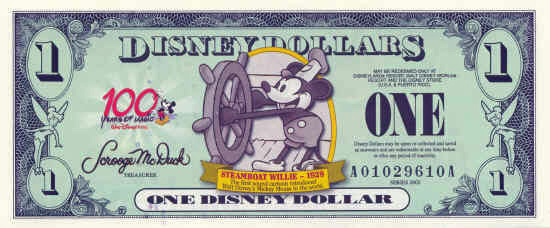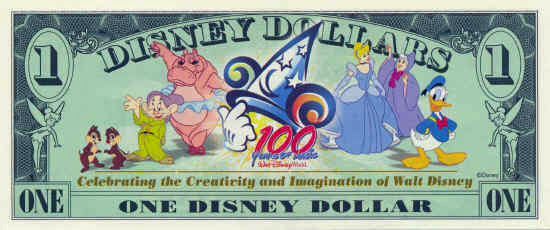 2002 $1 Bill A Series - Face
2002 $1 Bill A Series - Obverse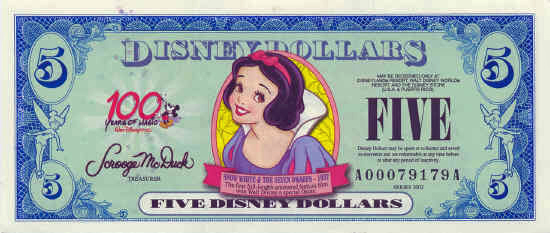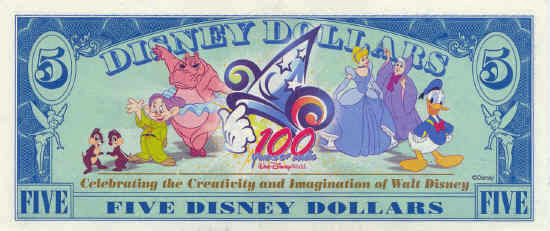 2002 $5 Bill A Series - Face
2002 $5 Bill A Series - Obverse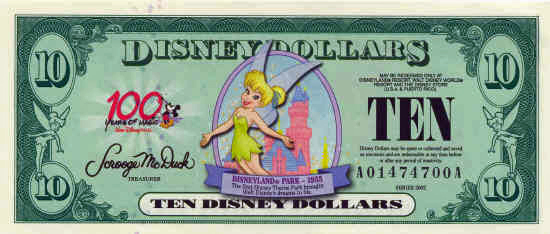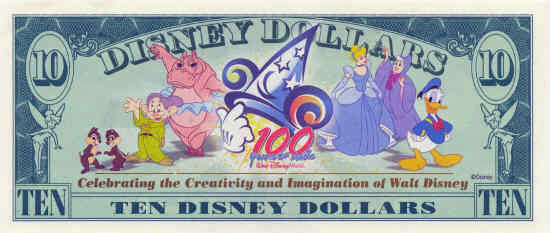 2002 $10 Bill A Series - Face
2002 $10 Bill A Series - Obverse
---
2003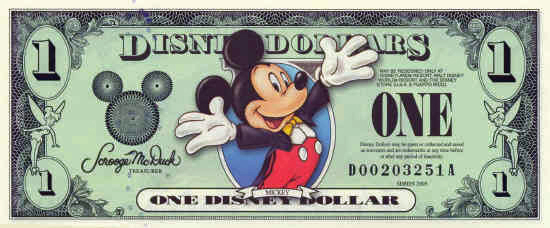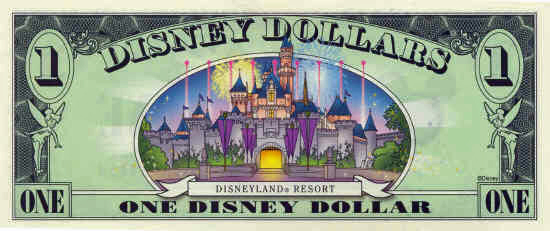 2003 $1 Bill D Series - Face
2003 $1 Bill D Series - Obverse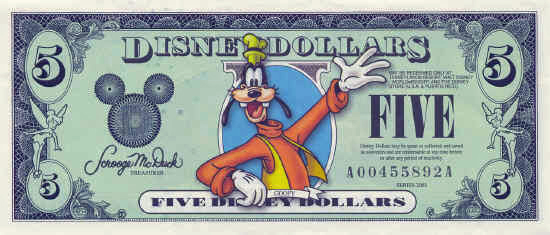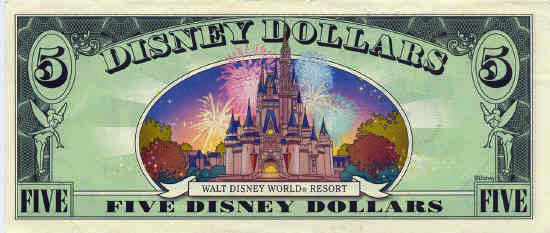 2003 $5 Bill A Series - Face
2003 $5 Bill A Series - Obverse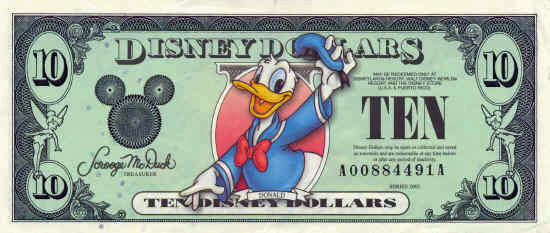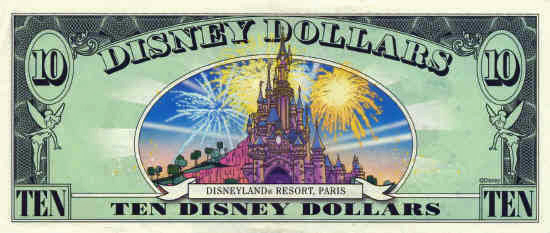 2003 $10 Bill A Series - Face
2003 $10 Bill A Series - Obverse
---
2005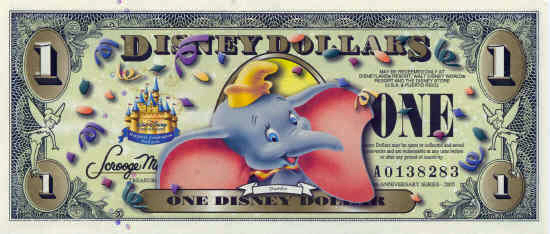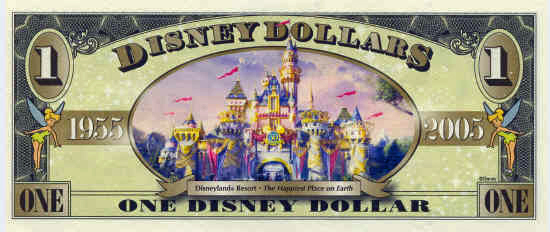 2005 $1 Bill A Series - Face
2005 $1 Bill A Series - Obverse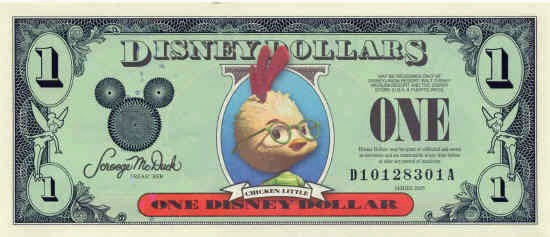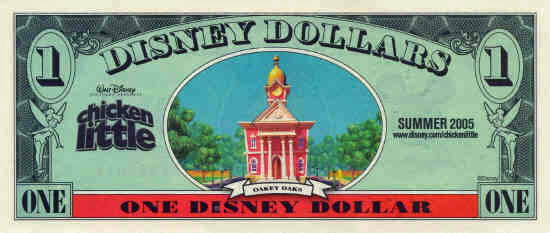 2005 $1 Bill D Series - Face
2005 $1 Bill D Series - Obverse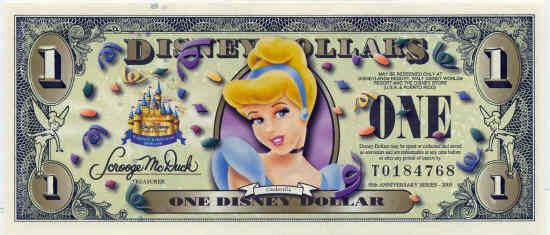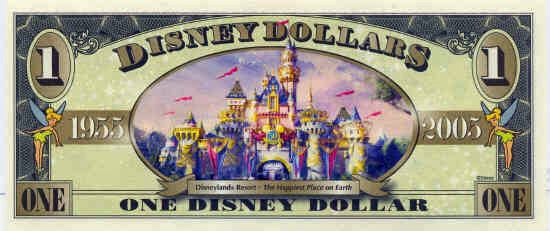 2005 $1 Bill T Series - Face
2005 $1 Bill T Series - Obverse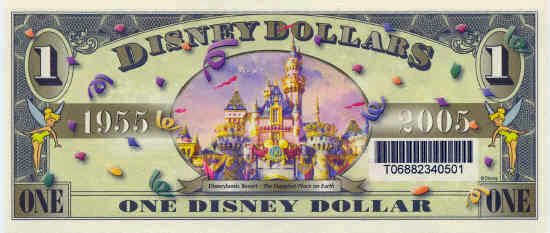 2005 $1 Bill T Series - Face
2005 $1 Bill T Series - Obverse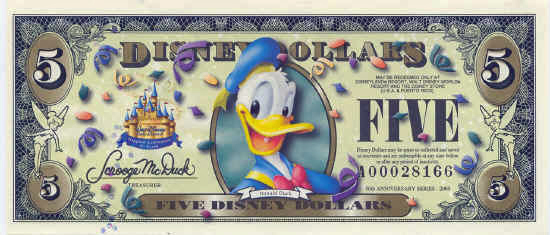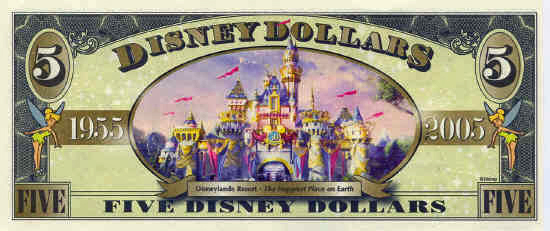 2005 $5 Bill A Series - Face
2005 $5 Bill A Series - Obverse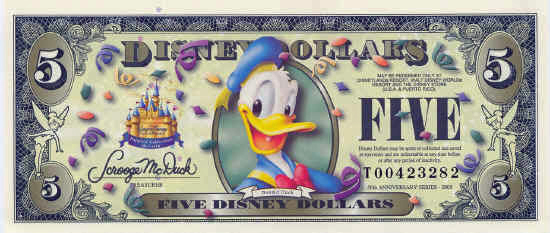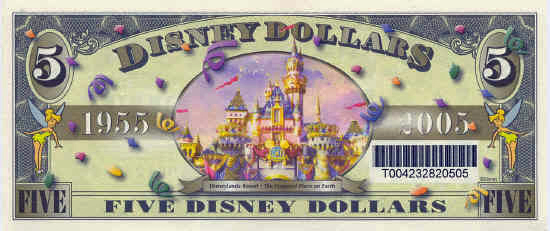 2005 $5 Bill T Series - Face
2005 $5 Bill T Series - Obverse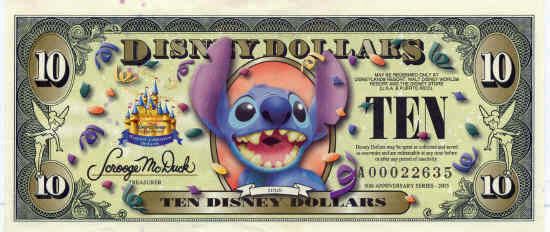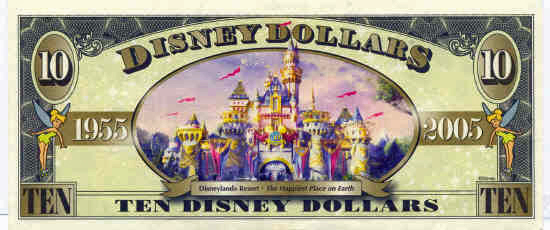 2005 $10 Bill A Series - Face
2005 $10 Bill A Series - Obverse
---
2007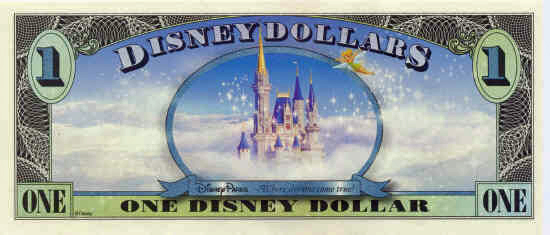 2007 $1 Bill D Series - Face
2007 $1 Bill D Series - Obverse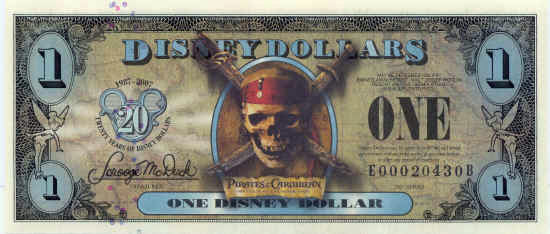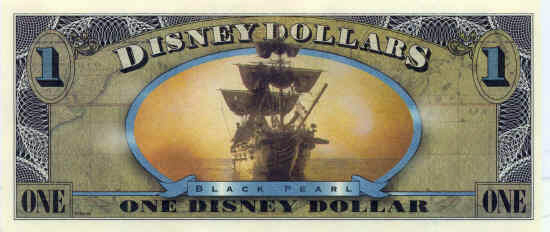 2007 $1 Bill E Series - Black Pearl - Face
2007 $1 Bill E Series - Black Pearl - Obverse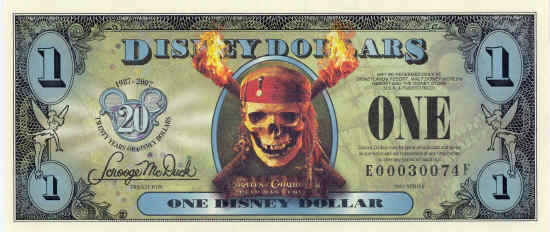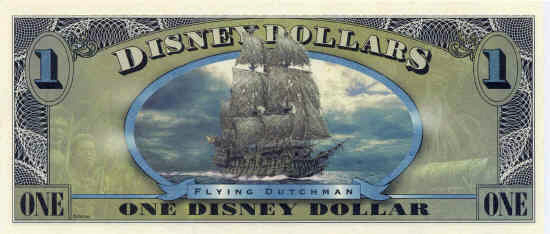 2007 $1 Bill E Series - Flying Dutchman - Face
2007 $1 Bill E Series - Flying Dutchman - Obverse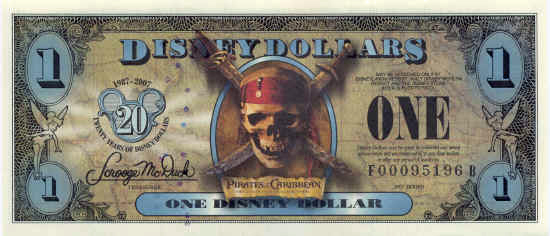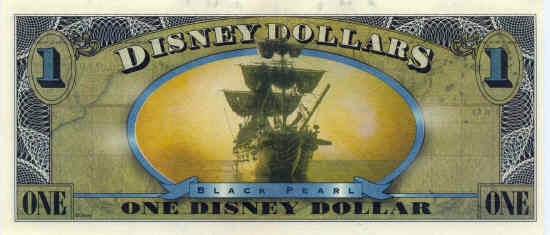 2007 $1 Bill F Series - Black Pearl - Face
2007 $1 Bill F Series - Black Pearl - Obverse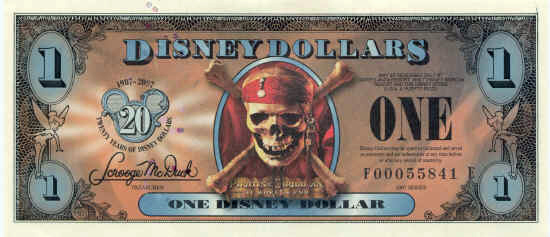 2007 $1 Bill F Series - Empress - Face
2007 $1 Bill F Series - Empress - Obverse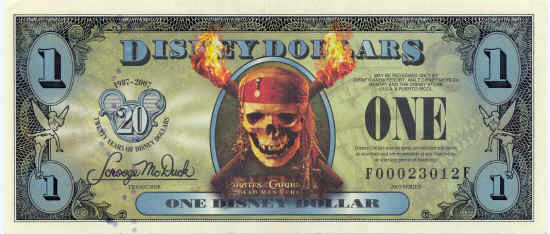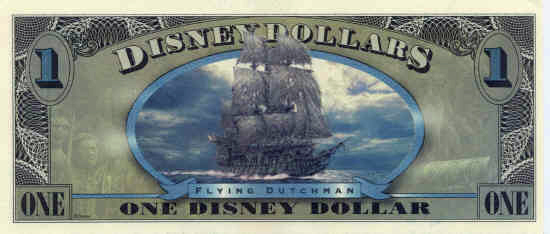 2007 $1 Bill F Series - Flying Dutchman - Face
2007 $1 Bill F Series - Flying Dutchman - Obverse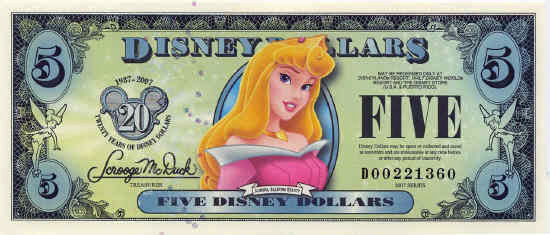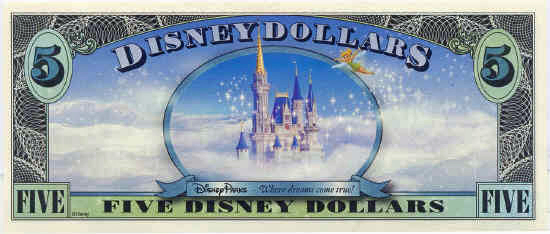 2007 $5 Bill D Series - Face
2007 $5 Bill D Series - Obverse
---
2008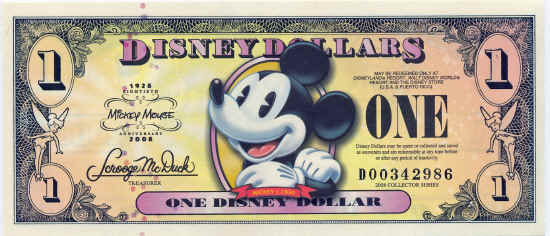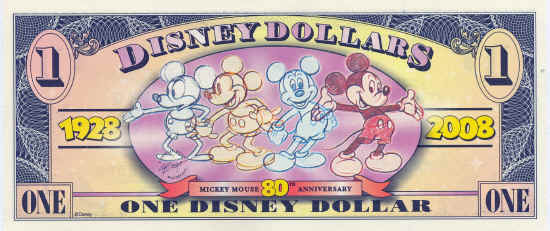 2008 $1 Bill D Series - Face
2008 $1 Bill D Series - Obverse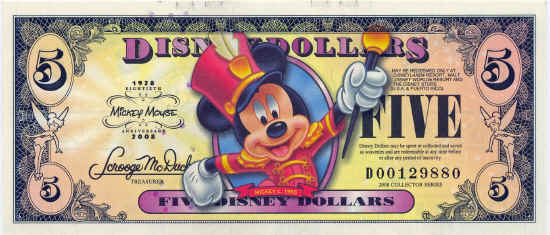 2008 $5 Bill D Series - Face
2008 $5 Bill D Series - Obverse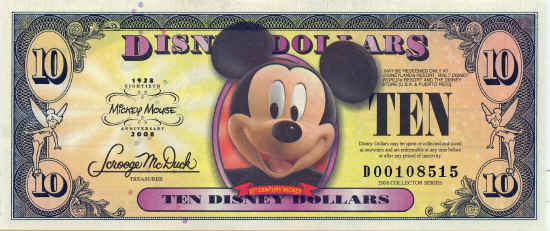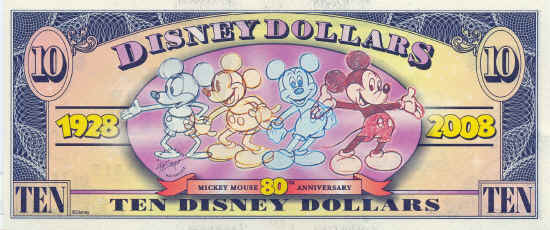 2008 $10 Bill D Series - Face
2008 $10 Bill D Series - Obverse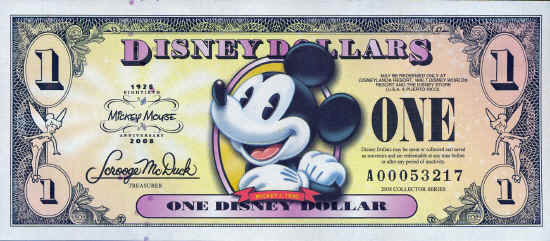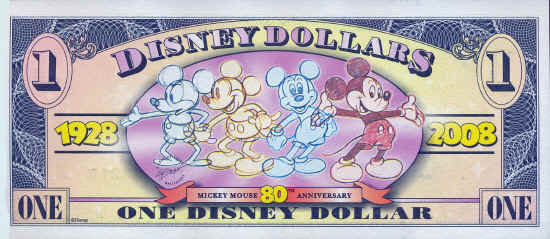 2008 $1 Bill A Series - Face
2008 $1 Bill A Series - Obverse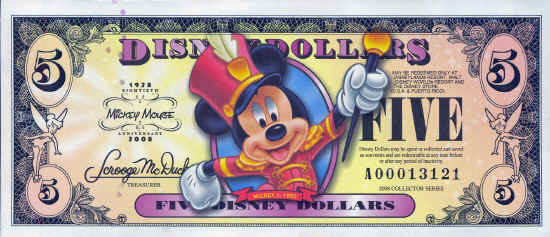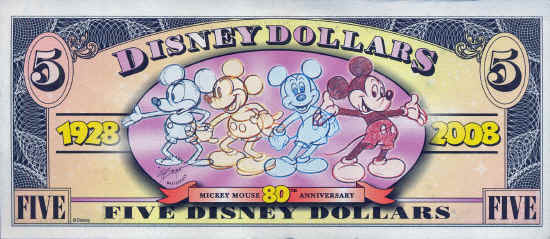 2008 $5 Bill A Series - Face
2008 $5 Bill A Series - Obverse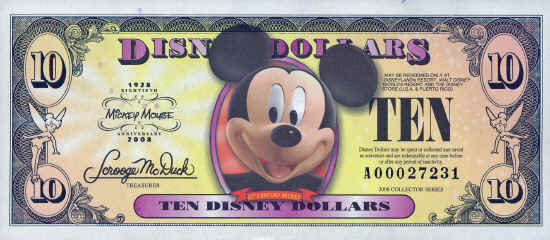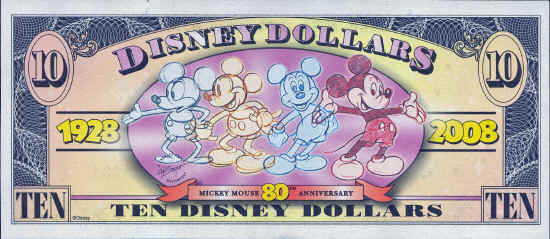 2008 $10 Bill A Series - Face
2008 $10 Bill A Series - Obverse
---
2009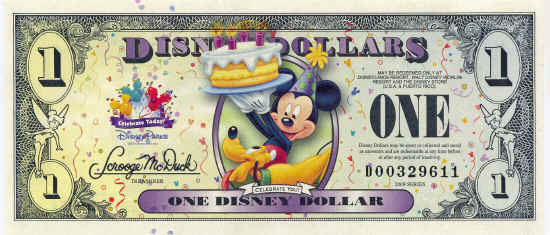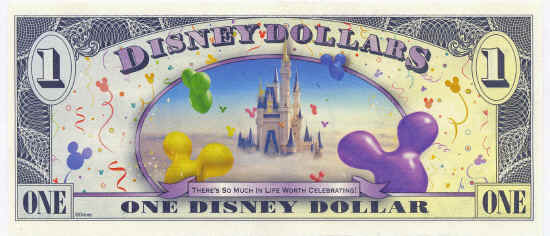 2009 $1 Bill D Series - Face
2009 $1 Bill D Series - Obverse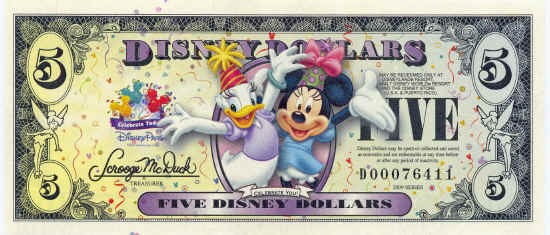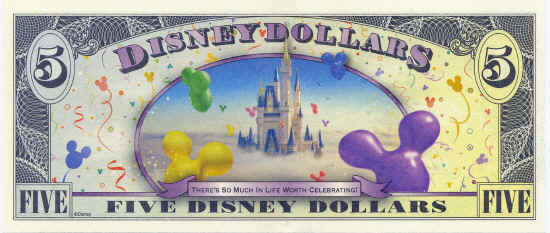 2009 $5 Bill D Series - Face
2009 $5 Bill D Series - Obverse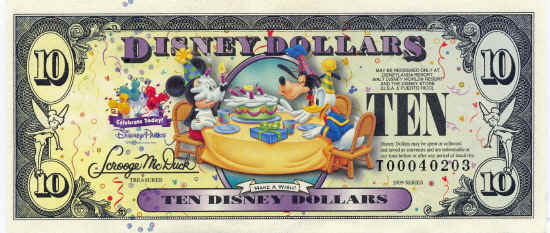 2009 $10 Bill T Series - Face
2009 $10 Bill T Series - Obverse
---
2011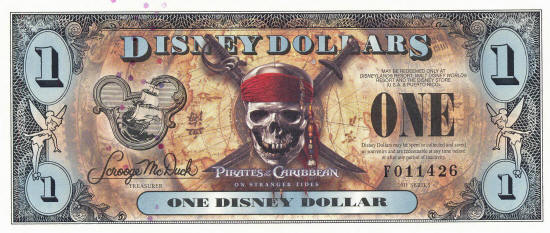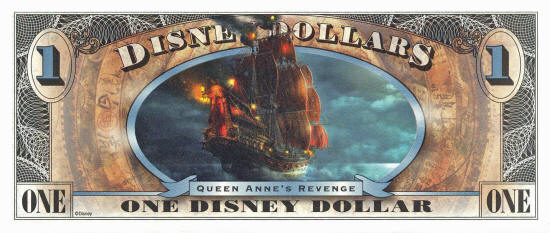 2011 $1 Bill F Series - Face
2011 $1 Bill F Series - Obverse
---
2013
Villains and Heroes Series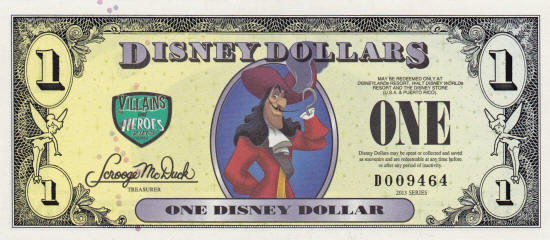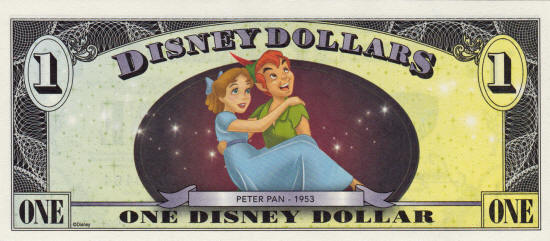 2013 $1 Bill - Peter Pan - Face
2013 $1 Bill - Peter Pan - Obverse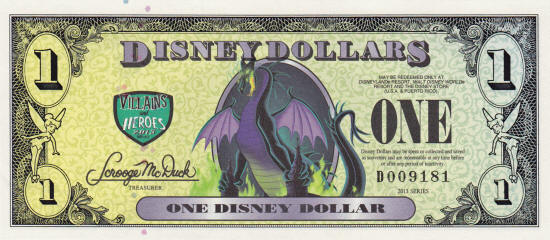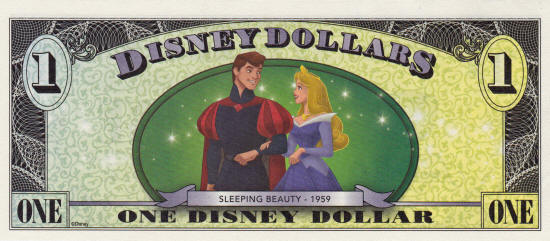 2013 $1 Bill - Sleeping Beauty - Face
2013 $1 Bill - Sleeping Beauty - Obverse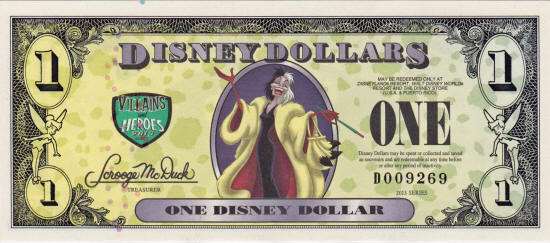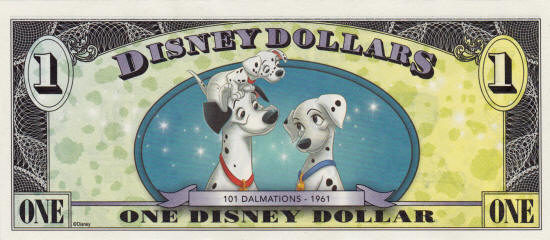 2013 $1 Bill - 101 Dalmatians - Face
2013 $1 Bill - 101 Dalmatians - Obverse
(no longer sold due to spelling error)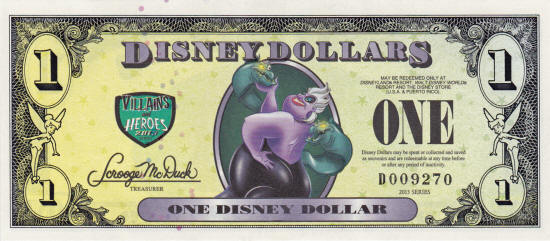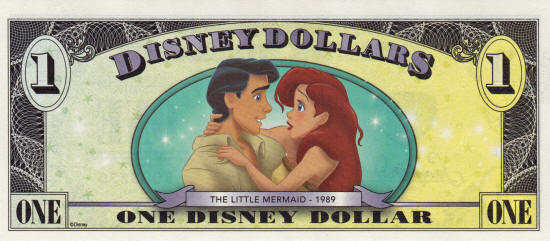 2013 $1 Bill - The Little Mermaid - Face
2013 $1 Bill - The Little Mermaid - Obverse
---
2014
Mountain Series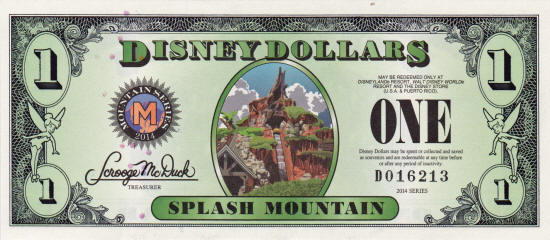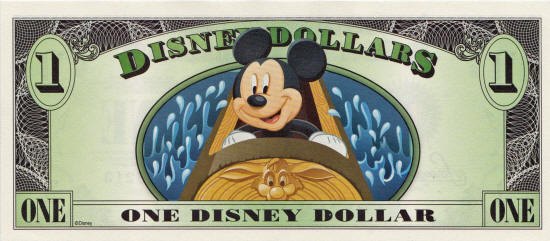 2014 $1 Bill D Series - Splash Mountain - Face
2014 $1 Bill D Series - Splash Mountain - Obverse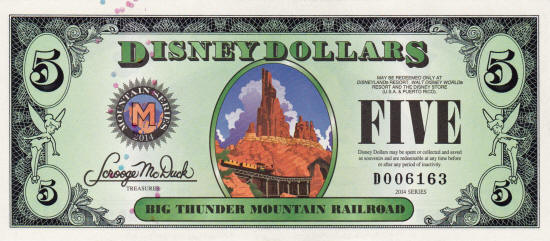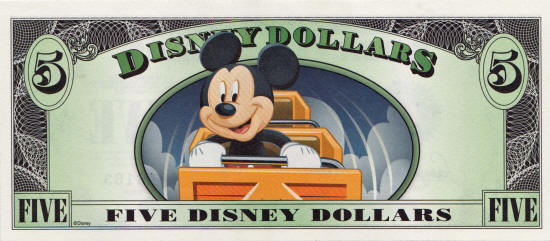 2014 $5 Bill D Series - Big Thunder Mountain - Face
2014 $5 Bill D Series - Big Thunder Mountain - Obverse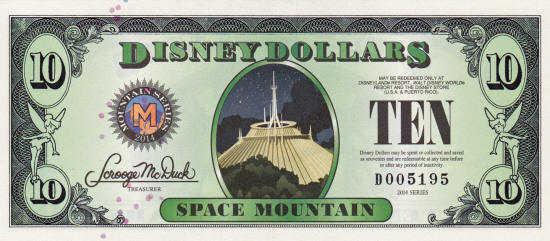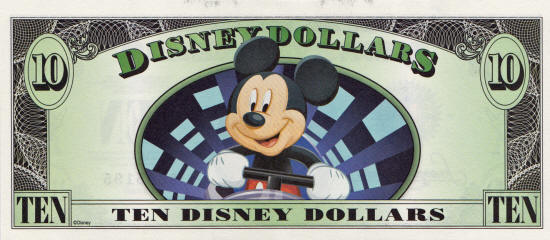 2014 $10 Bill D Series - Space Mountain - Face
2014 $10 Bill D Series - Space Mountain - Obverse